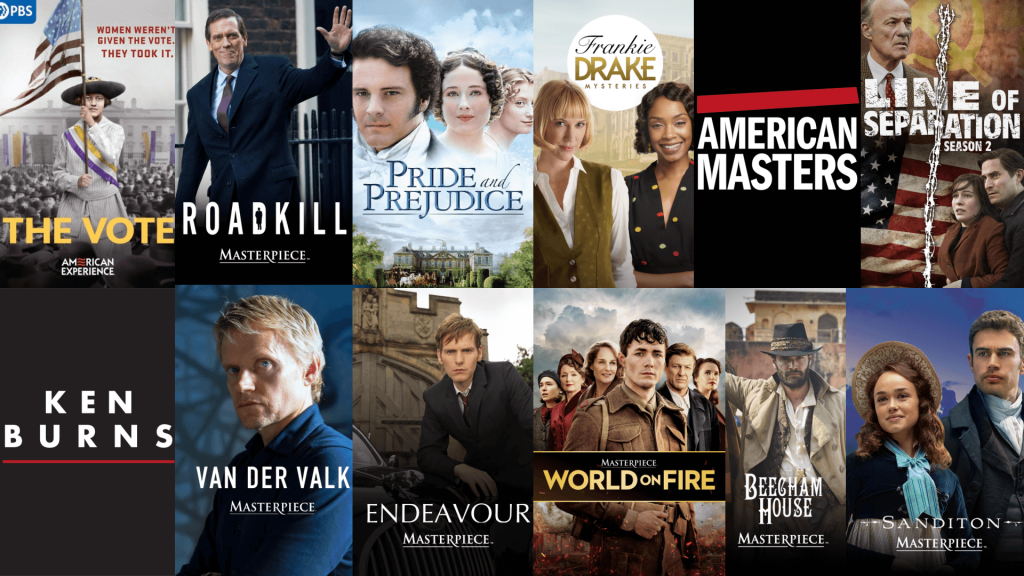 By Kelsey Derby
While not the year we expected it to be, 2020 flew by at times, and creeped away at others. Luckily TPT Passport was with us for the whole wild ride and to celebrate the new year, we thought we'd take a look back at new releases, popular shows, and highlights from the past year.
Happy viewing!
---
January
Experience Jane Austen's last, fragmented work, where entrepreneurs, love interests, legacy hunters, hypochondriacs and medical mountebanks come together at a struggling resort aimed to be the next fashionable playground in early 1800s England.
---
February
In honor of Black History Month, American Masters looked at its recent films and archive to highlight artists and advocates who shaped America's culture, changed the course of history and took a stand in the Civil Rights Movement to create a just society for all. See the list.
One of our favorite featured films was:
Take a behind-the-scenes look at Maya Angelou: And Still I Rise. Hear from Dr. Angelou's grandson, Colin Johnson and the series producer, Michael Kantor. Actor Louis Gossett, Jr. also weighs in, along with Actress Diahann Carroll, Professor Eugene Redmond, hip-hop artist Common, former-President Bill Clinton, former U.S. Secretary of State Hillary Clinton and Actress Alfre Woodard.
---
March
Gurinder Chadha's (Bend it Like Beckham) drama Beecham House is set in 19th century Delhi before the British ruled in that region. Tom Bateman steps into the role of John Beecham, a handsome former soldier who has purchased the mansion, Beecham House, to begin a new life. The cast includes Lesley Nicol (Downton Abbey), Gregory Fitoussi (Mr. Selfridge), Adil Ray, Pallavi Sharda, and others.
---
April
Follow the intertwining fates of ordinary people as they grapple with the effects of World War II on their everyday lives. Set in Britain, Poland, France and Germany, the events of the series take place during the first year of the war.
---
May
TPT Passport is now proudly the home of this wide-ranging collection of Ken Burns' favorites. For a limited time, you can gain access to a full-spectrum of historical films in topics from baseball to the Roosevelts, to how great buildings were made and more. A truly American historian, Ken Burns' emotional storytelling brings history to life.
---
June
One hundred years after the passage of the 19th Amendment, The Vote tells the dramatic culmination story of the hard-fought campaign waged by American women for the right to vote.
---
July
Set in 1920s Toronto, the series follows the adventures of Frankie Drake (Lauren Lee Smith) and her partner Trudy Clarke (Chantel Riley) at Drake Private Detectives, the city's only all-female detective agency, as they find themselves fighting crime in the age of flyboys, gangsters, rum-runners, and speakeasies.
---
August
Shaun Evans (The Take, The Last Weekend, Silk), charms audiences with his portrayal of the cerebral and solitary Detective Constable Morse in Endeavour, written by Inspector Lewis creator and Inspector Morse writer Russell Lewis.
---
September
Brilliant but cynical commissaris Piet van der Valk solves baffling crimes in 21st-century Amsterdam, which is more prosperous, cosmopolitan and crime-prone than ever.
---
October
After the fall of the Third Reich, the small town of Tannbach is cruelly divided between East and West regimes and the town's inhabitants suffer the consequences. An historical drama exploring the devastating effects decades of conflict had on communities from the end of World War II to the fall of the Berlin Wall.
---
November
Janeites rejoice! And if you're new to the world of Jane Austen, now is best time to give it a go. TPT Passport is now streaming three additional Jane Austen miniseries produced by the BBC, Pride and Prejudice, Sense and Sensibility and Mansfield Park.
---
December
Ambition knows no bounds, nor does corruption, in a political thriller starring Hugh Laurie as a scheming U.K. government minister. Crime may not pay, but politics sure does.
---
And that's all folks! We hope you enjoyed the fantastic offerings from TPT this year. Here's to 2021 and all the fun we have in store. And, if you're not a member yet, what are you waiting for?
© Twin Cities Public Television - 2020. All rights reserved.
Read Next