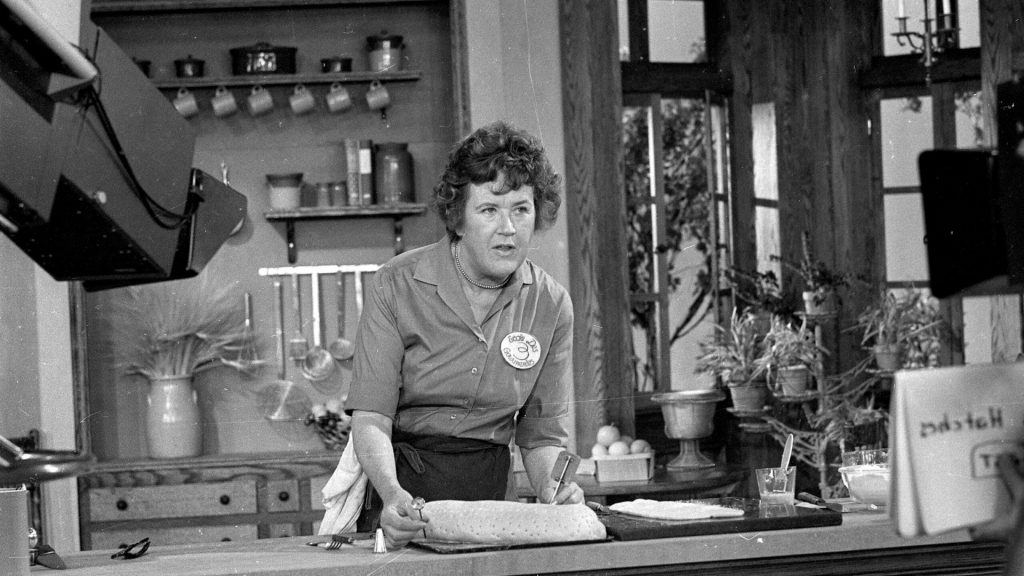 By Jess Bellville
Let me just get this out of the way: I hate to cook, and I dread baking more than psychological thrillers. But cooking is so relaxing, you might argue; you just need the right soundtrack and a glass of your favorite adult beverage.
I have tried both of those ploys. They do not work. Not for me. But, I LOVE to eat – so that's the only tidal wave of motivation I need to break out the spatulas and giant spoons, transforming my kitchen into a horror show of messiness along the way. I'm still finding kernels of corn on the floor after whipping up my first corn chowder a week ago.
Given that confession, you might find it a little contrary to discover that I also LOVE cooking shows. I can plant myself on the sofa and watch in a mesmerized haze for hours as the likes of Kevin Belton and the timeless Julia Child sprinkle salt and crack open shellfish. They make me believe, if only for a few spellbinding hours, that cooking is pure magic.
But here's the thing: The rotating collection of cooking shows that TPT airs on Saturdays (most of which you can also stream on the PBS Video App) are often about so much more than how to follow a recipe.
Without further adieu, here are a few reasons why I, a self-described reluctant cook, find myself sucked into the wonderful world of cooking shows.
Experience armchair travel at its finest.
Food is one of the ultimate lenses into the cultural heartbeat of a place – whether near or far. And I admit that I will readily wake up on the early side of the pillow on Saturday mornings just to catch New Scandinavian Cooking. Whether whipping up a pot of fondue on a train lacing its way through the Norwegian countryside, or tossing a slab of veal into a volcanic crevice, or turning to the side of an outdoor cooking station to slice off some fresh dill, the hosts offer fascinating windows into Scandinavian culinary traditions and values.
My favorite episode? The one where Andreas Viestad makes homemade ice cream by putting the ingredients in a metal bucket, duct taping the lid on and tying the bucket to the back of a horse-drawn sleigh. When he and the driver arrive in the next town – presto! — ice cream is served!
Watching chefs chop veggies is like watching Bob Ross paint: It's pure zen.
While I personally dread the experience of chopping vegetables, say, for a wintertime stew, I will sit for hours watching other people do it. How is it that such a tedious real-life experience can be so incredibly satisfying to watch on a screen?
Between the preparation of ingredients and any shots of the ultimate mise en place, cooking shows are visual zen – right up there with watching Bob Ross's delicate brush strokes as he brings "happy little trees" to life.
Cooking is storytelling with ingredients you can eat.
Have you watched our homegrown culinary heritage show Relish? Host Yia Vang takes you on a whirlwind tour around the globe without ever leaving the Twin Cities. Each episode features a different local chef who shares a dish or an ingredient that's deeply rooted in their cultural heritage – and from there, the stories about the influence of grandmothers and uncles, of travels and experimentation, flow like the waters of the Mississippi.
Not only is food an important conduit of community and connection, it's also a springboard into storytelling.
Bring on the wholesome competition – and the tears. 
While The Great British Baking Show has moved on to other streaming platforms, remember this: TPT was likely the first place that Minnesotans first experienced the impossible charm of this friendly baking competition between amateur bakers just across the pond. And this summer, we had the honor of sharing with you a counterpart a little closer to home: The Great American Recipe, which features local Korean-American cooking expert and enthusiast, Tony Scherber.
Sure, both of these shows revolve around the suspense over who will be crowned "best of the foods," but even more endearingly, you really feel what each contestant goes through as they wrestle with awe-inspiring bakes in the shape of Pac Man Machines and guitars, or share the labors of their love in the form of kimchi tacos and baklava.
Sensory explosion overload. Cooking shows are as close as it gets to smelling and tasting through a screen.
Sometimes I wish that modern smart TVs had sensory options. Push a button on your remote and you can get a whiff of pina colada cookies baking or red posole steaming on the stove. Perhaps that's beside the point because cooking shows set my senses on fire, in the best possible way. You can practically taste whatever is pulled from the oven; you can practically feel your eyes tear up as an onion is chopped; you can almost smell soy sauce and spices.
Summed up, cooking shows represent the quick of life – and there's no better way to spend a Saturday morning than with a piping hot cup of coffee and endless dreaming of all the things I would love to eat, but that I don't want to cook.
Explore our collection of cooking shows and find yourself transported.
© Twin Cities Public Television - 2022. All rights reserved.
Read Next