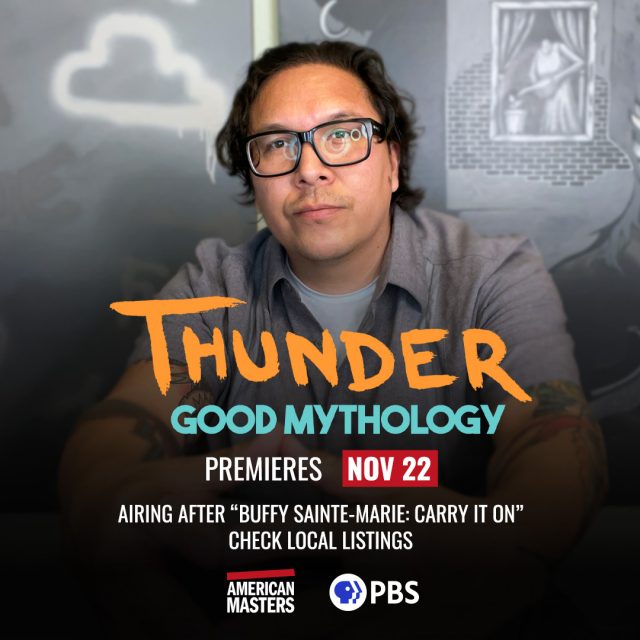 SAINT PAUL, MN (November 18, 2022) — Twin Cities PBS (TPT) celebrates Filmmaker Sergio Mata'u Rapu whose short film—"Jonathan Thunder: Good Mythology"— was selected by "American Masters" for national broadcast. 
Rapu produced the film through a grant from Firelight Media & American Masters for the 2nd season of the digital series "In the Making." The film will be broadcast on TPT 2 following "Buffy Sainte Marie: Carry It On," which airs at 8:00pm on Tuesday, November 22. "Jonathan Thunder: Good Mythology" will air as a sneak peek of the next season of "In the Making." 
In the film, Rapu follows Anishinaabe artist Jonathan Thunder as he dives deep into the inspirations behind his surrealist paintings and animations. From the killing of an iconic American hero to critical perspectives of how indigenous people were portrayed in early children's cartoons, Thunder's art prompts viewers to take a critical look at our shared mythologies.  
TPT extends its congratulations to other station affiliates and partners who had a hand in the project, including Thunder, who previously worked with Rapu and filmmaker Leya Hale on "Bring Her Home;" former Supervising Producer at TPT, Adam Geiger, who edited the short; and Firelight Media. 
### 
About Twin Cities PBS (TPT)
Twin Cities PBS (TPT)'s mission is to enrich lives and strengthen our community through the power of media. Established 65 years ago, TPT now operates as a public service media organization that harnesses a range of media tools to serve citizens in new ways — with multiple broadcast channels, digital channels, streaming, online teaching resources, educational outreach and community engagement activities reaching more than 2 million people each month. Over its history, TPT has been recognized for its innovation and creativity with numerous awards, including Peabody awards and national and regional Emmy® Awards. Find more information at tpt.org. 
© Twin Cities Public Television - 2022. All rights reserved.
Read Next