By Kelsey Derby
Bring Her Home, directed by TPT's Leya Hale, premieres Monday, March 21 on TPT 2 and will be available to stream for free for one week on tpt.org. After that, it will be available to watch on the PBS Video app with a subscription to TPT Passport. The film is already making waves having a world premiere at Big Sky Documentary Film Festival. TPT is proud to have produced such a courageous and groundbreaking film.
The story follows three Indigenous women — an artist, an activist and a politician — as they work to vindicate and honor their relatives who are victims in the growing epidemic of Missing and Murdered Indigenous Women. As they face the lasting effects of historical trauma, each woman searches for healing while navigating the oppressive systems that brought about this very crisis.
We sat down with Director Leya Hale (Dakota/Diné) and Producer Sergio Mata'u Rapu (Rapanui) to talk about the film and how it came to be. Our conversation touches on avoiding re-traumatization, the classic hero's journey, and our ever-present connection with Mother Earth.
---
Kelsey Derby (KD): I am so glad to be sitting down with both of you today. One thing that I kept thinking about as I was watching was that there are multiple times when I just gasped. I couldn't believe what had happened to these women. Which made me think about, as a filmmaker, how did you manage to allow your subjects to express what they were saying but also respect the fact that they've suffered these huge traumatic events? How do you do this in a way that feels respectful and gives it space but also tells the story?
Leya Hale (LH): I think that's something that we constantly went back and forth with because, there's always that line that you don't want to cross where you're sensationalizing, or you cross that exploitive line.
That's why we chose to show some incidents with animation. I think that was our way of protecting the women. I didn't want to show them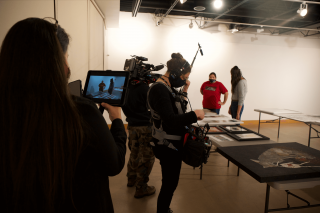 too vulnerable or where they're just too emotional to even talk I told them in advance which parts I was planning on animating, so I think they felt a little more comfortable talking about those things. I just want people to recognize that there can be life after tragic events from healing. There's a lot of good things that can come about by sharing your stories.
Sergio Mata'u Rapu (SMR): When we thought about how we were going to make this film, we were really intentional in saying, I don't want to re-traumatize people. That's not our intention.
That forced us to look at everything through that lens and ask, "Is this going to traumatize people who have already experienced this, or does this help to push the narrative forward?"
Leya has studied a lot about story structure so when we first started looking at how to lay out the story, we used this model of storytelling which is called the hero's journey. It's been used forever in mythology and typically used in fiction filmmaking.
Through that, we used these very painful moments from our central characters, as the inciting incident for each of their stories. This is what motivates them forward in their journeys. Seeing it as that and not necessarily as climax or pinnacle of the story, helped us reframe a lot of what their journey is and how we got there.
This is a film about empowerment. That helped us shape the whole narrative.
KD: How did you decide to follow the three women you focused on?
LH: When I started thinking about who these people could be I was beginning to think about people that had some type of transformational arc to their story. I started researching and figuring out who the key leaders were in the movement.
I started going through the testimonies of the MMIW Taskforce bill, and it was Misty Babineau's testimony that I came upon. It was just this one line that she said, "my people have gone missing and murdered since European settlers settled here on Turtle Island." Just the way she said it was so powerful. And that right there, I was like, she needs to be in it.
For Representative Ruth Buffalo, it was her picture in her full regalia getting sworn in as a representative in North Dakota. I thought that picture alone was powerful and to inspired me to reach out to her.
As for Angela Two Stars, I felt like I related to her story the most because we both come from the Sisseton Wahpeton Dakota people I can relate to her view of wanting to reclaim homeland and wanted to have her artist perspective in the film.
KD: When watching the film, I noticed a heavy emphasis on nature and animals. In fact, I think all three main characters have a scene where they interact with some sort of animal. Was that intentional?
SMR: It wasn't intentional. But, the characters all have pets at home. So, in the purest sense, you can see the character of an individual when they interact with an animal that they love. It is sort of their truest self, their softer side.
There was a focus on the relationship between people and nature. In my opinion, when you look at the environment from a Western, maybe
capitalist sense, the environment and the individual are separate. We live in this environment. We own property. We take crops we plant so that we can eat. The relationship is always for us, for our survival, and for our needs as humans.
And then there's this complete opposite way of also looking at it, that I think is also flawed. And it goes way back to the use of the term, the "noble savage," of like all these ancient indigenous people living in harmony with the land and everything was at peace.
Like my people, way back, they still killed things, you know, like it's not like we were all vegetarians, but the difference is, from my perspective, that when Polynesians see themselves within the context of environment, it's that we need it, and it needs us.
When I think about the scenes in this film, and I may take it differently just because we worked on it for so long, but I see this imagery of, of water and the way the women connect with environment as returning to that recognition of place and that inner connectedness with place.
LH: When Native people refer to the earth, they usually call her Mother Earth. And they say it's a woman because it grows and reproduces, and it takes care of us.
I also think there's this water theme within the film. There are scenes of women mourning at the water and healing at the water.
I find it's a direct correlation to how we treat our women with how we treat the land. If we don't care about the land, that means it's okay to treat women that way. Without women, we can't procreate. Without Mother Earth, we can't exist.
KD: How did you become associated with this film?
LH: I started at TPT as a Production Assistant, and worked my way up to a Producer, and this month will be 10 years at TPT.
My first solo producing/directing project was The People's Protectors. And that was a Vision Maker Media funded project as well, about the Native experience within the Vietnam War. Bring Her Home is my second feature.
Being a Native Indigenous woman myself, I was very aware of the injustices around sexual assault and violence against Native women, but no one was really talking about it until I started seeing a lot of attention being brought to it from Canada. After a while that started trickling down to the states. And then about five or six years ago, was the first annual MMIW rally in Minneapolis.
I attended that rally. It was really inspiring to see that many people come together to bring awareness to the epidemic. And it gave me empowerment and hope hearing all these Native women leaders speak about bringing attention to this issue.
And then I started to think about what is missing from the narrative in regard to the Native experience and this idea that [urban natives] don't really have to deal with reservation issues when it comes to jurisdictional confusion. I wanted to ask the question, "What about the Native woman's experience?" and I feel we addressed that in this film.
SMR: I've now lived in Minnesota for about 11 years. I initially started as a cinematographer, shooting and editing, and then eventually worked my way up to Associate Producer and then a Producer for network television. I was connected to this project through a good friend of mine, Diana Fraser. She reached out to me and suggested that I apply.
I actually had read about the MMIW epidemic a while back before I heard about this project. I thought it was really sad and interesting and so when Leya started telling me about Bring Her Home, I thought it was awesome that that story was being told, not only about the epidemic here in the Midwest, but also directed by someone with a Native perspective. I have worked on a lot of projects where stories are told about communities of color but not from the perspective of someone in that community.
As someone from the outside, and with me being from the Pacific, you know, we also are often victims to having people talk about us, but we're never really empowered to tell our own stories. I just thought it was just really a wonderful project and loved the intentions behind it.
Coming into this I always knew that my role was going to be a supportive role. And Leya had an incredible and powerful vision.
In the process of making this film, I also started reflecting on my own community in the Pacific. I started understanding the epidemic that's happening here and realized that it has similarities of colonialism and the Latin machismo that impact my community on Rapa Nui.
Even though I personally have not been impacted by the MMIW epidemic, I do feel like there are also levels of abuse within my own community that all correlate to the same issue. Ultimately this film talks across cultural lines so well because it's about these bigger topics. It's not just about being indigenous in the North America.
KD: Do you have any recommendations for any sort of resources for people to learn more about the MMIW movement?
LH: If people would like to learn more, they should read the MN MMIW Taskforce Report. It has a lot of information in regard to background and connection to historical trauma.
Also the book, The Beginning and End of Rape by Sarah Deer. She's Muskogee Creek and she teaches women Gender and Sexuality Studies at the University of Kansas.
---
Be sure to check out the film, Bring Her Home.
© Twin Cities Public Television - 2022. All rights reserved.
Read Next