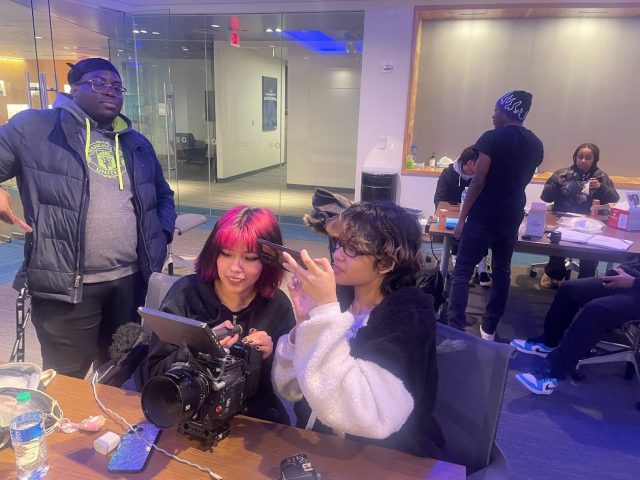 At Twin Cities PBS (TPT) we believe media has the power to challenge, connect, and unite.   
This belief guides TPT's youth empowerment project: Hype. Based on the popular TPT initiative Don't Believe the Hype (1992-2002), Hype empowers youth in grades 9-12 as media creators. The goal of Hype is to leverage the power of media-making to help Indigenous, Black, Latina(o), Asian American, and historically unrepresented youth craft their own narratives and amplify their unique voices. In weekly meetings, crew members learn media history, develop media literacy, build community, receive role modeling, and create media content.  
We had the chance to sit down with some of this year's Hype crew members and learn more about their experience and what Hype means to them.  
What has been your favorite part of Hype so far?
Mira Berndt (Central High School, St. Paul): I think someone who stuck with me was one of our VOPs [Visions of Possibility], Myc Daz. It was a storytelling workshop. It just stuck with me, because they were talking about all the cool opportunities and things they got to do and how they got to travel all over while making media and art that resonated with them and resonated with their passions. 
Marquan Harper (Twin Cities Academy, St. Paul): We were able to go talk with the President of TPT, Sylvia [Strobel]. And it was a great opportunity to hear how much faith she had in his program. She commended us for what we are doing, and she was nothing but excited. It seemed like we had genuine support. Hearing back from someone who could be doing anything but was talking to you right now. It's kind of like, okay, "to whom much is given, much is required." It was confirmation that there's great things that come from Hype. It shows that people believe in us, so it's just our time to really come out here and do what we need to do. 
Damarj Robinson (Gordon Parks High School, St. Paul): Glorious Martin [a Hype pioneer] came here with this energy that could just take your breath away. He had his own vibe. Just seeing him on the screen from how he was back in the day, and then see him now, you can see the progress. He was telling us how he works with kids, and I feel like that's something I want to do when I get older, because I love working with children and seeing their potential. That was inspiring just seeing him. It was pretty dope.  
Marquan: I want to add that there have been countless TPT staff members that have come through and are really guiding us. They have been open to us being in the studio. I come in early a lot from school, so I'm just walking around, and everyone from people who work security to people you meet when you go up in the elevator are conversing with you in the hallways. I love audio and I love sound, so when I met Terry [Gray] – he does audio here at TPT – and seeing another person of color, especially a Black male, doing audio for a large corporation like this, it was really affirming for me. That's work I'm very interested in.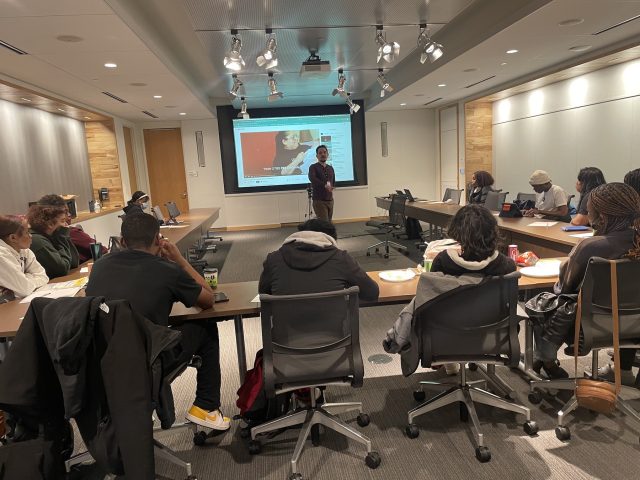 Can you talk about the projects you're working on? 
Marquan: For my media maker project [created to be shared on TiKTok and other social media platforms], I did a British DJ by the name of Carl Cox. He's seen as one of the biggest pioneers in modern dance music, everything from his technical skills to his impact on DJ culture to his musical talents and abilities. He's really seen as pioneer with House and Techno. In electronic music or dance music, there's not enough women in the industry. There's not enough people of color. And I wanted to really showcase one of my pioneers. I really want to see him play live one day.  
Damarj: I'm doing my media maker project on Chuck D. He is a musician, a political voice, and activist, and I feel like I connect with him, because he makes music. I want to use music as a voice for the ones that go unheard. [Chuck D] uses his music as a message, and you can always learn something if you listen to it. That should be the purpose of music. I feel like hip hop and rap music has drifted from what it's been, and it could be 100% better. Some things with rap now are just not good, especially for the community. Personally, I want to change the way I rap and hopefully do better. 
Mira: I did my media maker project on the first female Indian photojournalist. And to me it was interesting because when you think of Indian women you don't really think of photojournalism. The woman I researched, Homai Vyarawalla, she used her voice and her power to capture the lives of everyday Indians during the time of going from British power to independence. For me journalism and sharing people's stories, the everyday things, make it beautiful. 
Damarj: As of now, we are also [working on our capstone projects]. My group is doing a project on community and school violence. We are just gathering our who, what, when, where, and why. And just really getting into the details of it.  
Marquan: My group is working on a capstone project about the underground electronic dance music scene in Minnesota, and we're highlighting minorities and people of color within it. We're going to talk about a music school called Slam Academy. It's a great place, an outlet for anyone who's interested in learning how to produce or DJ or do anything with electronic music. We also want to highlight a community member by the name of Mickey Breeze. He's a great DJ. And he also does a lot of philanthropy with showing kids how to produce electronic music. And he's a black male, and he's very young. It's great to see young people of color doing this, especially in Minnesota.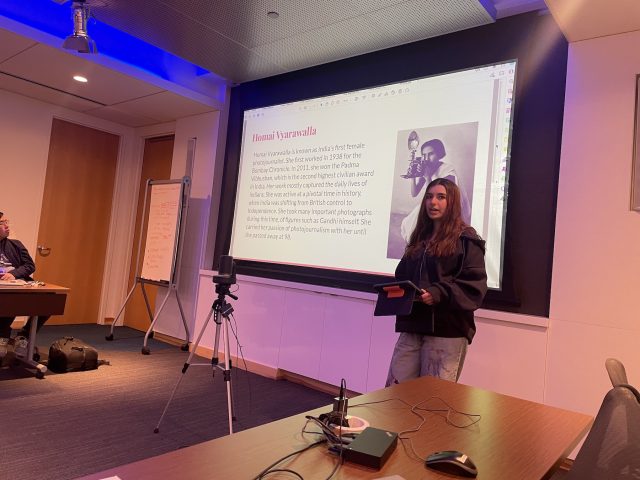 What lessons will you be taking with you from Hype?
Damarj: There's still room to learn and what is it going into the unknown. Like they say, "You never know what you like until you actually experience it." I remember, I was on the brink of not coming here, and my mom said, "Damarj, just go." I came here and, ever since I've been here, it was just new opportunities every single day, new people teaching me new things. And it's just been growth from there.  
Marquan: Coming into my last adolescent year, it's been interesting to think about purpose. I've always had an idea of what I'm interested in and what I wanted to do. But I never really knew that there was a purpose for what I wanted to do. Now, getting ready for college – knowing that I want to be a Communications major and do minors in Business and Marketing. Being able to have an opportunity, like working at TPT, and doing something like this, especially with other young people of color, wouldn't have been anything I would have imagined. I'm just honestly thankful, because we can open up so many doors, and I don't see anything but possibilities from here.  
Mira: I don't know if it's a lesson, but I think an impact it had on me was the full circle moment. I like coming to TPT and PBS, because I used to watch PBS Kids when I was younger. Demetrius works on SciGirls, which I watched when I was young. And my parents love that show for me, because it had young Brown girls and showed girls in fields that are male and white dominated. It is empowering, like Marquan said, to come in here at the end of my adolescence.  
Eh Kyaw (Gordon Parks High School, St. Paul): For me, before coming to TPT, it felt like I was kind of in this box. And then when I stepped inside TPT and got to be around people my age and talk about things that are impacting our world, it took me outside of that box. And then I had an open-minded point of view. The world is way bigger than it was in my room. I felt free. I felt a sense of freedom here.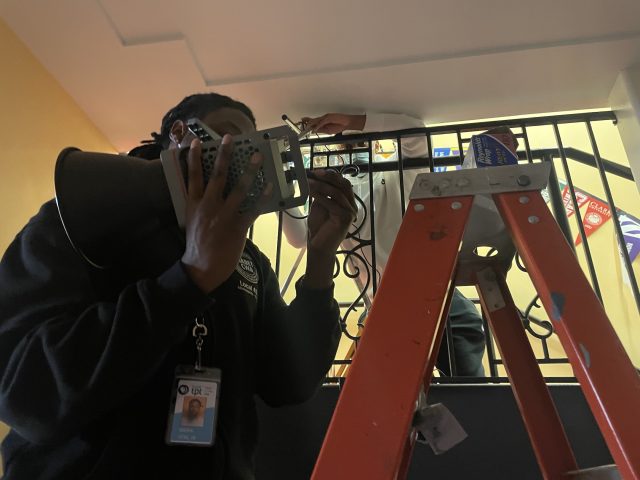 What makes Hype special?
Damarj: At Hype I'm able to talk to people my age, and we're able to learn from each other, and then build off that. And that's the best thing. Me coming here and meeting Marquan, this very intelligent kid. He's always thinking. He's always on his stuff. And he always wants to do better. You don't see kids like this nowadays. So, me being here with him, he's always making me think more and wanting me to learn more. We can all learn from each other, and I feel like that's the best thing about Hype. Knowing they want to learn more and knowing I want to learn more. That right there just drives me man. And I love it. So that's why I'm here every day, new thoughts. We're always talking about something new. We're forced to think. Most people are stuck inside their bubble. Like Eh Kyaw said, they don't ever get outside of their comfort zone. And me being here got me outside of my comfort zone. I was nervous. But now it's like, I feel free to talk, and I can say how I feel. 
Marquan: Hype brings brilliant minds together to interact with each other and hold conversations. In our generation, you can't hold a conversation with people without someone getting triggered to the fact they don't want to converse with you anymore. [In Hype] we're in a space where we're talking about very sensitive topics, and everyone has their own opinion, and we're able to hear each other out about it….We have this little space inside an office building in downtown St. Paul where we can just go and talk and let our issues out and have a level of understanding you know. Everyone comes from different walks of life. Everyone has different issues going on. When you have such an inclusive environment like that, if everyone stays on the right path it shouldn't go away. There will be no end to Hype, this community will be forever. 
Is there anything else you want people to know? 
Faduma Ali (Central High School, St. Paul): I'd say there's a lot more POC people in media than you think. 
Mira: A lot of our VOPs and presenters have been POC, and I feel like in major media that everyone sees it's just a select few POC that are either just a couple tokenized POC or fit a specific narrative that gets shown. But there are so many people doing the work. The media that we make and a lot of other people of color are making, not all of it is made for a palette for white people or to educate white people. It's for us so that we get the representation that we deserve. 
Eh Kyaw: Hype didn't have to tell me I belong, they showed that. It isn't a feeling you get from like, anywhere else. I would have people come up, come sit down here, and then they would also feel like they belong.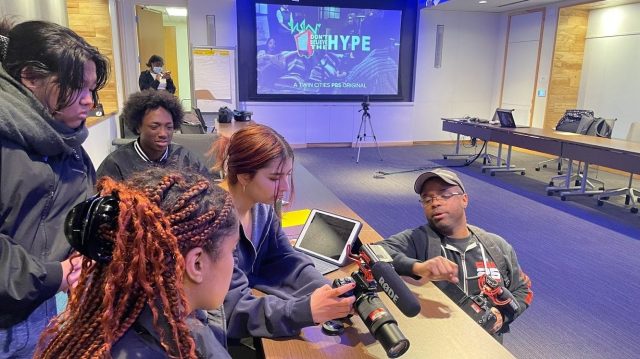 ---
If you are interested in supporting Hype, please reach out to the Development Department at 651.229.1410 or [email protected].
© Twin Cities Public Television - 2023. All rights reserved.
Read Next