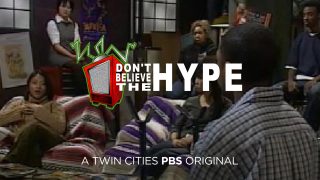 Hype 2.0 heralds the return of the long-running and highly valued initiative Don't Believe the Hype, which ran from 1992-2002. The project's goal then — and now — is to leverage the power of media-making to help BIPOC and historically underserved students craft their own narratives and amplify their unique voices within the Twin Cities community.
A successful venture, Hype spanned ten seasons with participants learning new skills, the ins and outs of program production and in the end broadcasting their creations to the community. The cadre of participants moved into successful careers in various fields, including media, music, education, and business—all have been enthusiastic advisors to its resurgence.
TPT believes it is imperative to work with youth at the high school level, exposing and involving Twin Cities' teens to the opportunities public media provides before they make career decisions. To accomplish this, TPT's program will be based on the previous Hype program, taking the best practices of success, developing current standards and curriculum, and adapting to today's youth, media, and resources.
We are currently launching a Hype pilot and are creating a two-year project plan, timeline and budget. We will develop a cohort of students to begin in Winter 2022.
Our goal during the pilot and for future years is to evaluate the program's effects on participants' knowledge, attitudes, and behaviors, as well as media literacy skills. It is clear that Don't Believe the Hype, really had – and can again have – an impact on youth. Not only can such programs enhance young peoples' attitudes about themselves and their futures, but the programs also can encourage civic engagement and enhance academic performance.
© Twin Cities Public Television - 2021. All rights reserved.
Read Next