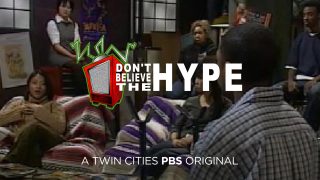 After a 20-year hiatus, Twin Cities PBS in partnership with SoulTouch Productions is proud to announce the return of its acclaimed original program Don't Believe the HYPE. Executive Produced by original HYPE Co-creator Robin Hickman-Winfield (with Susan Robeson), and Daniel Bergin, the project's goal then—and now—is to leverage the power of media-making to help Indigenous, Black, LatinX, and Asian American youth craft their own narratives and amplify their unique voices within the Twin Cities community.
During weekly sessions the HYPE curriculum will be a mix of Media Production, History of Public Television in communities of color, and media literacy. All of these learning principles will be centered around the works and teachings of the legendary Gordon Parks. HYPE crew members will meet and be mentored by local and national HYPE V.O.P.s (Visions of Possibilities) in the areas of media production, social justice, community service, philanthropy, arts/cultural, education, and more.
To wrap up their experience, crew members will have the opportunity to produce a capstone media project of their own. TPT staff will assist crew members in developing, editing and distributing their work on TPT web based platforms as well as across other youth media networks. If you have any questions or would like to serve as a VOP for HYPE, please reach out to Demetrius Trundle Educational Project Specialist at [email protected].
---
The HYPE program was made possible with support from the Joan Ganz Cooney Center at Sesame Workshop and the Corporation for Public Broadcasting as part of the Next Gen Public Media Accelerator program. 
© Twin Cities Public Television - 2021. All rights reserved.
Read Next