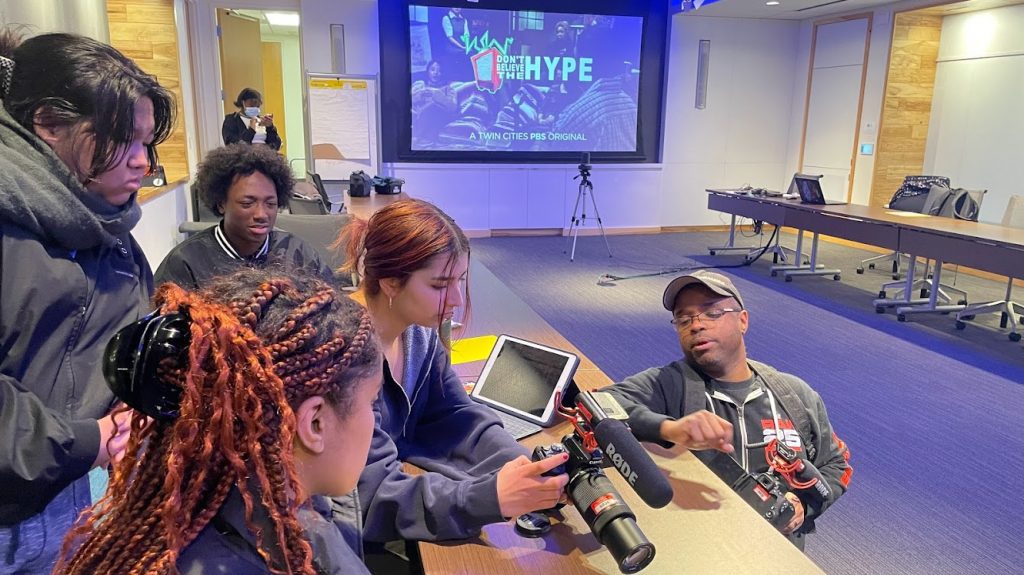 At Twin Cities PBS (TPT) we believe media has the power to challenge, connect, and unite.   
This belief guides TPT's youth empowerment project: Hype. Based on the popular TPT initiative Don't Believe the Hype (1992-2002), Hype empowers youth in grades 9-12 as media creators. The goal of Hype is to leverage the power of media-making to help Indigenous, Black, Latina(o), Asian American, and historically unrepresented youth craft their own narratives and amplify their unique voices. In weekly meetings, crew members learn media history, develop media literacy, build community, receive role modeling, and create media content.  
Robin Hickman-Winfield – an Executive Producer of the original Hype series– has returned as co-creator and Executive Producer. TPT Education Specialist Demetrius Trundle coordinates the Hype programming. We had the chance to sit down with Hickman-Winfield and Trundle to talk about the impact of Hype and why now is the right time for the program's return. 
Can you explain what led to the relaunch of Hype? 
Hickman-Winfield: There was a Black Media Summit back in 2020, and during the summit, there was a former Hype crew member who asking, "What happened to Hype?" Sylvia [Strobel, TPT's President and CEO] was present, and there was a little conversation about what had happened to Don't Believe the Hype. So, the seed was planted. And Sylvia approached me later. We had a little conversation about the importance and legacy of Hype. She thought about it, came back to me and said, "Would you consider working with me to bring to bring Hype back?" And I was like, "Yeah. I'd love to do that."  
Prior to bringing back Hype, we had a visioning session with the Hype pioneers [crew members from the original Hype]. To hear 20 years later the impact that Hype had, beyond them learning media making or beyond them being engaged in the making of the show, but to hear them talk about how it developed their character, how it prepared them for the world, we took all those stories as we shaped the new Hype. The spirit of the original Hype still lives.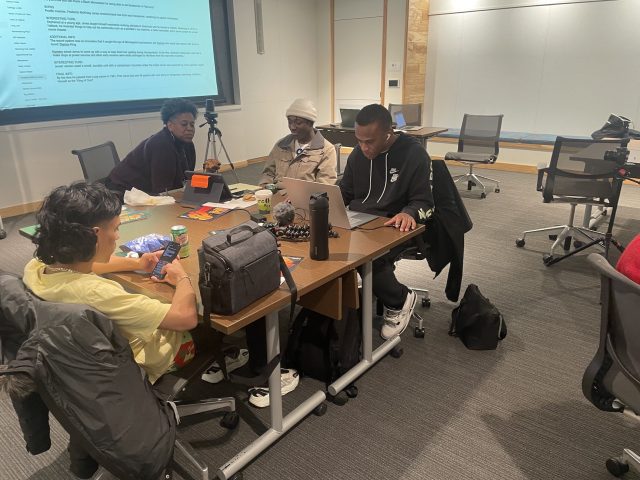 What makes this moment the right moment for a Hype relaunch? 
Hickman-Winfield: It's so important now because we look at what the pandemic did to young people in particular and the impact the ongoing racial reckoning has had. It a double whammy on all of us. But it impacted young people in still unrecognized ways, and there is really such a need to support them and lift up their voices. 
Trundle: I would say it was long overdue. Hype shouldn't have left in first place. Speaking from a staff point of view, we need that teen audience that we haven't been targeting [with much programming]. Kids watch Daniel Tiger's Neighborhood and Arthur and all that great stuff, and then we lose them for years for no reason. We never need to lose them. Having Hype here to be the voice is super important, for that reason. 
What motivates you to be involved in Hype? 
Hickman-Winfield: For me, it's remembering the glory of the Hype pioneer listening session. That was something just remembering the glory of the original Hype experience. Those were the best years of my career. And I've had a glorious career as a media maker, but that was just something we didn't know if we could do it again. To know that we could bring it to a new generation is what led me to take on the challenge of bringing Hype back. 
Trundle: Seeing the gaps and places where you don't see Indigenous, Black, Brown, or Asian kids working. I know that Hype can be part of the solution for that. Even if some students who are a part of Hype may not go into media, I know that some will. This will be an amazing pipeline to get kids to help our staff and our tech team and our camera operator and producers. I know that Hype can help fill some of that in the future.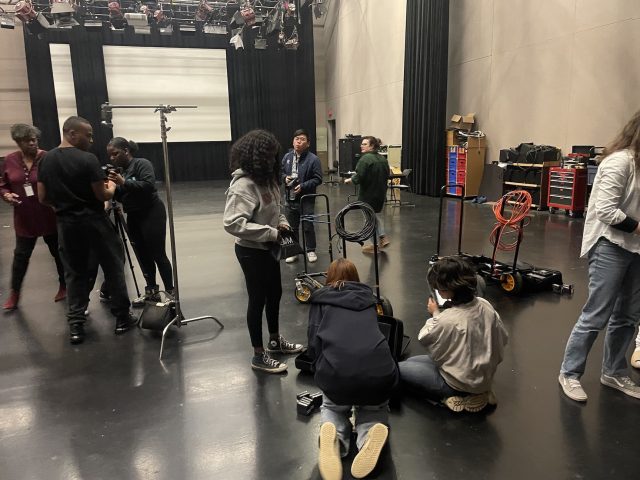 What distinguishes Hype from other youth media initiatives?  
Trundle: It's the self-advocacy, being able to see people that look like them in positions of power and making decisions and making calls. I think that's what separates Hype. You know the media making is a part of it, but what is going to stick most and what is going to take these kids the furthest is the exposure they get in the training. 
Hickman-Winfield: One of the things we are good at is spreading the value that "we spread the love." The Hype crews know it isn't just about them and that they have a responsibility to provide opportunities for many other young people. They are here to be not just the voice of other young people, but to provide that platform for many other young people. They are going to share that mic and place other young people in front of the camera. 
It was a probably an hour after the young man was killed at Harding High School when I received a text from one of the Hype crew members saying, "Hey, we need to do something for Almanac." That's what they're thinking about, you know, a very conscious group of young people, but no one is asking them what they think about the violence in school. But they know they have a responsibility to talk about it and be prepared to use their voice and share the voices of others.  
What is the impact of Hype?
Hickman-Winfield: Hype is about legacy learning. We ask, "Whose shoulders do you stand on?" Hype is also coalition building between communities, young people who come from different cultures. It also breaks down generation gaps. We honor the wisdom of elders and the energy and wisdom of youth. Hype is that space where learning takes place and that respect takes place. Hype is its own little village. We have the honor of seeing the Hype family develop. 
The capstone projects that they do are also very important. They shatter the hype. People think that these topics [violence in schools, mental health, and the power of music] are not the things that young people of color are thinking about. Well, when you give them the opportunity? Yes, it is. And when the world is again telling young people, and especially young people of color, you don't have a right to have a say, Hype tells them they do. My mother raised us with this wisdom, "take your rightful place in the world." And I say to the crew, "You all take your rightful place in this station, take your rightful place behind the camera, in front of the camera, writing a press release, writing a proposal." 
What lessons have you learned from Hype that you would pass on to others?  
Trundle: I will say these kids have something to say. It's not all fluff and TikTok or whatever else adults think kids have going on. They have a lot of great insight. And they're dealing with a lot of real issues that we either aren't dealing with yet or we didn't have to deal with as kids. So, listen to them. 
Hickman-Winfield: I'd pass on some of those Hype stories. I love the story that the first money into Hype came from Jimmy Jam Harris and Terry Lewis from Flyte Time. The first guest on the first pilot show of Hype was Terry Lewis. That's huge. I want people to see and know that. That's where the first Hype dollars came from. 
How original Hype spread the platform is something else to share. The current Mayor of St. Paul, Melvin Carter, was on the original Hype. It's something for the crew to watch the episode now and see the mayor is 17 years old when he did an interview about politics. We had on Senator Paul Wellstone and now Attorney General Keith Ellison on the program back in the day. This is the legacy of the Hype, and we look forward to when we can produce a show again and when the crew can start traveling again.  
What would you say to those who are interested in supporting "Hype?" 
Hickman-Winfield: If the Hype crew calls, please answer. Be ready to get with them and support them. 
---
If you are interested in supporting Hype, please reach out to the Development Department at 651.229.1410 or [email protected].
© Twin Cities Public Television - 2023. All rights reserved.
Read Next