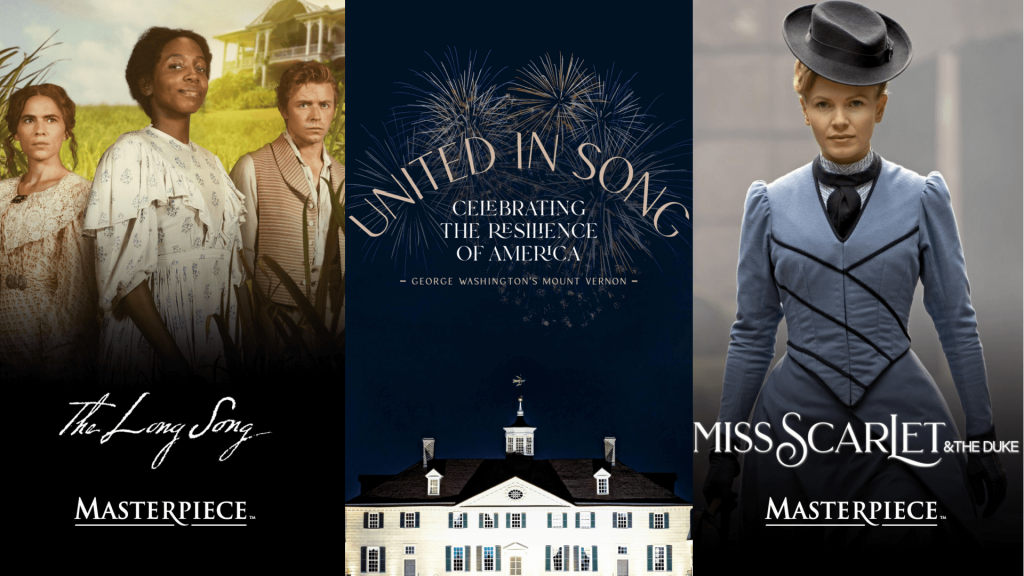 Welcome to February! We're deep into winter now, and when you're not outdoors enjoying some cross-country skiing, an afternoon of ice skating or a wintry hike, we're here to entertain you indoors, where you can stay warm and dry. February is also Black History Month. We're excited to celebrate here at TPT. Check out our themed list on what to stream now.
Get a first look at new programs below and a list of shows that are leaving soon. Take advantage of this unique member benefit and start watching now.
Sign into TPT Passport online or by using the PBS Video App on Apple TV, Roku, Amazon Kindle & Fire Stick Chromecast, or Android TV.
Happy Viewing!
---
Stream Your Favorite Shows Now
TPT Passport is a member benefit that gives you extended access to an on-demand streaming library of PBS and TPT shows, including full seasons of many favorites like
World on Fire
,
Poldark
,
The Great British Baking Show
, and many, many more. Make a qualifying donation so you can start enjoying TPT Passport on your computer or with the
PBS Video App
on your favorite streaming device, mobile device or Samsung smart TV!
---
RECENTLY ADDED SPOTLIGHT:
The Long Song
This three-part miniseries based on Andrea Levy's award-winning novel about the end of slavery in Jamaica follows July (Tamara Lawrance), an indomitable, young slave who works on a sugarcane plantation with her detestable mistress, Caroline Mortimer (Hayley Atwell).
Their lives change with the arrival of a new overseer, Robert Goodwin (Jack Lowden) who sets out to improve life on the plantation.
Episode 1 is currently streaming with the second to be be added on Sunday, February 7, and the third coming on Sunday, February 14.
Become a member today and start watching on TPT Passport.
---
RECENTLY ADDED:
---
Drama & Arts
Independent Film

Independent Lens | A Woman's Work
A Woman's Work: The NFL's Cheerleader Problem sheds light on the continued fight to end the gender pay gap prevalent throughout the National Football League, chronicling the journeys of cheerleaders from the Raiders and the Bills, each of whom put their careers on the line to take legal action and fight for fair pay.
---
EXPIRING SOON:
---
John Lewis – Get in the Way
Follow the journey of civil rights hero, congressman and human rights champion John Lewis. At the Selma March, Lewis came face-to-face with club-wielding troopers and exemplified non-violence.
Removed from TPT Passport February 10
Africa's Great Civilizations
In his six-hour series, Africa's Great Civilizations, Henry Louis Gates, Jr. takes a new look at the history of Africa, from the birth of humankind to the dawn of the 20th century. This is a breathtaking and personal journey through two hundred thousand years of history, from the origins, on the African continent, of art, writing and civilization itself, through the millennia in which Africa and Africans shaped not only shaped their own rich civilizations, but also the wider world.
Removed from TPT Passport February 27
Austin City Limits: Jason Isbell and the 400 Unit / Amanda Shires
Savor the best in Americana with Jason Isbell & the 400 Unit and Amanda Shires. Isbell and his band showcase their acclaimed roots rock from The Nashville Sound. Singer/songwriter/violinist Shires unveils her distinctive take on country music from My Piece of Land.
Removed from TPT Passport February 28
Austin City Limits: Run the Jewels
Groove to a full hour with hip-hop superstars Run The Jewels. The duo showcases its latest album
Run the Jewels 3
, as well as its greatest hits.
Removed from TPT Passport February 28
Dishing with Julia: Your Own French Soup
Chef Rick Bayless marvels over Julia Child's knife skills and what great technique training she provided. José Andres and Eric Ripert are also impressed with her teaching – how she took the time to include skills and techniques in her programs, and they wonder how many tips are in her two hundred episodes of The French Chef.
Removed from TPT Passport March 6
POV: The Rescue List
In a rehabilitation shelter in Ghana, two children are recovering from enslavement to fishermen. But their story takes an unexpected turn when their rescuer embarks on another mission and asks the children for help. Charting the unfolding drama, The Rescue List tells a moving story of friendship and courage—transcending tropes of victimhood and illustrating what it means to love and survive.
Removed from TPT Passport March 23
Independent Lens: The Providers
Three rural healthcare providers try to make a difference in the lives of their patients against overwhelming odds.
Removed from TPT Passport March 23
To Walk Invisible: The Bronte Sisters
Learn the extraordinary story of how, against all odds, the famous literary trio had their genius for writing romantic novels recognized in a male-dominated 19th-century world.
Removed from TPT Passport March 25
© Twin Cities Public Television - 2021. All rights reserved.
Read Next