Experience a refreshing change this July as we navigate through a challenging summer with fluctuating air quality. While we eagerly anticipate cleaner breezes, we're prioritizing your safety. That's why we've curated a captivating selection of 17 new shows on TPT Passport to keep you entertained, educated, and utterly inspired, all from the comfort of your own couch, computer, tablet, or phone. Sit back, relax, and let us whisk you away on a journey that's streamable anywhere, anytime!
Watch online, or by using the PBS App.
---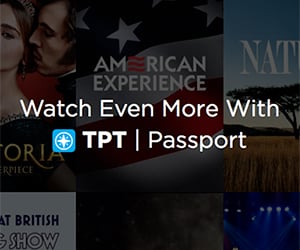 What is TPT Passport?
TPT Passport is a member benefit that gives you extended access to an on-demand streaming library of PBS and TPT shows, including full seasons of many favorites like
Downton Abbey
,
Atlantic Crossing
,
World on Fire
, and many, many more. Make a qualifying donation so you can start enjoying TPT Passport on your computer or with the
PBS Video App
on your favorite streaming device, mobile device or Samsung smart TV!
---
DRAMA & MYSTERY
---

Doc Martin Season 9
Doc Martin, your favorite comedy drama starring Martin Clunes as Martin Ellingham, the truculent and tactless doctor causing mayhem in a small Cornish community, returns for another season on July 1.

Endeavour  The Final Season
"I suppose I thought things would just go on. But then they don't." Nothing lasts forever…

Grantchester Season 8
Trouble is lurking in Grantchester… how will everyone's favorite crime-solving duo fare? Get ready for a dramatic new season.

Ridley
Retired Detective Inspector Alex Ridley is called back to advise on a complex and compelling murder case by his replacement and former protege DI Carol Farman. Carol is keen to access Ridley's unique insight into crime-solving which served them so well in the past, but the investigation takes a dark and unexpected twist.
---
SCIENCE & NATURE
---

NOVA | Your Brain: Perception Deception
Is what you see real? Join neuroscientist Heather Berlin on a quest to understand how your brain shapes your reality, and why you can't always trust what you perceive. Learn the surprising tricks and shortcuts the brain takes to help us survive.

NOVA | Your Brain: Who's in Control?
Are you in control of your brain, or is your brain controlling you? Dive into the latest research on the subconscious with neuroscientist Heather Berlin to see what's really driving the decisions you make.

Wild Scandinavia
Immerse yourself in these breathtaking Scandinavian landscapes – beautiful fjords, magical forests, fiery volcanoes, and arctic extremes. Watch as surprising wildlife stories, myth, and modernity are all woven into this icy natural world.
---
DOCUMENTARIES & HISTORY
---

American Masters | Little Richard: King And Queen of Rock 'n' Roll
Experience the meteoric rise and enduring legacy of Little Richard. This portrait of the "King and Queen of Rock and Roll" explores his far-reaching influence as well as his advocacy for the rights of Black artists in the music industry.

American Masters | Nam June Paik: Moon is the Oldest TV
See the world through the eyes of Nam June Paik, the father of video art and coiner of the term "electronic superhighway." Born in Japan-occupied Korea, Paik went on to become a pillar of the American avant-garde and transformed modern image-making with his sculptures, films and performances. Experience his creative evolution, as Academy Award nominee Steven Yeun reads from Paik's own writings.

Antiques Roadshow | Junk in the Trunk 12
Catch a trunkful of never-before-seen treasures from ROADSHOW's season 27 tour, like a 1791 Jane Young world map needlework, an Albert Einstein collection and Carlo Giuliano earrings & necklace, ca. 1890. One treasure is up to $120,000!

Antiques Roadshow | Spokane
Celebrate our 20th anniversary with treasures like a 1919 Belmont Stakes trophy, 1963 "The Avengers" comics, and two Amadeo de Souza-Cardoso oil paintings. Which find is worth $200,000 to $300,000?

Iconic America: Our Symbols and Stories | The Cowboy
The cowboy is the quintessential American — fiercely independent, brave and laconic. The episode examines the myths and realities of this archetype, which remains as potent as ever in the 21st century.

Fanny: The Right to Rock
Co-founded by Filipina American and queer teenagers, Fanny is the first all women band to release an album with a major record label (Warner/Reprise, 1970). Revered by David Bowie, meet the most ground breaking rock group you've never heard of… yet.

Independent Lens | The Donut King
An immigrant story with a (glazed) twist, The Donut King follows the journey of Cambodian refugee Ted Ngoy, who arrived in California in the 1970s and, through a mixture of diligence and luck, built a multi-million dollar donut empire up and down the West Coast.
---
MUSIC & PERFORMANCES
---

Great Performances | Celebrating 50 Years of Broadway's Best
Enjoy a revue of milestone Broadway shows and songs from 1973 to 2023 hosted by two-time Tony Award winner Sutton Foster. Features performances by André De Shields, Chita Rivera, Vanessa Williams and more from Lincoln Center's David H. Koch Theater.

Great Performances | Richard III
Experience The Public Theater's Free Shakespeare in the Park production of Shakespeare's tragedy starring Danai Gurira in the title role. Recorded live in July 2022 from Central Park.
---
FOOD & COOKING
---

Lidia Celebrates America | Flavors That Define Us
Chef and Italian immigrant Lidia Bastianich shares stories of first, second and third-generation Americans shaping the shifting definition of what it means to be an American. As America grows more diverse than ever before, immigrants must figure out how much of their culture to keep and what to leave behind, and many are more openly sharing their heritage with a new country they now call home.
—

© Twin Cities Public Television - 2023. All rights reserved.
Read Next