Summer is here, and with June's arrival comes a wave of excitement on TPT Passport. Get ready to dive into a new lineup of 16 shows that will keep you entertained all month long. We've got a new gripping drama, jaw-dropping series finales, explorations in the wonders of science and nature, and captivating historical documentaries.
It's time to kick back and enjoy some must-see shows on TPT Passport. Ready, set, binge!
Watch online, or by using the PBS App.
---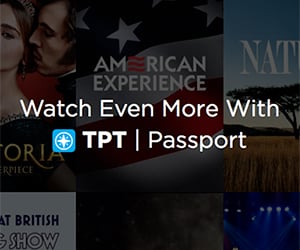 What is TPT Passport?
TPT Passport is a member benefit that gives you extended access to an on-demand streaming library of PBS and TPT shows, including full seasons of many favorites like
Downton Abbey
,
Atlantic Crossing
,
World on Fire
, and many, many more. Make a qualifying donation so you can start enjoying TPT Passport on your computer or with the
PBS Video App
on your favorite streaming device, mobile device or Samsung smart TV!
---
Coming Soon

---

Endeavour The Final Season Coming June 18
"I suppose I thought things would just go on. But then they don't." Nothing lasts forever…

Ridley Coming June 18
Retired Detective Inspector Alex Ridley is called back to advise on a complex and compelling murder case by his replacement and former protege DI Carol Farman. Carol is keen to access Ridley's unique insight into crime-solving which served them so well in the past, but the investigation takes a dark and unexpected twist.
---
SCIENCE & NATURE
---

Changing Planet
Join conservation scientist Dr. M. Sanjayan for a global environmental health check of seven of Earth's bellwether biomes. From the Arctic to the Amazon, these vulnerable habitats are changing, revealing surprising animal behaviors as species adapt.

Nature: Attenborough's Wonder of Song
David Attenborough presents seven of the most remarkable animal songs found in nature and explores the significance of these songs in the lives of their species.

Nature: The Hummingbird Effect
Discover how tiny hummingbirds influence their many flowering kingdoms and their ripple effects on macaws, quetzals, monkeys, tapirs and more. Set in the exotic landscapes of Costa Rica.

NOVA: Saving the Right Whale
The North Atlantic right whale is on the brink of extinction. But a handful of specialists are determined to help save it as they discover new secrets about the lives of these giants of the sea.

NOVA: Weathering the Future
As extreme weather in the U.S. impacts more people – with longer heat waves, more intense rainstorms, megafires, and droughts – discover how Americans are fighting back by marshaling ancient wisdom and innovating new solutions.
---
DOCUMENTARIES & HISTORY
---

Antiques Roadshow: Shelburne Museum
Visit the Green Mountain State for colorful finds, like a women's Rolex gold & diamond bracelet watch, an American Girl Barbie & wardrobe, ca. 1965, and a schoolgirl needlework, ca. 1740. Can you guess which one is $50,000 to $125,000?.

Antiques Roadshow: Orlando
Journey to Orlando to learn more about vintage and antique items including a 1965 NASA "Corned Beef" archive, a 17th-Century Korean "The Water Moon Viewing Gwaneum" painting, and a 1918 WWI peach can label letter. Which is the big find?

How Saba Kept Singing
Musician David "Saba" Wisnia believed that he survived the horrors of Auschwitz by entertaining the Nazi guards with his beautiful singing voice. Join David and his grandson Avi as the pair embark on a journey exploring the mystery of Saba's past.

Independent Lens: Free Chol Soo Lee
Sentenced to life for a 1973 San Francisco murder, Korean immigrant Chol Soo Lee was set free after a pan-Asian solidarity movement, which included Korean, Japanese, and Chinese Americans, helped to overturn his conviction. After 10 years of fighting for his life inside California state prisons, Lee found himself in a new fight to rise to the expectations of the people who believed in him.

Independent Lens: Matter of Mind: My ALS
Amyotrophic lateral sclerosis (ALS) is a neuromuscular disease with an average survival time of 2-5 years from diagnosis. In this intimate exploration, three people with ALS, or Lou Gehrig's disease, bravely face different paths as they live with this progressively debilitating illness.

My Grandparents' War: Emeli Sandé
Singer-songwriter Emeli Sandé explores her grandparents' remarkable stories, which span World War II, the Mau Mau insurgency in Kenya, and the fight for independence in Zambia. She faces a mix of emotions: "Both sets of my grandparents were involved in violent struggles in Africa," she says. "One, tasked with upholding the British Empire. The other: trying to overthrow it."
---
MUSIC & PERFORMANCES
---

Now Hear this: "Albéniz: Portraits of Spain"
Discover the inspirations Spain provided composer Isaac Albéniz with host Scott Yoo along with musicians from Albéniz's birthplace in the Pyrenees mountains as well as Sevilla, Mallorca and more.

Next at the Kennedy Center: Continuum: Jason Moran & Christian McBride
Music icons Jason Moran and Christian McBride collaborate for an electrifying performance at the Kennedy Center. They share stories about their legendary teachers and introduce us to their remarkable protégés.
---
COOKING
---

La Fontera with Pati Jinich: Back to the Middle
Pati travels the New Mexico and Chihuahua border region, one of the most unique and bio-diverse places. She meets architect Ronald Rael, observes migratory species, visits a remote Mennontie camp, and more.
—

© Twin Cities Public Television - 2023. All rights reserved.
Read Next