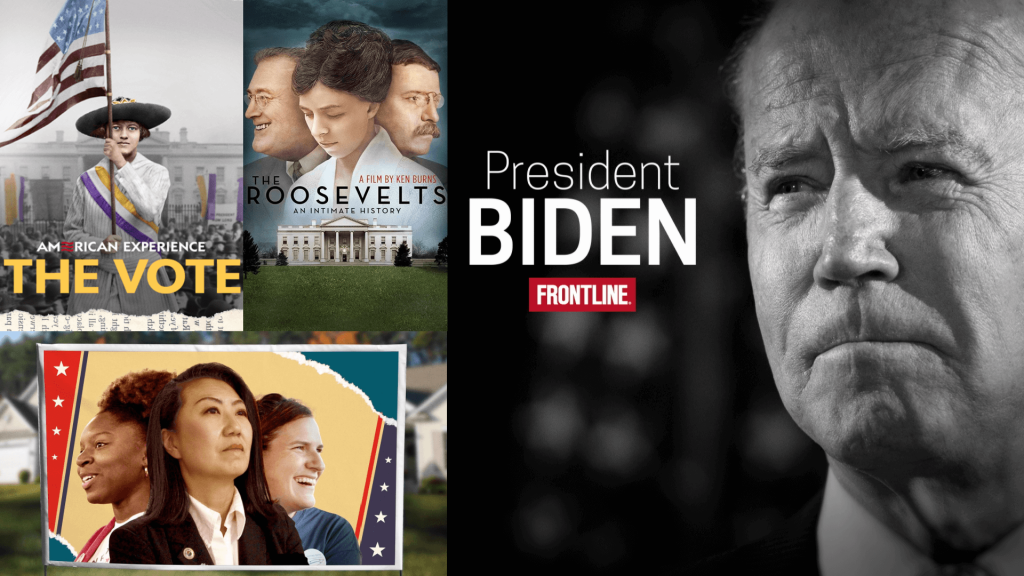 By Kelsey Derby
This week, we witnessed something that has only happened 46 times in our nations history – we inaugurated a new president, Joseph R. Biden Jr. It was an historic day for many reasons. First of all, navigating with hurdles presented by the ongoing pandemic, also watching the youngest Inaugural Poet Laureate in U.S. history, Amanda Gorman, read her memorable piece The Hill We Climb and, of course breaking the glass ceiling by inaugurating the first woman and first person of color, Kamala Harris, to the office of the Vice President.
With all the pomp and circumstance, it got us thinking about past inaugurations, past presidents, and politics in general. In honor of this major event in U.S. history, we thought we'd pull together some picks on TPT Passport to help you dig in.
Happy viewing!
---
Stream Your Favorite Shows Now
Don't know what TPT Passport is? It's our online member benefit that allows access to thousands of TPT shows right at your fingertips. All it requires is a $5+ monthly donation and a computer, a smart TV, a tablet or whatever device you use to watch your favorite shows! Download the
PBS app
for easy viewing.
---

Find more information on this clip and educational resources at PBS Learning Media
In 1993, President Bill Clinton asked Maya Angelou to write a poem for his inauguration. After Clinton's inaugural address, Maya Angelou recited her original poem On the Pulse of Morning. As the second poet in history to read a poem at a presidential inauguration—Robert Frost was the first when he recited a poem at John F. Kennedy's inauguration in 1961—Angelou captured the attention of the nation. President Clinton called her poem "an eternal gift to America."
This clip from American Masters | Maya Angelou: And Still I Rise features part of her performance at the inauguration and provides background about Clinton's reasons for asking her, her response, and how the poem was received by the public.
Watch the full documentary, American Masters | Maya Angelou: And Still I Rise.
---
The Washington Post reported that President Biden, "has filled the Oval Office with images of American leaders and icons, focusing the room around a massive portrait of Franklin D. Roosevelt that hangs across from the Resolute Desk. It is a clear nod to a president who helped the country through significant crises, a challenge Biden now also faces."
Learn more about the past president, and the entire family legacy, with the help of Ken Burns who was also notably profiled by our friends at NPR recently. Read here.
The lives of the three great Roosevelts — Teddy, Franklin and Eleanor — are captured in this series. Ken Burns and producer, Paul Barnes describe the lives and times of these three American icons who influenced 20th century American history more than perhaps any other family. Through wars, revolutions, depressions, movements, the three led the country through what was called America's century. At times they had little in common but for one thing they always had in common . . . their ability, desire and conviction to lead.
---
Frontline tells the story of how crisis and tragedy prepared Joe Biden to become America's next president. Those who know him best describe the searing moments that shaped President-elect Biden and what those challenges reveal about how he will govern.
---

We checked the archives of PBSNewsHour to pull this short clip from December 3, 2020. Watch as the NewsHour team goes into detail on why Harris' nomination is so important to our history. Yamiche Alcindor reports.
---
Host Henry Louis Gates, Jr. explores the diverse family histories of politicians Paul Ryan, Tulsi Gabbard and Marco Rubio. They each see a shared vision of the great American melting pot reflected in their ancestors' stories.
---
It wouldn't be a TPT list without some Antiques Roadshow! Check out this fun, brand-new themed episode that showcases fantastic finds related to American politics. Relics include 20th century Presidential autographs, 1947 political cartoons, and a Congressional desk & chair.
---
With the centennial anniversary of the 19th amendment in 2020, American Experience took the opportunity to take a look back at the suffragist movement.
Meet the unsung heroes of the movement and relive the fiery, dramatic and unrelenting campaign that led to passage of the 19th Amendment, granting American women the vote and ushering in the largest expansion of voting rights in U.S. history.
---
Represent follows three women running for office in the heart of the Midwest leading up to the 2018 midterm elections, as they take on entrenched local political networks and fight to reshape politics on their own terms.
---
President Barack Obama was elected by promising hope and change, but during his eight years in the White House he learned that governing isn't always easy. Produced back in 2016, this Washington Week special takes a look back on the first black president's legacy, what he accomplished and what remains undone, one month before he left office.
---
Produced right here in Saint Paul, America from Scratch is a PBS Digital Studio series that investigates the question, "What if we made 'America From Scratch' today rather than 250 years ago?"
Would 12-year-olds be allowed to vote? What if there were no states? We ask these big questions and celebrate the incredible opportunities represented by our ongoing American experiment.
---
From American Experience, the latest in their award-winning series of presidential biographies, this film looks at the life and presidency of George W. Bush, from his unorthodox road to the presidency to the terrorist attacks of 9/11 and the myriad of challenges he faced over his two terms, from the war in Iraq to the 2008 financial crisis.
---
Whether you love politics or not, they are an integral part of our history and TPT is proud to serve curious minds. We thank our members for making these programs possible.
TPT Passport is a unique member benefit for those who give $5+ per month. Learn more about becoming a member today!


© Twin Cities Public Television - 2021. All rights reserved.
Read Next