This month we're excited for new Fall dramas! Check out the list below of ten new and coming soon dramas to TPT Passport. Watch online, or by using the PBS Video App.
---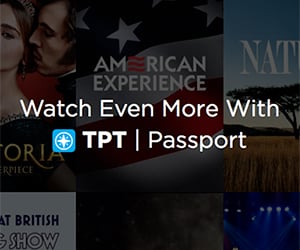 What is TPT Passport?
TPT Passport is a member benefit that gives you extended access to an on-demand streaming library of PBS and TPT shows, including full seasons of many favorites like
Downton Abbey
,
Atlantic Crossing
,
World on Fire
, and many, many more. Make a qualifying donation so you can start enjoying TPT Passport on your computer or with the
PBS Video App
on your favorite streaming device, mobile device or Samsung smart TV!
---
New
---

Guilt Season 2
Season 2 brings four more tightly wound episodes focused on unscrupulous lawyer Max McCall and offers the same dry, dark wit as last time.

Hope Street
Set in the fictional town of Port Devine on the Northern Irish coast, Hope Street focuses on Port Devine's police department and the mysterious arrival of English Detective Constable Leila Hussain, the first Muslim police officer in the town's history.

Kidnap and Ransom
International hostage negotiator Dominic King's motto, "Never Promise, Never Lie" has, until now, meant 100% success. Facing the most challenging cases of his career, King must race against the clock with lives at stake.

The Making of a Lady
Based on the novel by Frances Hodgson Burnett, this is the story of the educated but penniless Emily who accepts a practical if unromantic marriage proposal from Lord James Walderhurst. Left alone with Lord James' nephew and his wife on an isolated country estate, she increasingly comes under their control. Emily begins to fear for her life. Will Walderhurst return in time to save her?

Suspects Seasons 1-5
DI Martha Bellamy, DS Jack Weston and DC Charlie Steele tackle hard-hitting cases ranging from the abduction of a two-year old child to an attempted murder that's been made to look like assisted suicide.

What to Do When Someone Dies
Ellie's beloved husband is killed in a car accident. A woman was in the car with him and killed too. Who was she? Was he having an affair? Was it an accident?
---
Coming Soon
---

Apple Tree Yard
Coming September 8
What could have brought a law-abiding woman, an eminent geneticist, into court to be accused of complicity in a violent crime and about to be exposed in a highly damaging and compromising lie? Adapted from the best-selling novel, this is a tense, provocative mini-series about a respected female scientist (Emily Watson) and the single impulsive act that leads to her standing trial for murder.

Exile
Coming September 8
Tom Ronstadt's world has fallen apart. Tom returns to his hometown and begins to unravel the mystery that drove him away years ago, unaware that he is unearthing a devastating crime that will reveal secrets he could never have imagined.

La Otra Mirada (A Different View)
Coming September 15
Set in 1920s Seville, where Teresa, a woman with a mysterious past, flees to a young girls' academy with a secret goal related to the academy itself. This series portrays the journey of brave women finding their own voice.

The Sinking of Laconia
Coming September 8
This is the true story of the 1942 sinking of the liner Laconia by a German U-boat through the eyes of six survivors. This epic two-part drama tells the story of Hilda Smith, a German national fleeing Nazi Germany, Thomas Mortimer, an officer aboard The Laconia, and U-boat Captain Werner Hartenstein, alongside the actions of the Germans, the British, and the Americans.

© Twin Cities Public Television - 2022. All rights reserved.
Read Next