July has arrived and there are bunch of new and exciting shows to dive into on TPT Passport! This month features exciting music-filled offerings like new episodes of Great Performances, Prince and the Revolution: The Purple Rain Tour, and David Holt's State of Music as well as new dramas and documentaries. Happy viewing!
---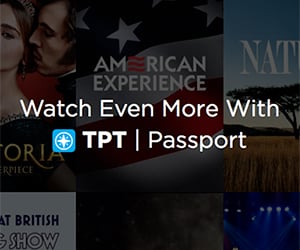 What is TPT Passport?
TPT Passport is a member benefit that gives you extended access to an on-demand streaming library of PBS and TPT shows, including full seasons of many favorites like
Downton Abbey
,
Atlantic Crossing
,
World on Fire
, and many, many more. Make a qualifying donation so you can start enjoying TPT Passport on your computer or with the
PBS Video App
on your favorite streaming device, mobile device or Samsung smart TV!
---
Dramas
---

Mr Selfridge
In 1909 London, an American retail tycoon arrives at the unfashionable end of Oxford Street to jettison fusty British tradition and open one of the finest department stores the world has ever seen. Three-time Emmy® winner Jeremy Piven stars as Harry Gordon Selfridge, the flamboyant entrepreneur and showman seeking to provide London's shoppers with the ultimate merchandise and the ultimate thrill.

Jamaica Inn
Following the death of her mother, Mary Yellen arrives at Jamaica Inn, where she finds she must fight to hold on to her morality and resist being drawn into the dangerous world of smuggling.

Professor T (Walter's Choice) Season 1 
Eccentric criminal psychology Professor T has a brilliant mind, but also several neurological disorders which make him complex and often difficult, with a very unpredictable nature. Along with his trusted colleagues Annelies and Daan, they form a team of high-powered advisors that the Antwerp Homicide Department comes to rely on. In Flemish with English subtitles.

Endeavour, Season 8
Shaun Evans (The Take, The Last Weekend, Silk), charms audiences with his portrayal of the cerebral and solitary Detective Constable Morse in Endeavour, written by Inspector Lewis creator and Inspector Morse writer Russell Lewis .

Hotel Portofino 
Set in the breathtakingly beautiful resort town of Portofino, this series is about personal awakening at a time of global upheaval in the traumatic aftermath of World War I.
---
Documentaries
---

Petit Rat
In 1940, a French Jewish girl's dream of becoming a ballerina is cut short by World War II. She vows that if she has daughters, they will become dancers. Nearly 80 years later, she and her two daughters confront the impact of that pledge. Petit Rat is a portrait of three women, bonded by the intergenerational trauma of war and uplifted by the resilience of familial love.

The Hidden Map
Journey to modern-day Turkey with an Armenian American granddaughter of genocide survivors in search of long-buried truths in their lost ancestral homeland. A chance encounter with a Scottish explorer leads to a joint odyssey and the hidden map.
American Experience: Plague at the Golden Gate
Discover how an outbreak of bubonic plague in 1900 set off fear and anti-Asian sentiment in San Francisco. This new documentary tells the gripping story of the race against time by health officials to save the city from the deadly disease.

Lucy Worsley Investigates | Madness of King George
How did George III's mental illness change Britain? Lucy Worsley uncovers Royal papers and explores how the assassination attempt on his life by a mentally ill subject changed psychiatry forever.
---
Music
---
David Bowie: Serious Moonlight
Experience one of the most dramatic and charismatic performances of Bowie's career on his 1983 tour. Recorded live in Vancouver, it features his greatest hits including "Let's Dance," "Heroes," "Golden Years," "China Girl" and "Space Oddity."
Paul Anka: His Hits and a Tribute to Frank Sinatra
Paul Anka performs his own hits and pays tribute to Frank Sinatra, his greatest mentor, in a March 2022 concert.

Great Performances | Anything Goes
Enjoy this London production of Cole Porter's classic musical led by Sutton Foster who reprises her Tony-winning role as Reno Sweeney directed by Kathleen Marshall with favorite songs like "I Get A Kick Out of You" and "You're the Top."

Prince and the Revolution: The Purple Rain Tour
Experience the powerful performance by Prince and The Revolution on their legendary Purple Rain Tour, featuring hits like "Let's Go Crazy," "Little Red Corvette," "When Doves Cry" and a mind-bending 18+ minute version of "Purple Rain."
True Colors: LGBTQ+ Our Stories, Our Songs
Celebrate Pride Month with music from Indigo Girls, Billy Gilman, Morgxn, Peppermint, Jujubee, Alexis Michelle, Trey Pearson, Breanna Sinclairé, André de Shields and more along with real-life stories of hope hosted by Jeopardy's Amy Schneider.
Les Miserables 25th Anniversary Concert at the O2
Alfie Boe, Colm Wilkinson, Ramin Karimloo and Nick Jonas in the curtain call of the Les Miserables 25th Anniversary Concert at the O2.
David Holt's State of Music | Darrell Scott
David visits with renowned singer-songwriter Darrell Scott, whose music is intensely personal but also universal.

David Holt's State of Music | Jontavious Williams
David visits with Jontavious Willis, a young guitarist and singer from Georgia who embodies the rhythms and feeling of traditional country blues.

David Holt's State of Music | Ruthie Foster
Blues artist Ruthie Foster has a voice like liquid gold and a distinctive way with old songs that makes you think you're hearing them for the first time.

Great Performances | Keeping Company with Sondheim
Take an inside look at the reimagined gender-swapped production as it returns to Broadway during the COVID-19 pandemic. Features new interviews with Tony and Grammy-winning cast members Katrina Lenk, Patti LuPone, Sondheim and more.
---
Nature & Science
---

NOVA | Dinosaur Apocalypse: The New Evidence
In North Dakota, scientists use new fossils to reconstruct what life might have been like just before an asteroid wiped out the dinosaurs. The site reveals remarkable evidence, including the unhatched egg of a pterosaur, a huge flying reptile.

NOVA | Ice Age Footprint Mystery
Ancient footprints in New Mexico's White Sands National Park reveal new evidence of Ice Age humans that walked the land alongside enormous ground sloths and mammoths—thousands of years earlier than archaeologists thought people were in the Americas.
Colombia: Wild and Free | From the Pacific to the Andes
Journey to the largely uninhabited Pacific coast of Colombia, where humpback whales give birth and fish hunt crabs in the mangrove forests. Then ascend to snow-capped Andean volcanoes, home to stunning spectacled bears, condors and hummingbirds.

© Twin Cities Public Television - 2022. All rights reserved.
Read Next