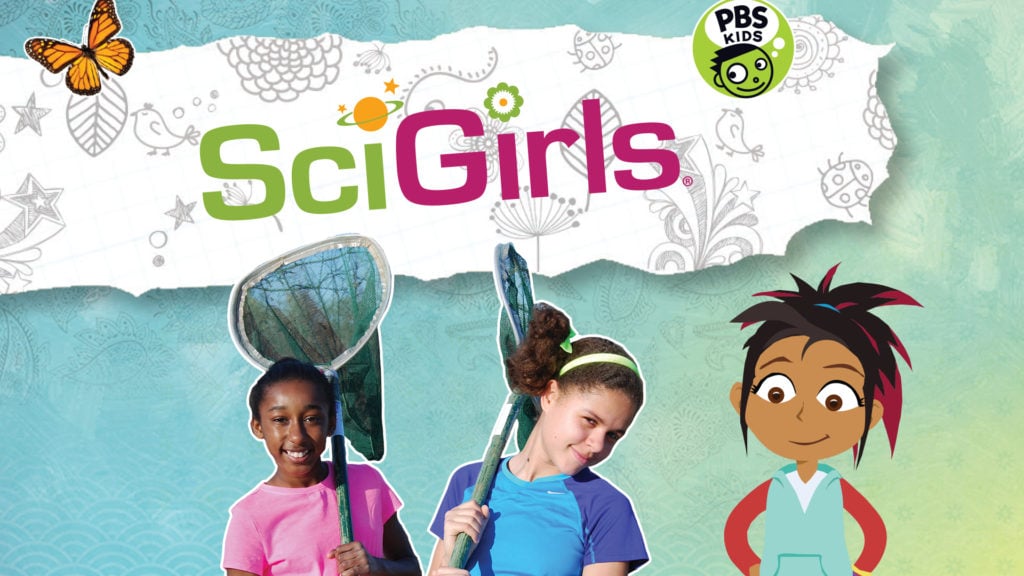 Saint Paul, Minn. September 19, 2016—The National Science Foundation (NSF) has granted Twin Cities PBS's STEM Media & Education Unit $1.2 million to support its SciGirls CONNECT project. SciGirls CONNECT, a nationwide educational outreach network, uses PBS media resources and hands-on professional development workshops to empower educators to engage, inspire and encourage girls in science, technology, engineering and math (STEM) learning and career paths.
SciGirls CONNECT is part of the NSF-funded SciGirls program, which combines an Emmy award-winning nationally broadcast PBS television show, multiple websites, and community-based STEM programming to engage girls ages 8-13. Launched in 2011, the SciGirls CONNECT network now includes 140+ partner organizations in 34 states and Puerto Rico. More than 2,500 informal educators have been trained in SciGirls' principles of gender equitable STEM education, who have engaged more than 40,000 diverse young people at SciGirls-themed classes, camps, clubs, afterschool initiatives and more.
The NSF's funding will allow Twin Cities PBS and its partners, the National Girls Collaborative and Florida State University, to further research gender equitable and culturally competent teaching strategies. The team will use these findings to update SciGirls CONNECT resources currently used by educators in diverse formal and informal educational settings. Programmatic resources will be made available for free via PBS LearningMedia, which reaches 1.5 million teachers. The research will focus on programs at 16 geographically diverse educational partner organizations, which will reach youth in all-girls and co-ed informal STEM education settings. More than half of these new partners will serve Hispanic or other minority populations.
"For five years, SciGirls CONNECT has empowered informal and formal educators nationwide to adopt the research-based strategies that best engage girls in STEM," said STEM Unit Managing Director Rita Karl. "We are grateful for this opportunity to inspire diverse girls around STEM learning, with an eye toward critical STEM workforce needs."
About Twin Cities PBS
Twin Cities PBS (TPT)'s mission is to enrich lives and strengthen our community through the power of media. Established in Saint Paul 59 years ago, TPT now operates as a public service media organization that harnesses a range of media tools to serve citizens in new ways — with multiple broadcast channels, online teaching resources, educational outreach and community engagement activities. For over thirty years, TPT has been public television's national leader in inspiring young people, especially girls and youth of color, around the pursuit of STEM studies
and career paths. Landmark media projects such as the long-running series Newton's Apple and DragonflyTV have also provided parents, educators and community leaders with the resources they need to teach, support and empower the next generation of STEM superstars. We have continued that tradition of excellence with SciGirls. For more information, visit TPT online, follow TPT on Facebook and Twitter. Watch SciGirls on pbskids.org, follow SciGirls on Facebook and @SciGirls on Twitter.
About the National Science Foundation
The National Science Foundation (NSF) is an independent federal agency that supports education and research across all fields of science, technology, engineering and math (STEM).  In addition to providing major support for SciGirls, the NSF supports other science and math programs on PBS and pbskids.org, including DragonflyTV, Peg + Cat, Design Squad Nation and Plum Landing. Visit here for more information on NSF activities.
CONTACT:
Kristin Pederson
651-229-1288 | [email protected]
© Twin Cities Public Television - 2016. All rights reserved.
Read Next