Stay tuned throughout the duration of the Minnesota State Fair to our series of Storyboard posts we're calling State Fair Stories. Hear from some legendary storytellers, explore little-known State Fair history, and discover the unique traditions and people that make the Great Minnesota Get-Together so special!
---
Stories from the Minnesota State Fair, Circa 1992
A 1992 production of Tape's Rolling from the TPT archives explores people at the Minnesota State Fair. From Linda the butter sculptor, to fair vendors, to a girl and her cow, this is just a sample of the characters one can see at Minnesota's greatest get-together.
State Fair start for Thai Food in MN
It wasn't on a stick, but the popularity of egg rolls at the fair decades ago boosted Supenn Harrison, founder of the highly regarded Sawatdee Thai Food restaurant.
State Fair Monologues
You know it, you love it, and many monologists have felt compelled to talk about it.
Closing Tune by Chris Thile
Few musicians can — on the spur of the moment — play a tune about the assassination of President William McKinley. But Chris Thile did just that on Almanac's 2016 State Fair live show.
---
Catch up on Our State Fair Stories
Check out our new State Fair Stories series!
STATE FAIR STORIES: THE TRADITIONS WE LOVE
Connecting with traditions whose roots go back to the family farm
STATE FAIR STORIES: THE LEGENDARY KEVIN KLING
State Fair stories that stick with you
STATE FAIR STORIES: HIDDEN GEMS
Get your curds, cows, and crop art here!
---
2021 TPT State Fair Update
In order to prioritize safety, TPT has decided to scale back our presence at the Fair this year, forgoing our usual Almanac at the Fair live taping, activities at our booth and daily characters in the parade.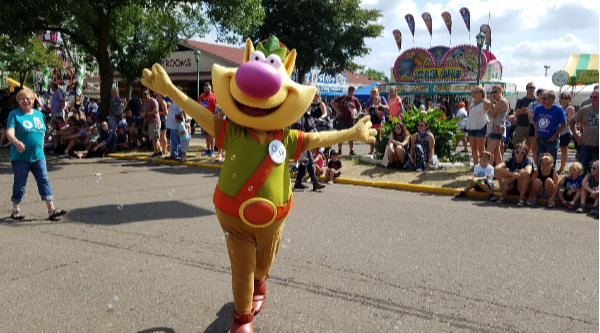 We will, however, continue to offer at our TPT booth from 9 a.m. – 9 p.m. daily, a quiet, private parent and baby area located behind TPT's booth in partnership with Minnesota PRAMS. Our booth is located at the corner of Underwood and Lee.
We will miss the daily interactions with our members and friends, but look forward to next year when we can hopefully all join together once again. We invite you to make a donation of support and to join the TPT family by becoming a member online this year at the link below:
© Twin Cities Public Television - 2021. All rights reserved.
Read Next