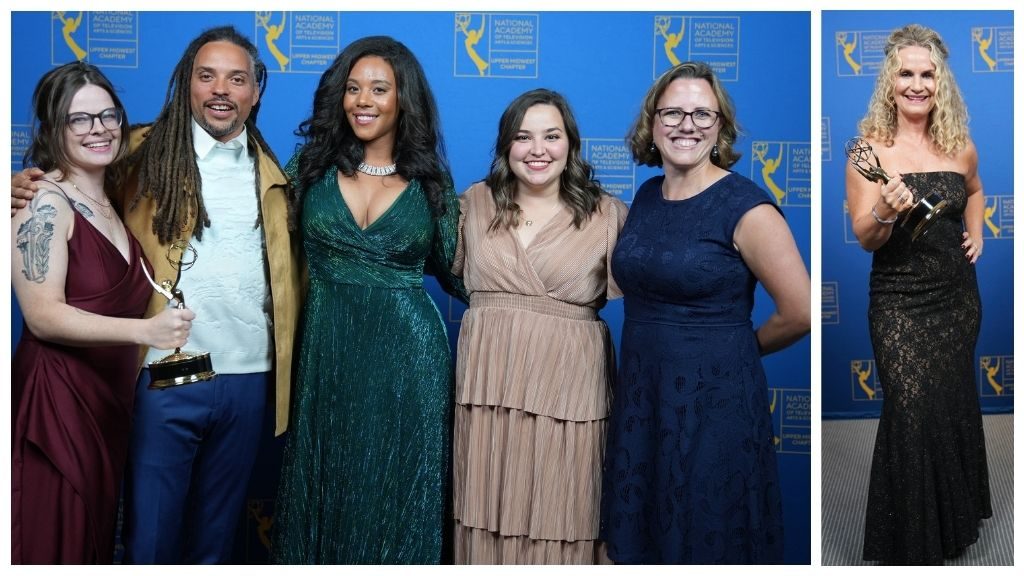 October 16, 2023 (St. Paul, MN) — Twin Cities PBS (TPT) is celebrating 2 Upper Midwest Emmy wins and 6 nominations this year. The recognized work showcases TPT's commitment to create programming that educates, entertains, and inspires. From providing citizens with essential public affairs information to examining the past and showcasing actions that are dismantling racist legacies, TPT is proud to be recognized for creating content that serves our community. Thank you for supporting our work and helping us to make an impact.
---
The 2023 Upper Midwest Emmy Winners
Broadcasting live during the legislative session as bills are passed and deals are made. All the most important lawmakers and decision makers from every corner of the state make regular appearances in live debates, committee highlights and floor action. Almanac at the Capitol is hosted by Mary Lahammer. 
Jim Crow of the North Stories uncovers the dark history of systemic racism, but also lifts up Black resistance and resilience in the past and the present-day changemakers bringing it to light and looking to right historical housing injustices 
---
Additional 2023 Nominees:
Jesse Ventura Almanac Interview, Interview/Discussion
Mary Lahammer talks with former Governor Jesse Ventura about his judicial appointment legacy.


STAGE: American Roots Revue, Arts & Entertainment — Long Form Content
American Roots Revue brings together some of Minnesota's most talented musicians in a spectacular line up featuring Larry Long, Claudia Schmidt, Robert Robinson and Tonia Hughes Kendrick. Backed by an all-star band on stage live at The Dakota in Minneapolis. 
Outside Chance: Introduction to Boundary Waters Canoeing, Lifestyle — Short Form Content
 Northern Minnesota is home to some of the most pristine wilderness canoeing areas in the world! Chance goes on a scenic canoe day trip in Superior National Forest with wilderness canoe guide Eliza Vistica to share tips on portaging, how to recover after flipping along with other important lessons everyone should know when canoeing… especially in remote areas! 
Meet Little Earth community member and activist Cassandra Holmes to discover why she fights against environmental racism and where she draws strength from to keep fighting. 
© Twin Cities Public Television - 2023. All rights reserved.
Read Next