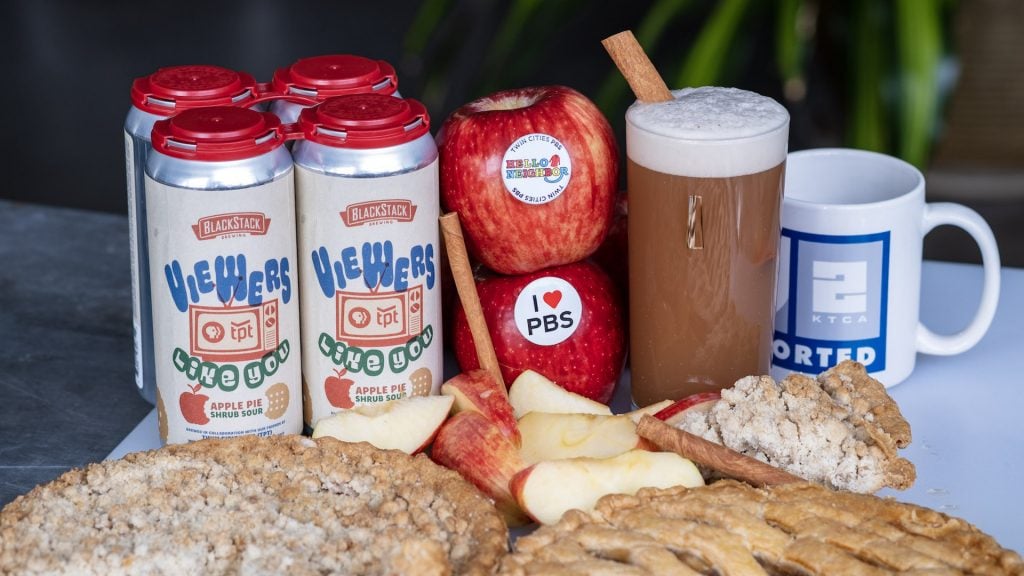 ST. PAUL, MN – Twin Cities PBS (TPT) and BlackStack Brewing have come together to release a new beer "Viewers Like You." A portion of the proceeds from the first-ever TPT beer collaboration will go to Minnesota Experience to celebrate and support the award-winning series.
The new beer, an apple pie shrub sour, is created with a blend of SweeTango, Honey Crisp & Haralson apples from Afton Orchards. Inspired by the shrubs farmers drink while harvesting, it blends apple cider with a mixed culture, an oak fermented Berliner base, and apple cider vinegar as well as seasonal spices. The logo for the 6.7% pint was created by independent graphic designer Ben Woolley and celebrates the partnership between TPT and BlackStack.
"At the brewery, we've been huge fans of TPT since childhood," said Murphy Johnson, Co-founder and Director of Creative & Product Development at BlackStack Brewing. "As we've grown up, 'Minnesota Experience' has shown a light on so many little-known stories & incredible historical moments in the place that we've always called home. The opportunity to work with their team to create something fun & tangible for viewers to experience that also supports the show feels really special to us, and we can't wait for you to try it."
This is the first partnership of its kind to benefit the Minnesota Experience, which will have a total of three films this fall and one more this coming spring, on topics ranging from local food co-ops to death and dying practices to activism against racism. The Minnesota Experience will get $10 of support for each case of beer sold.
"TPT viewers are passionate and invested in what we do," said Lynn Farmer, Vice President of Marketing and Communications. "We are so proud of this collaboration as a new way to celebrate our connection with our viewers."
The TPT beer is available beginning Wednesday, Nov. 24 while supplies last at almost 80 local liquor stores throughout the Twin Cities and North Metro, including Total Wine & More, Top Ten Liquors, Hy-Vee and MGM.
###
About Twin Cities PBS
Twin Cities PBS (TPT)'s mission is to enrich lives and strengthen our community through the power of media. Established 64 years ago, TPT now operates as a public service media organization that harnesses a range of media tools to serve citizens in new ways — with multiple broadcast channels, online teaching resources, educational outreach and community engagement activities reaching more than 2 million people each month. Over its history, TPT has been recognized for its innovation and creativity with numerous awards, including Peabody awards and national and regional Emmy® Awards.
About BlackStack Brewery:
Founded in 2017, BlackStack Brewing is a family-owned brewery and taproom located in Saint Paul's Hamline-Midway neighborhood. Their values of quality and collaboration result in delicious beer crafted with quality ingredients as well as intentional partnerships. In addition to their exceptional beer, BlackStack is known for their chill, welcoming atmosphere and many entertainment options including trivia, live music, sporting event viewing and hundreds of board games. Learn what's on tap now by checking out BlackStackBrewing.com.
© Twin Cities Public Television - 2021. All rights reserved.
Read Next