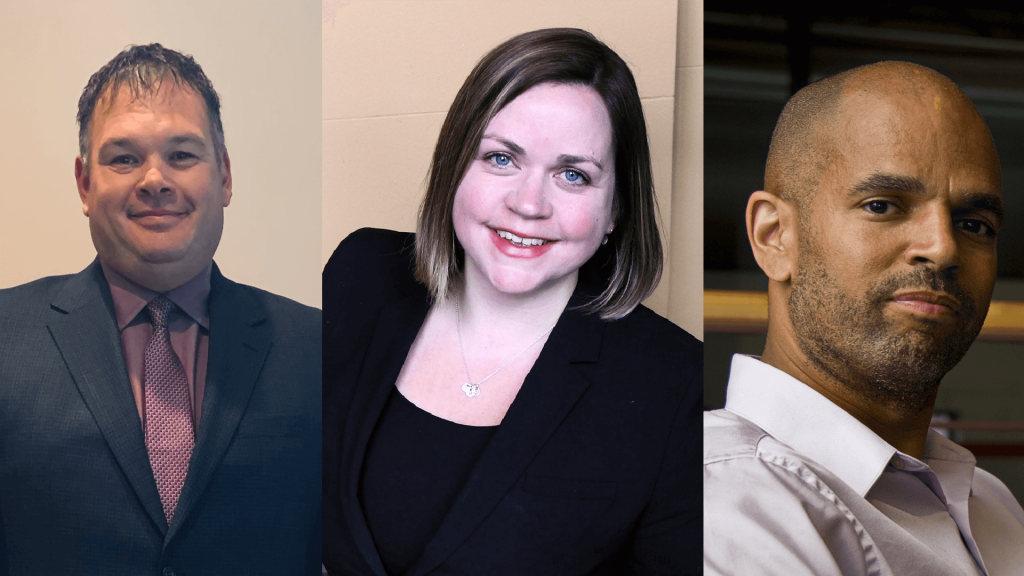 TPT announces Christian Siebeneck as CTO, Elizabeth Allen as CRO, Daniel Bergin as newly created Executive Producer & Managing Director
SAINT PAUL, MINN. – Twin Cities PBS (TPT) has made several important staffing hires recently. Christian Siebeneck has been named Chief Technology Officer, Elizabeth Crippen Allen has been named Chief Revenue Officer, and Daniel Bergin has been named Executive Producer & Managing Director. Siebeneck will be coming from Ideastream Public Media (IPM), a multiple media organization in Cleveland, Ohio and parent company of WVIZ/PBS, 90.3 WCPN and WCLV 104.9. Allen has worked for TPT in several management roles since 2016, most recently as Vice President of Revenue. Bergin began his media career at TPT in 1991, most recently as Executive Producer, History and Special Projects.
As CTO, Siebeneck will serve as principal technology management leader, where he will direct the strategic design, acquisition, management, and implementation of an enterprise-wide technology infrastructure. Siebeneck is also responsible for oversight of TPT's short and long-term technical and engineering strategy and vision.
In her role as CRO, Allen will drive the development and implementation of organizational strategies to support TPT's revenue goals and growth and will ensure performance and alignment of all TPT Revenue Departments and customer experience.
In his new position as Executive Producer & Managing Director, Bergin will lead the content development and strategy for TPT's local, regional arts, culture, history and special projects. He
will lead the team of producers in telling the Minnesota story and lifting up the stories of voices often unheard.
"Each of these three leaders brings valuable experience to TPT as we seek to enhance our local and regional service for and with Minnesotans," said President and CEO of TPT, Sylvia Strobel. "I am excited for Chris, Elizabeth and Daniel's contributions to our TPT team. Each have the talent to support our public service mission through their leadership, and uphold TPT's standard of excellence in Minnesota and nationwide."
Prior to IPM, Christian served as the CEO & CTO of GreatWave Communications, a telecommunications company in Northeast Ohio. Siebeneck graduated from Kent State University with a B.S. of Information Technology.
"I am grateful and honored to be joining TPT as the Chief Technology Officer," said Siebeneck. "I look forward to the new and exciting challenges ahead, as well as having the opportunity to work with and learn from a team of professionals that are innovative, focused on growth and dedicated to serving the community through public media."
Allen said, "I am thrilled to continue with TPT as the new Chief Revenue Officer. Our Minnesota community is known for its generosity and philanthropy, and it is because of our collaborators, members, donors and sponsors that TPT is able to continue being a leader and having the diverse and positive impact it has."
Allen received her B.A. in journalism from the University of Minnesota and her Executive MBA in business from the University of St. Thomas.
Joining TPT in 1991, Bergin dedicated his work early to telling untold stories to change Minnesota's narrative. Joining TPT in 1991, Bergin has dedicated his work early on to telling the untold stories to change Minnesota's narrative. A member of the Midwest Emmys Silver Circle with twenty Upper Midwest Emmys, Bergin has also been recognized as a MN State Arts Board Fellow, a City Pages Artist of the Year, and awarded a Bush Leadership Fellowship for his work in community media. His documentaries have been featured at film festivals across the country and his many noteworthy productions include Jim Crow of the North, Out North: MNLGBTQ History, Food Justice, and Make it OK: Stigma & Mental Illness.
"We have an excellent production team which I am humbled and honored to lead in this new role," said Bergin. "We will continue telling the stories Minnesotans need to hear, especially now in such a historical time."
A Minneapolis native, Bergin received his B.A. from University of Minnesota.
# # #
About Twin Cities PBS (TPT)
Twin Cities PBS (TPT)'s mission is to enrich lives and strengthen our community through the power of media. Established 64 years ago, TPT now operates as a public service media organization that harnesses a range of media tools to serve citizens in new ways — with multiple broadcast channels, online teaching resources, educational outreach and community engagement activities reaching more than 2 million people each month. Over its history, TPT has been recognized for its innovation and creativity with numerous awards, including Peabody awards and national and regional Emmy® Awards. Find more information at tpt.org.
© Twin Cities Public Television - 2021. All rights reserved.
Read Next