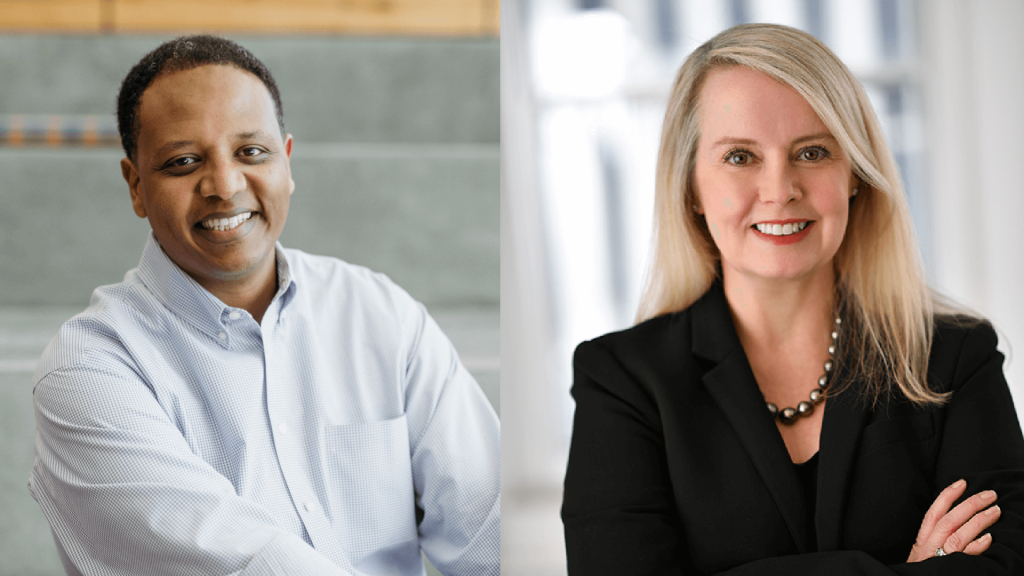 ST. PAUL, MN – Twin Cities PBS (TPT) recently elected two new trustees to its Board. They are Teddy Bekele of Land O'Lakes and Courtney Enloe of 3M.
"We are thrilled to have Teddy and Courtney join the Board of Trustees and bring their passion, leadership and extensive experience to TPT as we launch our new strategic plan," said Rob Sit, Chair of the TPT Board of Trustees.
Bekele serves as the Chief Technology Officer of Land O'Lakes leading the company's digital transformation by leveraging existing and emerging technologies, to discover, implement and deliver solutions and ecosystems. Prior to his current role, Bekele served as Vice President of Ag Technology for WinField United. Bekele holds an MBA from Indiana University and a Bachelor of Science in Mechanical Engineering from North Carolina State University. His community leadership includes serving as Chair of the Minnesota Broadband Task Force, Chair of the Federal Task Force on Precision Ag Connectivity, Director on the Board of Stella Health, Director on the Board of Genesys Works Twin Cities, and MnTech.
Enloe serves as 3M's Senior Vice President, Deputy General Counsel, and Chief Antitrust, Employment, EHS and Product Stewardship, Litigation, and Mergers & Acquisitions Counsel in St. Paul, Minnesota. In this role, she leads 3M's global legal strategy on significant litigation and other matters across the enterprise and advises executive leadership and the Board of Directors on legal and reputational risk.   Prior to joining 3M in 2017, Enloe served as Chief Counsel – U.S. Pharma and Chief Counsel – Litigation for McKesson Corporation, as Senior Litigation Counsel at Georgia-Pacific, and as Senior Litigation Counsel and the lead employment lawyer at EarthLink, a technology company. Before moving in-house, Enloe worked in private practice as a litigator at Holland & Knight LLP and Alston & Bird LLP in Atlanta, Georgia. After law school, Enloe served as a law clerk to Judge James E. Massey, U.S. Bankruptcy Court for the Northern District of Georgia. She is a graduate of Washington and Lee University School of Law.
"As we transition into our new strategic plan, the diversity of expertise and experience of our board is critical to our success.  Teddy and Courtney have both demonstrated outstanding commitments to advance our mission to expand our educational programming and be an indispensable and accessible resource with and for our audiences," said Sylvia Strobel, TPT's President & CEO.
###
About Twin Cities PBS
Twin Cities PBS (TPT)'s mission is to enrich lives and strengthen our community through the power of media. Established 64 years ago, TPT now operates as a public service media organization that harnesses a range of media tools to serve citizens in new ways — with multiple broadcast channels, online teaching resources, educational outreach and community engagement activities reaching more than 2 million people each month. Over its history, TPT has been recognized for its innovation and creativity with numerous awards, including Peabody awards and national and regional Emmy® Awards. Find more information at tpt.org.
© Twin Cities Public Television - 2022. All rights reserved.
Read Next