By Kelsey Derby
Every year, fans of the hit show Call the Midwife are treated to a 90-minute holiday special. This year will be no different – the 2020 special premieres on Christmas Day on TPT 2 and will be immediately available to watch on TPT Passport. In our excitement for the upcoming episode, your friends at Spill the TPTea decided to take a closer look at the 2019  holiday special (and is currently available alongside the 2018 special to watch on TPT Passport for a limited time).
If you're not familiar, Spill the TPTea is a book-club style series where TPT staffers come together to talk about a program on TPT Passport. The term "spill the tea," is really another way of saying "the scoop" or "the news" in fun/cool/hip/modern terms – something we are all striving to be. In case you missed it, we've previously covered The Trouble with Maggie Cole. Watch along with us if you haven't already!
The TPTeam: upper left Michael Brafford (MB), upper right Madison Van Oort (MV), lower left Kelsey Derby (KD), lower right Brandon Wells (BW)
---
Stream Your Favorite Shows Now
Don't know what TPT Passport is? It's our online member benefit that allows access to thousands of TPT shows right at your fingertips. All it requires is a $5+ monthly donation and a computer, a smart TV, a tablet or whatever device you use to watch your favorite shows! Download the PBS app for easy viewing.
---
Now, let's get into it!
Call the Midwife is an incredibly popular show that's been around for nine seasons. This moving, intimate, funny and true-to-life series, based on the best-selling memoirs of the late Jennifer Worth, tells colorful stories of midwifery and families in London's East End in the 1950s. Since the success of the first season in 2012, the BBC has been producing a much-anticipated annual holiday special.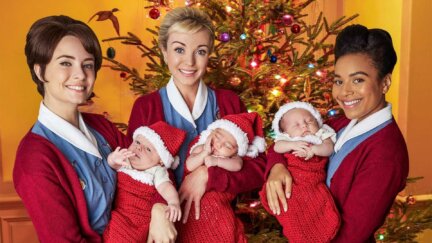 In the 2019 special, Mother Mildred and the Nonnatus House team go to the Outer Hebrides in response to a nursing shortage. The program follows multiple storylines including an older nurse who takes it upon herself to trek to Scotland alone, a town fulfilling a Christmas wish for a man with Downes' syndrome, a Scottish family with problems of their own, a woman who gives birth with an unexpected medical twist, and more. The length of the episode provides for many ups and downs with an overtone of feel-good holiday magic.
The staffers had lots to say about the episode. Some found it to be warm and hopeful, some felt it got a bit too heavy at times, and everyone was intrigued by the overarching theme of finding a place where you truly belong. A common festive theme!
We give this episode 4/5 teacups. Overall heartwarming, but could've been a little less dark at times.





Touching moments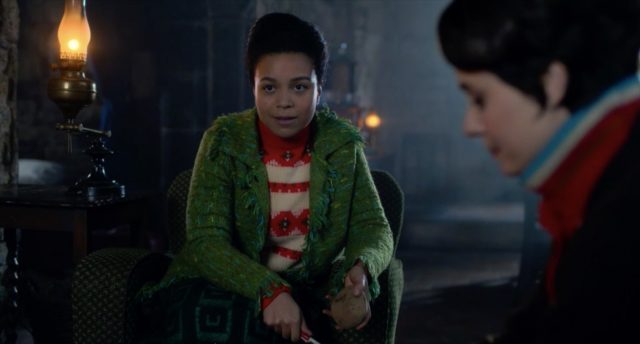 ---
Nurse Valerie: Listen I heard what that woman said to you in the clinic today
Nurse Lucille: Happens all the time at home. I'm almost used to it. But people like them aren't used to people like me and I can't hate them for it because I come from an island too.
Nurse Trixie: Not an island like this though
Nurse Lucille: All islands are like this. All islands have a boundary and you live your life within it and you love it or you break out and make a life elsewhere. And, on every island in the world no matter how magnificent there are those who cannot leave and those who cannot stay.
When nurse Lucille is speaking about being an immigrant in London after one of the Scottish patients makes a comment about her accent, she talks about island life and how it breeds two types of people.
---
KD: I can't imagine the strength it would take for her to get up and move that far away. It's such a different experience than it would be today without technology.
BW: Yeah, she had to take a ship. Like pack up all her stuff up and get on a ship and not know if she will ever go home.
MV: Watching this episode after the 2018 holiday episode, that character just seems to be known for like laying down the truth bombs. I'm not sure that other characters adequately appreciate that.
MB: It would be interesting to know more about the history of Jamaicans in England and what that relationship is. She clearly had her reasons to go.
KD: I liked how she was so matter-of-fact about the situation. She seems like a really strong person.
---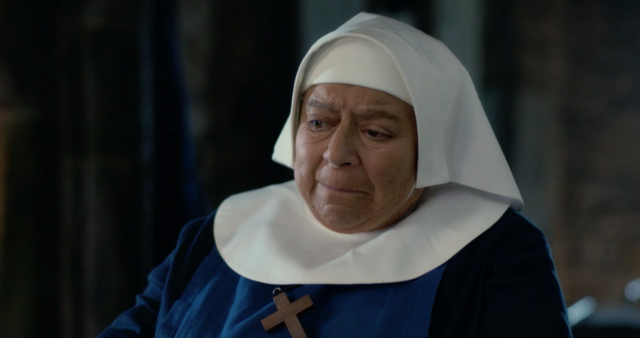 ---
Sister: The council take the view that the denominational divide between ourselves and the Presbyterians is too great. Sister, in popular we serve Catholics, Methodists, Jews, and Muslims, we serve atheists and Buddhists, Sikhs and Hindus, it does not matter who or how they worship. We treat them all alike and our faith is our own affair.
Mother Mildred: But there, strangers come into our world, and here, we have come into theirs. I fear I have not heard the Lord aright. I fear I acted in haste and failed in humility by presuming all the power to give and to change and to illuminate was ours.
Sister Monica Joan: If you had failed in faith sister, I say only this: What if He has not yet shown you all that He intends?
---
BW: That whole thing was interesting because I know that Scotland has a complex relationship with England and there was more nuance to that speech than just the nurse's service. We also see that with the Christmas tree and the religious differences.
KD: I liked how this conversation went because it investigates how helping people can be a lot more complex than just helping people. Clearly Mother Mildred is conflicted because she wants to do what's right but the clash of cultures is making her unsure.
---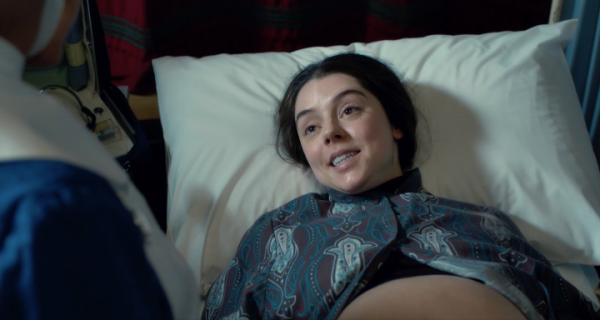 ---
Janet: I left the island, three years, I went to Inverness to work in a pharmacy.
Nurse: Inverness is a very different environment to this
Janet: That's why I liked it. Until I came home one summer for the holiday and met my Angus. He came to work at the light house from the city as a complete stranger. When I saw my home through his eyes that's when I realized I loved it more than I ever had.
Nurse: That's a great gift in life to know where you belong. Many spend a lifetime hoping to find out.
---
MV: It seems as though they're trying to address the urban, rural divide and showing how people can be brought together. It still seems very relevant in the 21st century.
Editor's note: Learn more about the urban/rural divide with Alamanac's One Greater initiative hosted by Kaomi Goetz
MV: This storyline also made me think about Effie, the redhead teenager who ends up passing out in a storm. I just felt bad for her just because she's trapped and she's not old enough to get out yet.
KD: That was definitely kind of an overall theme of the whole episode: we're all different, but also we're the same.
---
Down the Rabbit Hole
As with many shows that aim to be historically accurate, we had a few moments on the show that prompted us to go down a rabbit hole – asking questions like did this really happen? Is this historically or medically accurate? Here are some of those moments.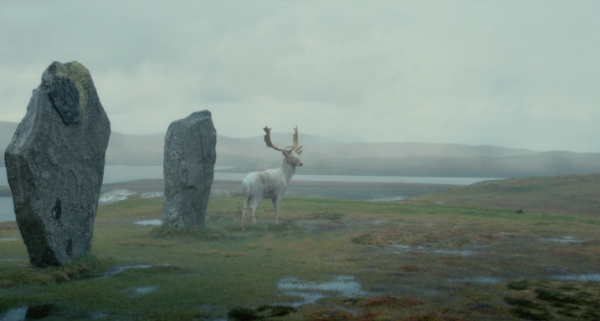 MB: This was a rabbit hole that I went down. I wanted to know the story around the St. Eustice white stag the runaway nun saw in Scotland and the prior conversation they have about reindeers at the birth of Jesus. I know there's more historical significance to that so I went digging.
We found this:
In Christianity, the white stag was partly responsible for the conversion of the martyr Saint Eustace. Eustace saw a vision of Christ between the stag's antlers and was told that he would suffer for Christ.  Read more.
---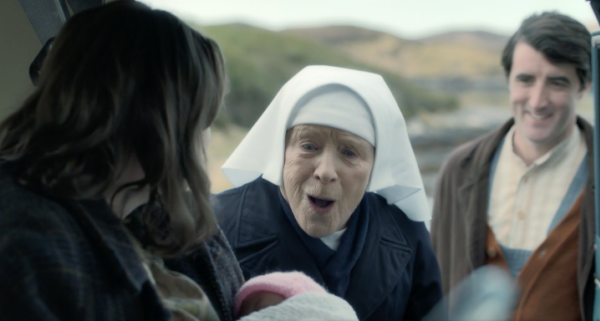 BW: Also when was the car seat invented? I was a little shocked to see a newborn baby sitting in the lap of the passenger in the car.
We found this:
Since the first car was manufactured and put on the market in the early 1900s, many modifications and adjustments have been implemented to protect those that drive and ride in motorized vehicles. Most restraints were put into place to protect adults without regard for young children.
Though child seats were beginning to be manufactured in the early 1930s, their purpose was not the safety of children. The purpose was to act as booster seats to bring the child to a height easier for the driving parent to see them.
It was not until 1962 that two designs with the purpose of protecting a child were developed independently. Read more.
---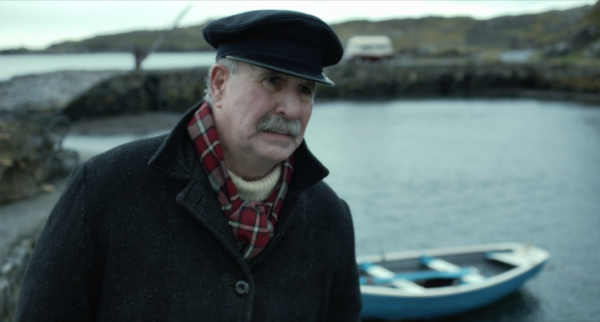 BW: I liked it when the guy with the boat was like, "it's the Lord's day I cannot undertake labor." In general, I liked all the ways that people twisted religion to serve their interests. Like when the train hopping nun told the man who was gathering the ticket that, "mine is not merely a terrestrial journey."
We found this:
On 3 March 321, Constantine I decreed that Sunday (dies Solis) will be observed as the Roman day of rest:
On the venerable day of the Sun let the magistrates and people residing in cities rest, and let all workshops be closed. In the country however persons engaged in agriculture may freely and lawfully continue their pursuits because it often happens that another day is not suitable for grain-sowing or vine planting; lest by neglecting the proper moment for such operations the bounty of heaven should be lost.
Constantine's decree was most likely modeled on pagan sun worship, though it is probable that he also intended to benefit the church, which already met for worship on Sunday. Read more.
---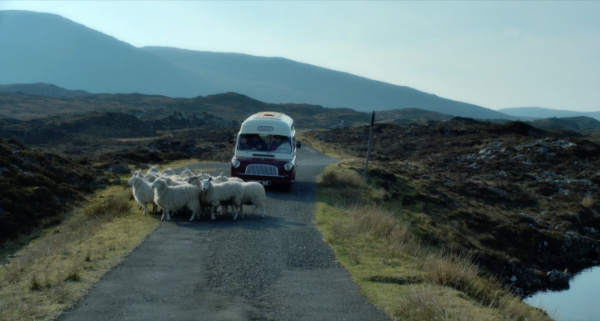 The choice to live in isolation on an island in the Outer Hebrides in the 1950s was a calculated risk. We considered how people still make this decision today and why.
MV: I think there are so many ways that people always are forced to take calculated risks around their health and general well-being. Whether it's the choice to live far outside a city, or even what insurance plan you get, etc.
BW: Or even whether you leave for hurricane or not. It feels like a big risk to leave all your things behind but also a risk to stay. As I get older, I'm starting to understand that idea of thinking, "nope I'm not leaving, this is my home."
KD: Or the old couple who stay in their bed in Titanic. It was a calculation to stay because they knew what their future looked like in that moment.
MB: Oh man, that is funny that you made that connection to Titanic, but I guess it makes sense.
We found this:
From The Washington Post: The harmful, popular misconceptions about rural America
---

Predictions for 2020
MB: I started thinking about this and wonder if they'll find a way to incorporate COVID.
MV: I was thinking the same thing with these vaccine scenes. These things are supposed to reference a specific historical time period and it's so much more relevant today than it was when they were making this show in 2019.
BW: Yeah, I was thinking if there was some other mini-plague, something post war, that maybe they're going to try to relate to.
KD: I also wonder if they'll try to do something around Black Lives Matter and maybe tie in the story of the Jamaican nurse.
BW: Yeah I know a little bit and there is a strong Jamaican community in East London that started post-war. It would be interesting for them to explore the parallels between the two time periods. (Read more.)
---
No matter what happens, we're looking forward to the new special and hope you are too. Make sure to watch live, online, or on the PBS app from December 25.
Also, keep your eyes peeled for the next installment of Spill the TPTea. Until then, happy streaming!
© Twin Cities Public Television - 2020. All rights reserved.
Read Next