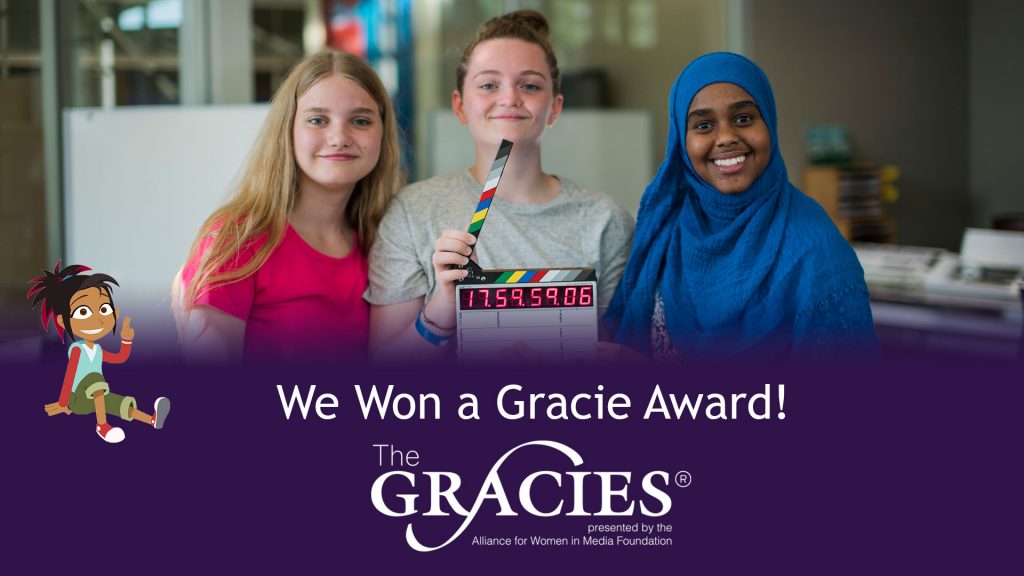 Saint Paul, Minn. June 9, 2021 – The Alliance for Women in Media Foundation (AWMF) has awarded Twin Cities PBS (TPT)'s SciGirls Code Concert episode with the Gracie Award for Family Series (TV – National). The Gracies recognize individual achievement and exemplary programming created by, for and about women in radio, television, cable and interactive media. This year marks the organization's 46th anniversary of the Gracie Awards.
SciGirls is a national PBS series featuring creative, bright and curious girls—not actors—exploring science, technology, engineering and math, or STEM. SciGirls' commitment to role modeling is highlighted in all broadcast and digital content, recognizing the power of onscreen representation for underrepresented girls, and the maxim if she can see it, she can be it.
The Code Concert episode is part of SciGirls fifth Daytime Emmy Award®-nominated season focused on computer science. SciGirls Britanee, Estrella and Saabiriinn, eighth graders at the Metro Deaf School in St. Paul, Minnesota collaborate with musicians and coders from the University of St. Thomas to create a concert for Deaf and hearing audiences. The SciGirls are Deaf and Hard of Hearing and use American Sign Language (ASL) to communicate. "The episode's goal is to lift up Deaf culture– not as novel, or "inspirational," but to advance inclusion while normalizing different abilities and to highlight language—the language of music, coding, and ASL—as a bridge between differences," says Kristin Pederson, TPT's Vice President of Education. "The episode reflects the girls' unique personalities, giving girls a platform where they can bring their full selves, share their stories and see that their voices matter, becoming the authors of their own narratives. We are so pleased that the Alliance for Women in Media Foundation supports our passion around telling girls' and women's stories."
The Gracie Awards Gala will take place September 27, 2021 at the Beverly Wilshire Hotel in Los Angeles and will honor some of the most talented women in television, radio and digital media. The list of honorees can be found here.
ABOUT THE ALLIANCE FOR WOMEN IN MEDIA FOUNDATION (AWMF)
AWMF is a charitable non-profit that creates educational programs and scholarship initiatives to benefit the public and women in the media. Formed in 1951, originally as American Women in Radio and Television, the annual award program was created with the aim to recognize individuals in media who reflected the changing roles, issues, and concerns of women. Honorees are selected in national, local and student markets, including both commercial and non-commercial outlets.
ABOUT TWIN CITIES PBS (TPT)
Twin Cities PBS (TPT)'s mission is to enrich lives and strengthen our community through the power of media. Established 64 years ago, TPT now operates as a public service media organization that harnesses a range of media tools to serve citizens in new ways — with multiple broadcast channels, online teaching resources, educational outreach and community engagement activities reaching more than two million people each month. Over its history, TPT has been recognized for its innovation and creativity with numerous awards, including Peabody awards and national and regional Emmy® Awards. For more information, visit TPT online, follow TPT on Facebook and Twitter.
ABOUT SCIGIRLS
Funded by the National Science Foundation, SciGirls uses research-based, gender equitable instructional strategies to empower girls around STEM. SciGirls' mission is to change the way girls see STEM and how the world sees girls. SciGirls' outreach content is available in English and Spanish on SciGirls educators' website at www.scigirlsconnect.org. SciGirls videos, games and activities are available 24/7 at PBSKIDS.org/scigirls.
Contact:
Rita Karl
651-229-1480 | [email protected]
© Twin Cities Public Television - 2021. All rights reserved.
Read Next