By Katie Carpenter
For 25 plus years, Delainia Haug has been teaching digital media studies and production in Minneapolis Public Schools. Delainia and Laura Lanik have been co-teaching the Voices class at South High in Minneapolis for the past 10 years. The rigorous media making class is designed to empower seniors to gain a deeper understanding of the art and power of storytelling, citizen journalism, and documentary film through hands-on, technical experience. The class is equally focused on helping students discover their own voices around social justice issues, challenging the status quo, and illustrating how personal storytelling deepens understanding about our shared human experiences and history.
A Hard Time to Show Up
In their 25+ years of teaching, this year was by far the most challenging one yet for Haug and Lanik. COVID-19 presented numerous challenges for collaboration as students and staff were required to teach and learn remotely from home for most of the year. Haug, shared:
"It was a hard time to show up, and these students did more than show up.
They had to actively engage in their learning."
The tragic murder of George Floyd on May 25, 2020 sparked a worldwide racial reckoning. His murder and the uprisings against police brutality that followed, hit very close to home for South High students and staff who live in the neighborhood where he was murdered, heightening emotions during an already challenging year.
Despite the challenges of this "unprecedented" year, students and teachers were able to meet the moment. Students not only learned essential technical skills of filmmaking, like interviewing, shooting video, and editing, but they discovered new ways to collaborate, connect and create.
Lily Wunderlich, a Voices filmmaker, on the experience of creating Pot to Prison: The Criminal Punishment System:
"Making the film was more like what I imagine college will be like. We got to do what we wanted to, but we learned a lot of different skills. We had to reach out to people and make connections, and be super on top of it all on our own. But it was also a little less stressful because it was fun and we were in charge."
Voices filmmaker, Leo Peterson, who was on the Pot to Prison team shared:
"Learning this way made us advocate for what we wanted – we had to set up all the interviews, edit it all ourselves, and we had deadlines we had to meet. Showing it at the end felt amazing. I now believe no one should be in prison because of a minor drug charge."
The events of the year provided unique opportunities to document and preserve history. Students captured a diverse range of community perspectives on complex, relevant, and intersectional issues related to the fight for racial equity and justice. Topics include community policing, policing in school, gentrification and redlining, and the disproportionate impact of minor drug charges on people of color.
Voices filmmaker, Olivia Sather, on making the film SRO's and Minneapolis Public Schools:
"It felt really satisfying to make something – and make it about something that we really care about. Something people need to hear that hopefully makes people angry. Because that's what I want, So it felt nice to have the space to make something like that."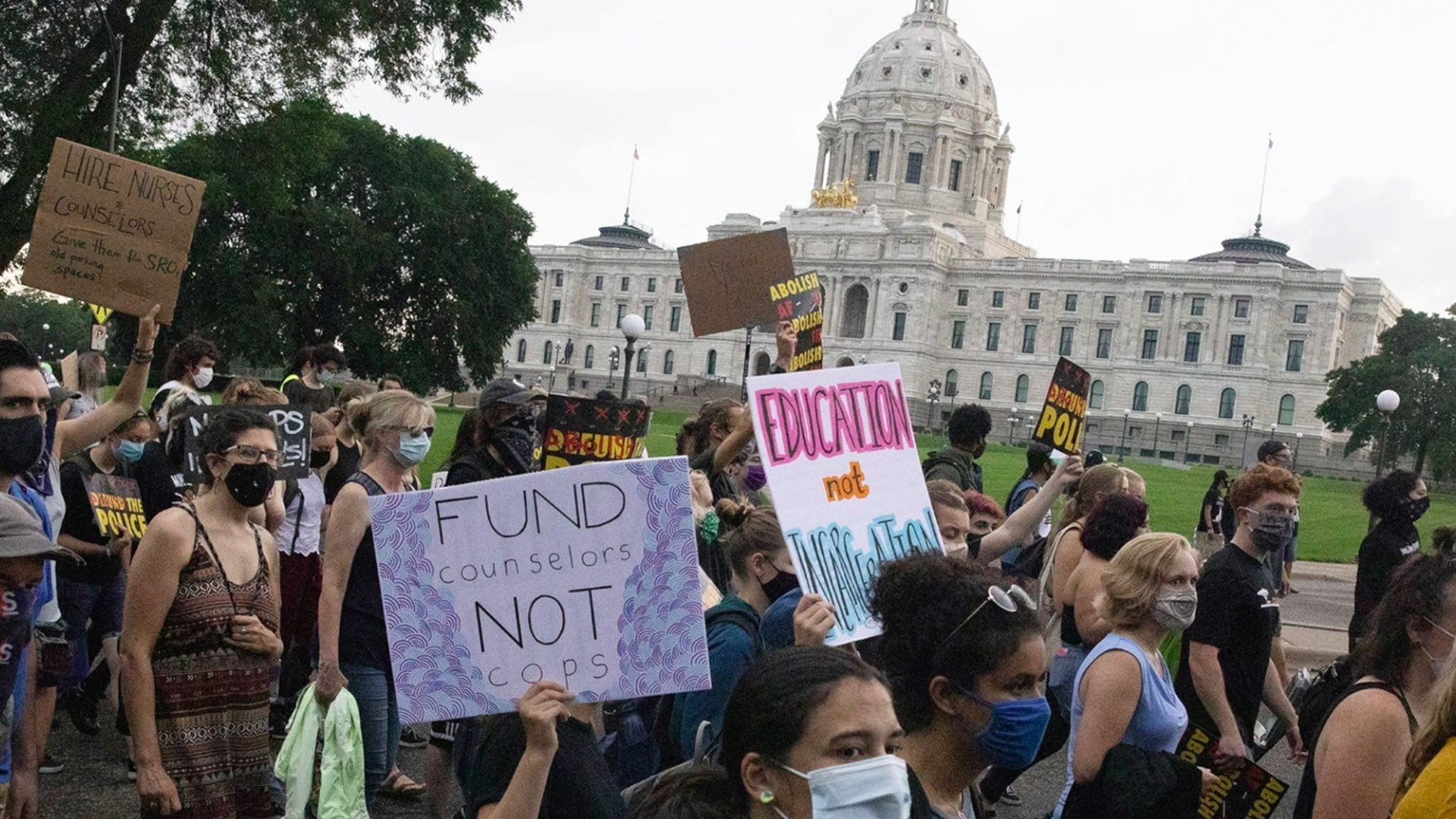 Sundus Ahmed, a Voices filmmaker, on making SRO's and Minneapolis Public Schools:
"It was a lot of new learning and adjusting because it's not a typical assignment that you just do and turn in – we were working on it for two months before we even turned it in!"
Ultimately, through this class, the students were able to find their voices.
Media-maker Mentorships
A unique part of the class is the emphasis on learning from professionals and mentors in the field about their work and motivations, production style, and storytelling techniques. Last semester, a collaboration with MPR resulted in a collection of audio stories with community members at George Floyd Square.
---
---
This semester, students had even more support and mentorship opportunities. Interns with the Minnesota Youth Story Squad (MYSS), and the intern program coordinator, E Ornelas, collaborated closely with student filmmakers during the Voices classes throughout the entire filmmaking journey.
Founded by Drs. Kari Smalkoski and Jigna Desai in the College of Liberal Arts at the University of Minnesota, MYSS offers mentorship opportunities with UMN undergraduates to public school students across the Twin Cities. MYSS provides culturally relevant curriculum and mentorship focused on digital media-making to engage youth academically, socially and emotionally.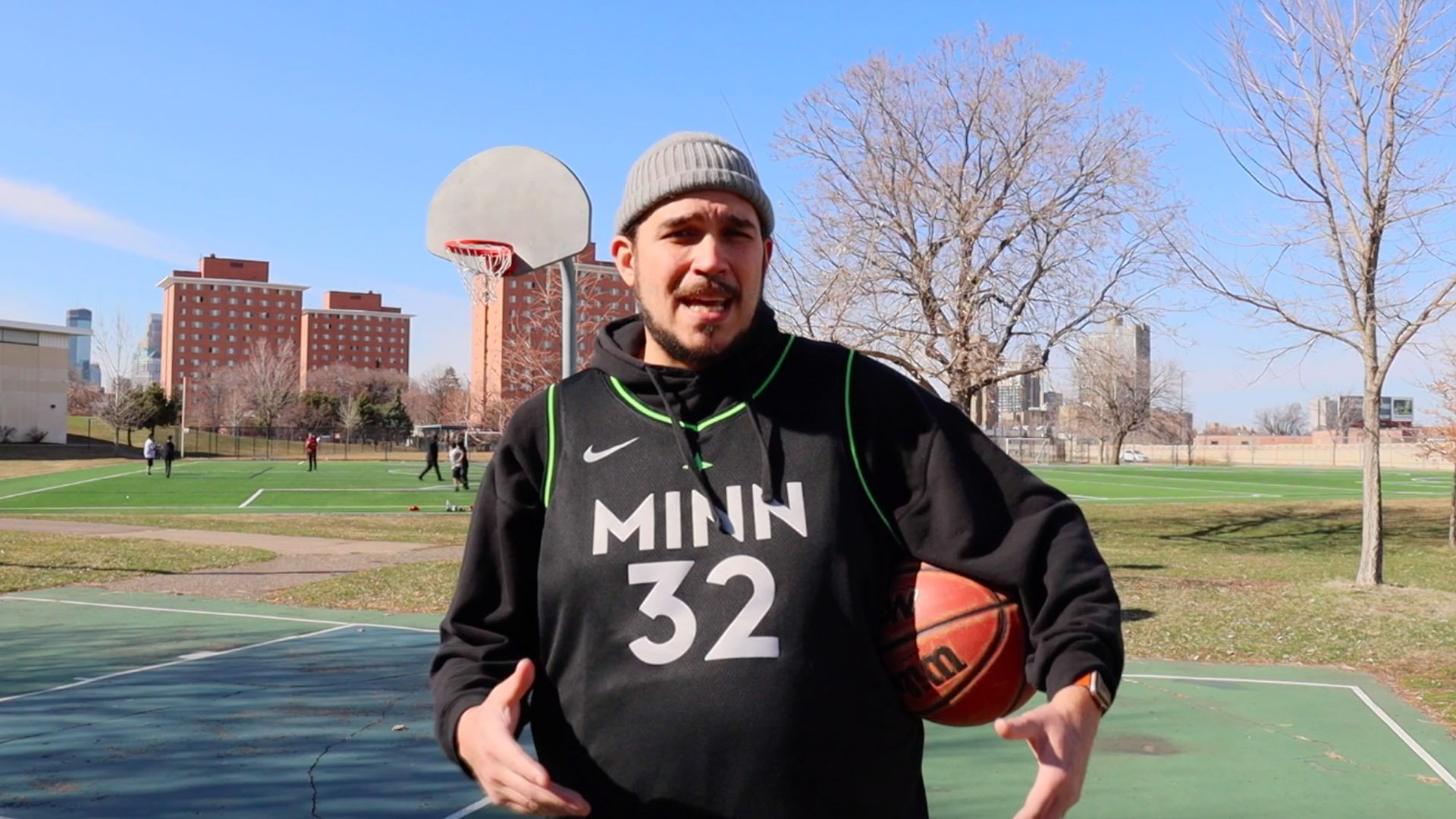 MYSS intern, Emame Thompson-Eja shared about their experience:
"Working with south high has been a really incredible experience. I will be honest, at first it was challenging to connect with the students over Google meet, which is understandable especially at 9 in the morning. I do appreciate that when we started working in smaller groups it gave me the opportunity to create deeper connections with students. Being in person was the best as we were able to get to know each other's personalities and its nice hearing the students tell me that they think I'm cool. They are all very brilliant, so I think that they're showing their creatively, vision and passions for how they want the world to be through their documentary film. It shows that the students know what's up and they have solutions and ideas, and their voices are very powerful. People should listen to the youth because they are the future."
In addition to the support that MYSS interns provided, students were supported by Voices Class assistant teacher, Chloe Johnson, a Voices alum, and Tariq Muata, another Voices alum who has made a career as a filmmaker, as well as a group of TPT producers who visited classes to offer insight on the documentary filmmaking process and feedback on students' final cuts of their films.
Students made an impact on mentors, like Daniel Bergin, Executive Producer at TPT. He shared after a class visit:
"I was really impressed with Ms. Haug and the way she's moving them through the process. The students, focused on justice, were brilliant and authentic."
TPT and MYSS co-authored a Shavlik Family Foundation grant to provide new DSLR camera kits for youth media makers at one of the public schools MYSS partners with.
In Their Own Voice films
Pot to Prison: the Criminal Punishment System
A look at the disproportionate impact of minor drug charges on people of color.
By Leo Peterson, Lilly Wunderlich, Freya Hauer, & Maya Edmonds
SRO's and Minneapolis Public Schools
Student activists feel let down by their school district's response to their request to remove police from their schools. By Olivia Sather & Sundus Ahmed
Southside Shine
Understanding South Minneapolis neighborhoods impacted by redlining and gentrification. By Anton Jahn-Vavrus, Pablo Giebink Valbuena, Ilyas Bouzouina, Will Domeier
Freedom Fighters
Minneapolis residents try to reimagine community safety.
By Helene Francis & Simon Hoffmann
The Documentary Film: A Tool for Change
Students had a chance to find out how their films made an impact on an audience of 80+ attendees at a virtual screening hosted by the South High Voices Class, MYSS, and TPT on May 19.
Helene Francis, a Voices filmmaker, on creating Freedom Fighters:
"My partner and I chose a subject we feel really passionate about, so we had a lot to say and it was hard to meet the time limit for the final film. So sharing the final product was super vulnerable for me, but we got some great feedback from people so that made it worth it."
The voices behind the cameras shaped stories that moved viewers to tears, made them proud of where they lived, and gave them hope for a better, more equitable future for all. With their films, the filmmakers truly captured an important moment of change.
Melissa Wright, Chief Content Officer at TPT shared:
"These young filmmakers showed us their unique perspectives on the world and captured this important moment in time. We are grateful that through these films, we were able to hear their powerful voices. Congratulations to the students, teachers and mentors who created these powerful films in a very challenging time."
Marie Domingo, TPT Producer, Voices mentor and film screening host shared, "It's an honor to celebrate the difference that teachers are making as well. Especially in the pandemic. I'm so grateful for all they do to keep students engaged!" Adding:
"Filmmakers, I hope you keep sharing your stories about your experiences and keep advocating for positive change. It's a powerful way to shape the world you want to live in."
May 25, 2021 marks one year since George Floyd's murder. There has been some progress in the fight for racial equity and justice, yet our communities are still experiencing heart-breaking tragedies including the shootings involving children in North Minneapolis and the killing of Daunte Wright. Much needs to be done in the continuous journey of healing. The storytelling must continue and voices must be heard.
---
Editor's Note: The South High Voices students and teachers, in collaboration with Project Success, are hosting an in-person showcase of their films at the Walter Art Center on June 3. Visit the South High School page for more details.
Each of these films is a production of the South High School Minneapolis VOICES class with support from The Minnesota Youth Story Squad at the University of Minnesota, Twin Cities PBS and the Shavlik Family Foundation.
© Twin Cities Public Television - 2021. All rights reserved.
Read Next