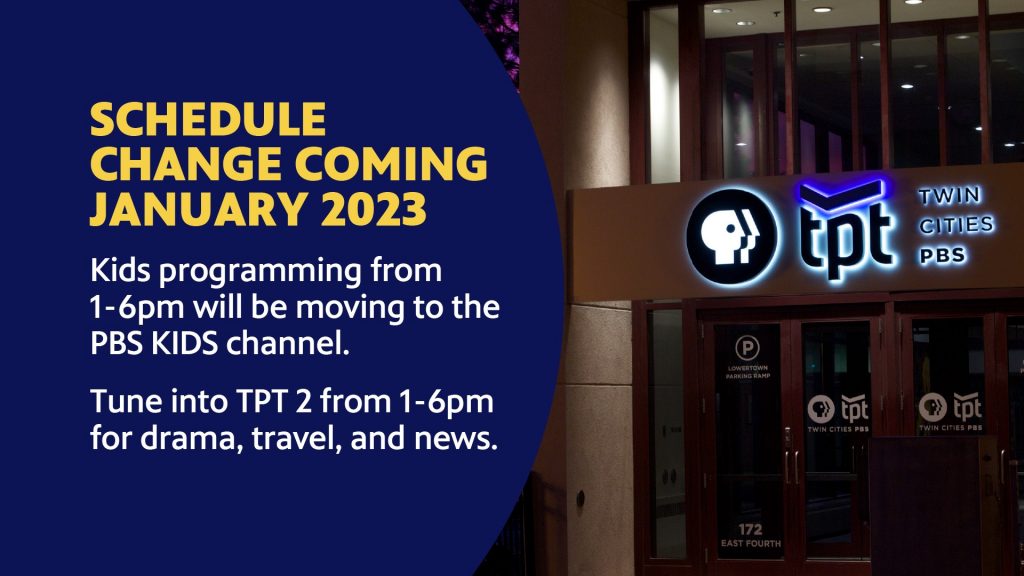 SAINT PAUL, MN (November 1, 2022) — Twin Cities PBS (TPT) is an audience-first station. To better serve viewers, TPT will be changing the schedule on TPT 2 on January 2, 2023, to increase general audience programming on the channel during the afternoon.  
Why is the change occurring?  
Many PBS stations across the country made similar schedule changes toward the beginning of the pandemic to help school-age children access educational programming throughout the day. In doing so, these stations found more viewers were being served by this content than by offering children's programming on multiple channels at the same time.  
Our youngest viewers tend to watch programming through many platforms. Our adult viewers are more likely to watch television over broadcast channels, so increasing general audience content in our broadcast space is one way we can best serve audience needs. 
What will stay the same? 
Children's programming will still be available from 6:00AM through 1:00PM on TPT 2, 24/7 on PBS Kids, and on digital platforms. You can stream PBS Kids at tpt.org/kids or watch over the air on channel 2.4.  
Cable and Satellite Viewers can find PBS Kids on the following channels: 
| | |
| --- | --- |
| Comcast (Minneapolis & Bloomington)  | 204  |
| Comcast (St. Paul, Anoka, Maple Grove, Burnsville)  | 240  |
| Mediacom  | 794  |
| Charter (South Metro)  | 200  |
| Charter (West Metro)  | TBD  |
| MidCo (Cambridge, Forest Lake)  | 602  |
PBS Kids is not currently available on DirectTV or Dish.  
What will be different? 
Starting at 1:00PM, general programming will be aired on TPT 2, including some programming you may be familiar with seeing currently on TPT Life. Beginning at 5:00PM, there will be a two-hour news block, with BBC News America and DW News leading into PBS Newshour. 
Afternoon TPT Life programming will change to have a "how-to" focus and include some of our viewer favorites, such as America's Test Kitchen and Kevin Belton's New Orleans Kitchen. 
Please tune into this space for any updates to the changes.  
### 
About Twin Cities PBS (TPT)
Twin Cities PBS (TPT)'s mission is to enrich lives and strengthen our community through the power of media. Established 65 years ago, TPT now operates as a public service media organization that harnesses a range of media tools to serve citizens in new ways — with multiple broadcast channels, digital channels, streaming, online teaching resources, educational outreach and community engagement activities reaching more than 2 million people each month. Over its history, TPT has been recognized for its innovation and creativity with numerous awards, including Peabody awards and national and regional Emmy® Awards. Find more information at tpt.org.  
© Twin Cities Public Television - 2022. All rights reserved.
Read Next