By Kelsey Derby
Twin Cities PBS is proud to make learning fun. For more than 60 years, we have been committed to creating programming that is educational as well as entertaining. As a loyal TPT member, you may know that the new PBS KIDS show Hero Elementary was created right here in Saint Paul. Funded by a U.S. Department of Education Ready to Learn grant obtained in 2015, the show debuted in June of 2020 and has been very popular with families across the nation.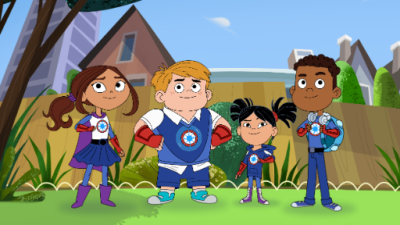 Gaining praise from parents and educators alike, the program follows a team of super students called Sparks' Crew. Led by their enthusiastic teacher, Mr. Sparks, these pint-sized heroes work together to help people, solve problems, and try to make the world a better place. When their imperfect powers aren't up to the task, they look to their other powers — the Superpowers of Science — to help them investigate, observe, make predictions, and figure out solutions to save the day!
The Ready to Learn grant that was launched in 2018 included funding for a complementary educational program in addition to creation of the show. For the past two and half years, TPT has been working with community educators nationwide to advance this program with a focus on STEM (science, technology, engineering and math) education. TPT made it a priority to reach the needs of children from low-income communities, BIPOC and Latino children, students with disabilities and English language learners and have seen great success.
The robust initiative designed with educators in mind focuses on improving school readiness in science and literacy for children grades K-2 and their families. In part, it offers Hero Elementary-themed educational games, an interactive science notebook, hands-on activities, and eBooks to schools across the country.
Freedom Schools in Saint Paul was one of the first to adopt the program's new virtual pilot, due to the COVID-19 pandemic, this past summer and saw strong results. They've been able to reach over 450 students with Hero Elementary curriculum through distanced learning, widening the accessibility to learn about STEM topics.
"Our scholars are more attentive as they watch the episodes, relate better with their peers and educators, and help each other. The program values diversity, equity, and inclusion," says Darcel Hill, Executive Director of Freedom Schools in Saint Paul.
Since this program has been implemented, the Ready to Learn engagement team has worked with 54 partner- schools nationally. Over 3,500 children have been part of these programs and they have trained over 1,000 educators in the U.S.
This is one of the many ways we are expanding the power of public media to enrich students and open the world of science to all children. CEO Sylvia Strobel said in a prior interview, "Thanks to our committed base of members and donors, TPT is able to provide these important media-enriched resources to our community and use our on-air broadcast services to ensure that children of all backgrounds have access and can participate."
---
If you want to learn more about the TPT Learn initiative and how parents and educators can get involved, visit our website at tpt.org/learn.
© Twin Cities Public Television - 2021. All rights reserved.
Read Next