As we react to and process the verdict in the trial of a former Minneapolis police officer in the murder of George Floyd, TPT acknowledges the immense grief and mental and physical trauma that our communities have endured over the last year.
We offer this collection of resources to support our communities in the continuous journey of healing ahead, and in the continuous fight for racial justice.
Together, we reimagine what equity can look like for all of us and work together to make real change. We stand by you.
---
Coping after the trial verdict
How to Manage Complicated Feelings During the Chauvin Trial
Tips from four Minneapolis-area-based mental health professionals. "When it comes to managing your feelings in this moment, as we take it day by day, start with really limiting your exposure to the news and social media."
How Can You Protect Yourself During These Turbulent Times
Trauma is soaked into the Black experience, but having to watch days on end of police brutality can be mentally, emotionally and spiritually unraveling. Here are five ways to take care of yourself from trauma therapist Resmaa Menakem.
How to Cope With the Vicarious Trauma of Police Brutality
As police killings continue to take a toll, experts offer advice for managing mental health. "No one is truly unaffected by this." -Jordan DeVylder, associate professor at Fordham University's Graduate School of Social Service
ADDITIONAL RESOURCES
Other resources available on-line and over-the-phone 24 hours a day include:
The National Alliance on Mental Illness — 1-800-950-NAMI (6264)
The Suicide Prevention Lifeline —1-800-273-8255
---
Following the trial
Trial and Tribulations: Racism and Justice in Minnesota
On May 25, 2020, we witnessed George Floyd's police killing in a video watched around the world. As the trial of former MPD Officer Derek Chauvin unfolds in March 2021, we look back at the past year and the last 100 years of Minnesota's deep racist history, and examine the pressing questions of this moment in our collective history. How did this happen? Why did it happen here? And what does it take to move forward?
Police Killings in Minnesota
Data reporter Kyeland Jackson addresses our state's history of fatal shootings by police. The history of police killings in Minnesota has been long and painful.
---
The fight continues for racial justice
5 Ways to Show Up for Racial Justice Today
Concrete ways to be helpful from near or far.
Be Persistent: How to Keep Fighting for Black Lives
There are many ways to support the Black Lives Matter movement.
A Message to My White Friends: Please Use Your Outside Voices!
An Influencer in Aging's call to action on racial injustice. "I am in search of accomplices, not just allies."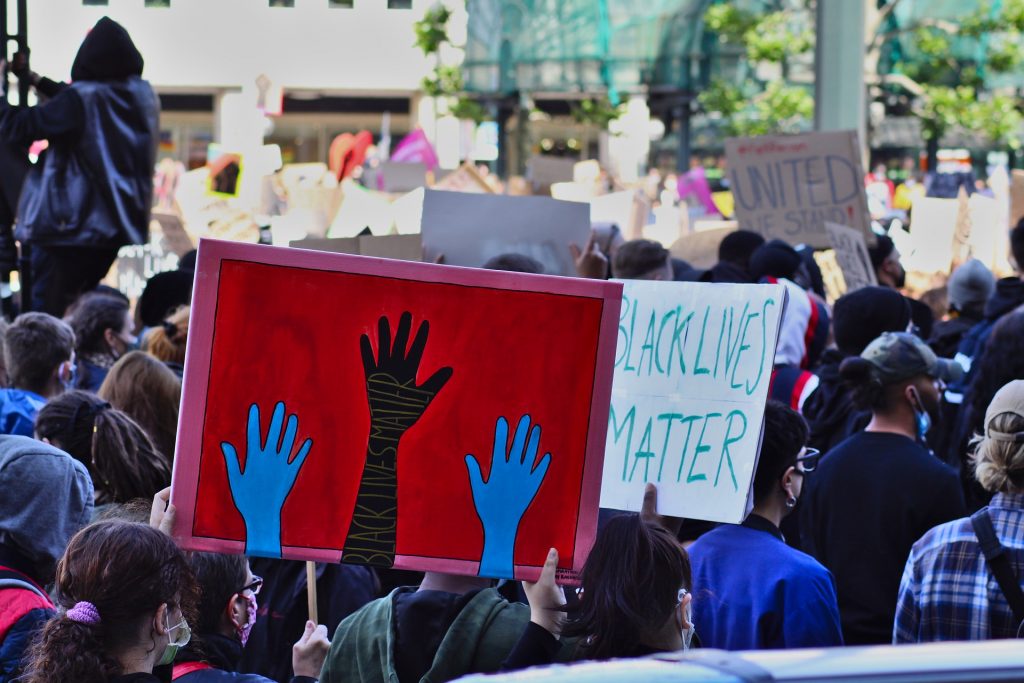 What's the Right Way to Be an Activist?
Danielle Swift has been on a spiritual journey from the front lines of a Black Lives Matter protest, to the campaign trail for Saint Paul City Council, and finally to a life of community organizing. She's here to tell us how we can all become an effective activist for change, whether your call is to the front or to the back.
Continue to educate yourself about racial injustice
Racism Unveiled is a multi-year, multi-platform, community-engaged and impact-driven initiative diving into the complex systems of inequality that directly affect the daily lives of Black, Indigenous and People of Color (BIPOC) communities in Minnesota.
How to Have Tough Conversations About Racism With Kids

Tools and resources to empower teachers and parents
Talking About Race Collection- REWIRE
There's never been a more critical time for us to stop and learn about race and racism in the United States. On this page we've collected our ongoing coverage about how racism plays out in our relationships, at our workplaces — in every facet of our lives. We've gathered unique perspectives and called upon trusted experts to guide these conversations about race. There's so much work to be done. Let's learn together to build a more equitable future.
Essential Listening: Podcasts on Race and Racism
Looking to educate yourself on racial injustice? Start with these recommended audio roundups.
What to read, listen to and watch to learn about institutional racism
Anti-racist learning resources from PBS
---
Join TPT as we reflect on the death of George Floyd one year later.
May 23 – 29
Details at tpt.org/oneyearlater
© Twin Cities Public Television - 2021. All rights reserved.
Read Next