We're officially in the swing of spring! When you're done enjoying the fresh flowers outside, take a seat and check out what's new on TPT Passport for May.
From the intriguing WWII story featuring fan-favorite Helena Bonham Carter called My Grandparents War, to the show that's making waves across the Twitter-sphere Philly DA, as well as installments from NOVA and Antiques Roadshow, there's something for everyone this month.
Come home and relax with TPT Passport by signing into TPT Passport online or by using the PBS Video App on Apple TV, Roku, Amazon Kindle & Fire Stick Chromecast, or Android TV.
We're so glad to be able to provide such amazing shows on demand and would like to say a special thank you to our members and all those who help make it happen.
Happy Viewing!
---
Stream Your Favorite Shows Now
TPT Passport is a member benefit that gives you extended access to an on-demand streaming library of PBS and TPT shows, including full seasons of many favorites like
World on Fire
,
Poldark
,
The Great British Baking Show
, and many, many more. Make a qualifying donation so you can start enjoying TPT Passport on your computer or with the
PBS Video App
on your favorite streaming device, mobile device or Samsung smart TV!
---
SPOTLIGHT:
My Grandparents War | Helena Bonham Carter
Follow actress Helena Bonham Carter as she explores the heroism of both sets of her grandparents during WWII—her grandmother, an air warden and outspoken politician, and her grandfather, a diplomat who save hundreds from the Holocaust.
Watch now on TPT Passport.
---
RECENTLY ADDED:
---
History

Hemingway
Ken Burns and Lynn Novick explore the life and work of the legendary writer and his enduring influence on literature and culture.

NOVA | Lost Viking Army
Bioarchaeologists investigate a ninth-century mass grave in a rural English village. Will the remains unlock the mystery of the "Great Heathen Army," a legendary Viking fighting force that once invaded England?

Antiques Roadshow | Vintage Louisville 2021 Hour 2
Look back at Louisville treasures from 2007 including a Kentucky cherry corner cupboard made around 1815, a Qing period nephrite jade basin, and a 1911 Julian Onderdonk landscape oil. Which has skyrocketed in value and is appraised for $125,000?
---
Independent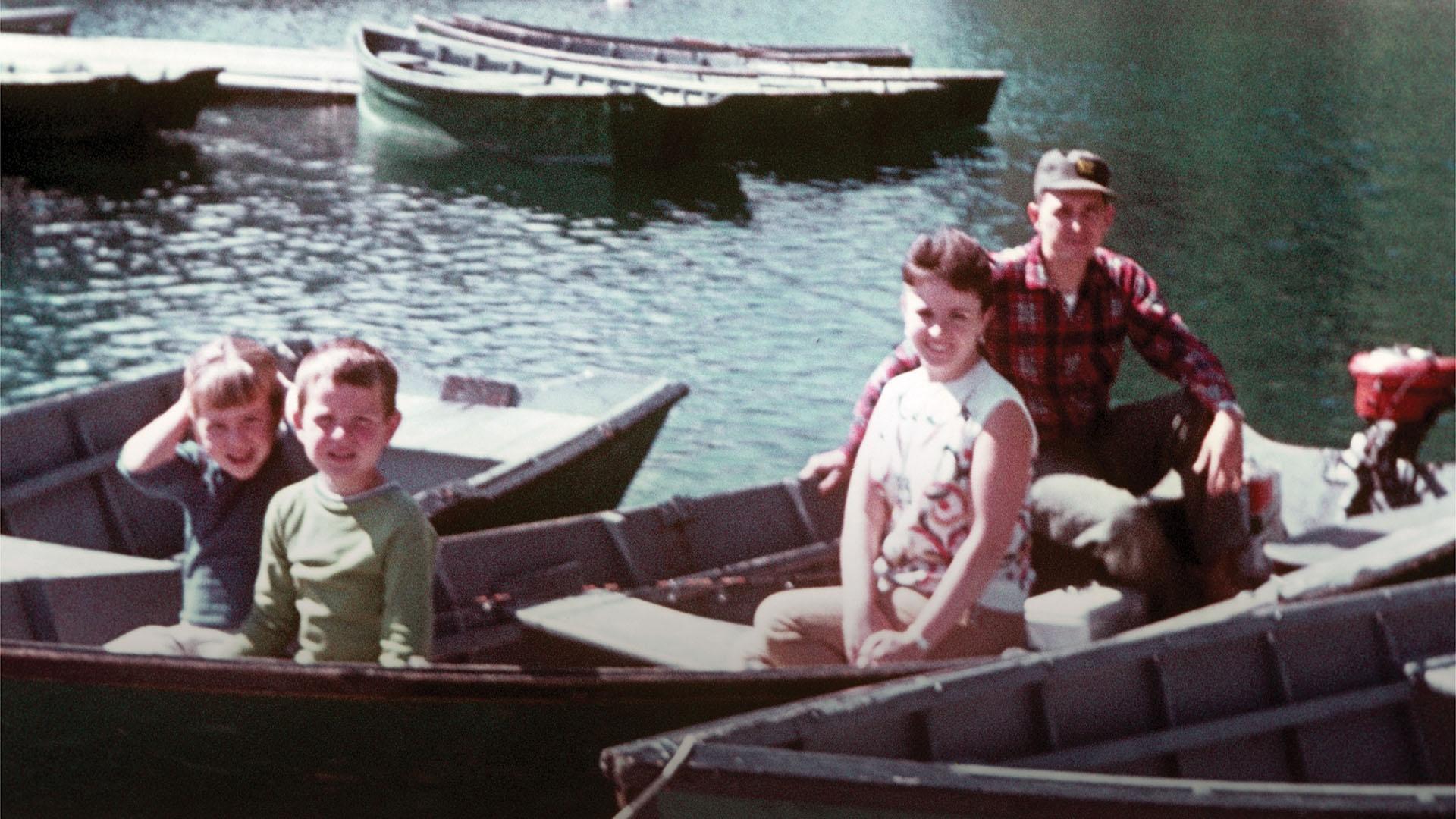 That Way Madness Lies
Award-winning filmmaker Sandra Luckow unflinchingly turns her camera on her own family as they attempt to navigate the broken mental health system in an effort to save their brother, whose iPhone video diary ultimately becomes an unfiltered look at the mind of a man with untreated schizophrenia as well as an indictment of how the system failed.
When My Time Comes
Spurred on by the death of her husband, Diane Rehm crosses the country to take an in-depth look at medical aid in dying. She speaks to people on all sides of the issue, uncovering the pros and cons, and the facts and the myths surrounding this controversial practice that is now legal in nine states and the District of Columbia.

Independent Lens | Philly DA (8-episode, series binge)
Go inside the emotional, high stakes work that Philadelphia District Attorney Larry Krasner and an ensemble of idealistic outsiders from different walks of life take on as they attempt a fundamental overhaul of an entrenched criminal justice system.
American Experience | The Blinding of Isaac Woodward
In 1946, Isaac Woodard, a Black army sergeant on his way home to South Carolina after serving in WWII, was pulled from a bus for arguing with the driver. The local chief of police savagely beat him, leaving him unconscious and permanently blind.

American Masters | Never Too Late: The Doc Severinsen Story
After more than 30 years as the colorful bandleader of The Tonight Show Starring Johnny Carson, master trumpeter Doc Severinsen continues to defy nature well into his 90s with a grueling schedule of touring, performing and teaching. Trace the life and groundbreaking career of the unstoppable musical icon, revealing his personal trials and underscoring a remarkable journey of inspiration.
---
Arts & Music
Meet Carl Jackson
Grammy-winning producer. Hit songwriter. Celebrated musician and vocalist. Tireless mentor and trusted friend. Carl Jackson has been called all these over his 50-year career. In Mississippi Public Broadcasting's documentary Meet Carl Jackson, you'll hear why his peers consider him one of the greats. Featuring Vince Gill, Tom T. Hall, Emmylou Harris, Dolly Parton, Linda Ronstadt, and more.

Bluegrass Underground | Season 10
Taped 333-feet below ground within the majestic Volcano Room deep inside Tennessee's Cumberland Caverns, this "musical adventure" series features both well-established and top emerging artists within the broad spectrum of Bluegrass, Jamgrass, Roots and Americana genres. Artists include Old Crow Medicine Show, Andrew Bird, Yonder Mountain String Band, Ben Sollee, The SteelDrivers, Johnnyswim, BeauSoleil, Leon Russell, North Mississippi Allstars, The Wood Brothers, Alison Brown Quartet, and the Infamous Stringdusters.
---
Science & Nature

Human | The World Within (6-episode binge)
Explore the incredible universe inside each and every one of us. An examination of diverse personal stories from around the world reveals how our lives, passions and goals are powered by the amazing systems that define our biology as a species.

Nature | H is for Hawk
Helen Macdonald's best-selling book H Is for Hawk told the saga of a grieving daughter who found healing in training a goshawk. Now she digs deeper into the world of these raptors by following a family in the wild and raising a goshawk of her own.

Europe's New Wild | The Land of Snow and Ice
Sami reindeer herders and modern conservationists are teaming up in a bid to save one of Europe's wildest frontiers. Through ice and snow, the link between man and wild is being reforged.
---
EXPIRING SOON:
Nature: Spy in the Wild 2: The Islands
Explore the islands of the South Pacific with creatures like the spy koala, who captures breeding behavior in Australia, or the spy crab, who joins an army of red crabs on their march to the sea to deposit their eggs.
Removed from TPT Passport May 13
Antiques Roadshow: Seattle Hour 2
Journey back to the Pacific Northwest to discover antique and vintage finds like a Jón Stefánsson landscape oil, a Lonny Frey pro baseball collection, and a Rolex Bubbleback watch. Have their values held strong or headed south since 2007?
Removed from TPT Passport May 19
American Masters | Louisa May Alcott: The Woman Behind 'Little Women'
Louisa May Alcott: The Woman Behind 'Little Women' is the first film biography about the celebrated author and reveals a remarkable woman, ahead of her time, who was much more than a writer of children's books.
Removed from TPT Passport May 20
American Masters: Mel Brooks: Make a Noise
After 60 years in show business, Mel Brooks has earned more major awards than any other living entertainer; he is one of 14 EGOT (Emmy, Grammy, Oscar and Tony) winners. Yet, the comedy giant has energetically avoided a documentary profile being made, even issuing an informal gag order on his friends until now.
Removed from TPT Passport May 20
Nature: The Poles | Spy in The Wild 2
From penguin chicks to elephant seals and wolf cubs to polar bears, the spy creatures meet and observe the hardiest and most charismatic animals in the Arctic and Antarctic circles.
Removed from TPT Passport May 20
Great Performances: The Opera House
Explore the rich history of the Met Opera's Lincoln Center home and the cultural life of 1950s-60s New York City. Features famed soprano Leontyne Price, the Met's general manager Rudolf Bing, city planner Robert Moses and architect Wallace Harrison.
Removed from TPT Passport May 23
American Masters: Jacques Pepin: The Art of Craft
Jacques Pépin's story is a tale even his legions of devoted fans may not be familiar with. Today he is known as a kitchen supernova, but in telling his own story in this documentary profile, he acknowledges that the very notion of being a "celebrity chef" was not only unplanned—it was virtually unthinkable in the profession and world in which he grew up.
Removed from TPT Passport May 25
Austin City Limits: Sharon Van Etten / Lucy Dacus
Savor an hour with adventurous singer/songwriters Sharon Van Etten and Lucy Dacus. New Yorker Van Etten performs songs from her acclaimed LP
Remind Me Tomorrow
, while Virginian Dacus highlights her album
Historian
.
Removed from TPT Passport June 2
American Experience: RFK
After an assassin's bullet took his brother's life, Robert F. Kennedy was bereft, not only of someone he loved, but of a role that had given meaning to his life. He had devoted himself to his brother John, suppressing his own ambitions for the sake of the Kennedy name. JFK's death plunged him into unremitting pain and grief, and left him struggling to find his own voice.
Removed from TPT Passport June 4
Great Performances: Ellis Island: The Dream of America with Pacific Symphony
Thirteens's Great Performances
and
Pacific Symphony
, led by music director Carl St.Clair, pay tribute to America's history with a performance of composer Peter Boyer's "Ellis Island: The Dream of America," a Grammy-nominated contemporary classical work celebrating the historic American immigrant experience.
Removed from TPT Passport June 8
Austin City Limits: Kane Brown / Colter Wall
Savor the best of next-generation country music with Kane Brown and Colter Wall. Chart-topping country star Kane Brown plays hits from his breakout album
Experiment
. Canadian C&W artist Colter Wall sings folk and Western songs from his acclaimed LP
Songs of the Plains
.
Removed from TPT Passport June 26
NOVA: Rise of the Superstorms
In just one devastating month, Houston, Florida, and the Caribbean were changed forever. In summer 2017, three monster hurricanes swept in from the Atlantic one after another, shattering storm records and killing hundreds of people. As the planet warms, are these superstorms the new normal? How well can we predict them?
Removed from TPT Passport June 28
© Twin Cities Public Television - 2021. All rights reserved.
Read Next