This month is jam-packed with new shows on TPT Passport.
From Masterpiece's Atlantic Crossing to critically acclaimed independent films such as Mr. Soul! and Going Back to T-Town, as well as science and engineering picks, and new episodes of Antiques Roadshow and Finding Your Roots there is surely something for everyone.
As the weather warms up and we're all getting outside a bit more, come home and relax with TPT Passport by signing into TPT Passport online or by using the PBS Video App on Apple TV, Roku, Amazon Kindle & Fire Stick Chromecast, or Android TV.
We're so glad to be able to provide such amazing shows on demand and would like to say a special thank you to our members and all those who help make it happen.
Happy Viewing!
---
Stream Your Favorite Shows Now
TPT Passport is a member benefit that gives you extended access to an on-demand streaming library of PBS and TPT shows, including full seasons of many favorites like
World on Fire
,
Poldark
,
The Great British Baking Show
, and many, many more. Make a qualifying donation so you can start enjoying TPT Passport on your computer or with the
PBS Video App
on your favorite streaming device, mobile device or Samsung smart TV!
---
SPOTLIGHT:
Atlantic Crossing on Masterpiece
A princess steals the heart of the president of the United States in an epic drama based on the World War II relationship of Franklin Roosevelt and Norwegian Crown Princess Martha. Kyle MacLachlan (Twin Peaks, Sex and the City) stars as Roosevelt, opposite Swedish star Sofia Helin (The Bridge) as Martha.
Binge the new 8-episode drama series on TPT Passport starting on the night of its broadcast premiere Sunday, April 4.
---
RECENTLY ADDED:
---
Drama & Arts

No Second Chance
From Walter's Choice, No Second Chance is a French thriller based on the novel by multi award winning author Harlan Coben. When Dr. Alice Lambert wakes up in a hospital after 8 days in a coma, she finds that her life has taken a drastic turn. She has been shot, her husband killed and her daughter, Tara, abducted. The abductors are asking for 1 million euros in exchange for her baby with one rule: no police involvement.

Kindred Spirits: Artists Hilda Wilkinson Brown and Lillian Thomas Burwell
Lilian Thomas Burwell recounts the life story of her aunt, unsung artist and educator Hilda Wilkinson Brown, and the influence she had on Burwell's own career as an abstract expressionist artist. Their lives, works of art and sources of inspiration are presented against the backdrop of a segregated society where marginalized Black artists created their own venues to exhibit their work.

In Concert at the Hollywood Bowl | Gustavo and Friends
Each summer since 1922, the Hollywood Bowl has gathered together a community through love of music. In this episode, watch some of host Gustavo Dudamel's favorite orchestral performances from throughout the years, and hear past performers take us through their memorable Hollywood Bowl moments.

In Concert at the Hollywood Bowl | Musica Sin Frontieras
When it comes to music, there are no borders. Immerse yourself in a Pan-American musical journey starting with Aaron Copland's Lincoln Portrait performed by Gustavo Dudamel and the LA Phil, narrated by legendary Dodgers sportscaster Vin Scully. Hear Colombian singer-actor Carlos Vives sing La Tierra de Olvido and La Gota Fria.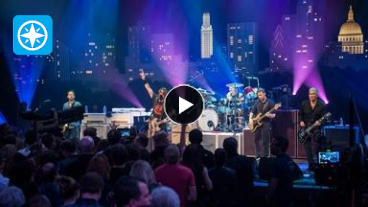 Austin City Limits | Texas Icons: Jerry Jeff Walker & Billy Joe Shaver
Enjoy a tribute to late Texas singer/songwriters Jerry Jeff Walker and Billy Joe Shaver. Walker performs his classics
Mr. Bojangles
and
Up Against the Wall Redneck Mother
, while Shaver plays favorites
Georgia On a Fast Train
and
I'm Just An Old Chunk of Coal.
Austin City Limits | Allen Toussaint

Enjoy a vintage hour with New Orleans soul songwriter, producer and musician Allen Toussaint. Songs include
Southern Nights
 and
St. James Infirmary.
---
Independent Film

Independent Lens | Mr. SOUL!
Premiering in 1968, SOUL! was the first nationally broadcast all-Black variety show on public television, merging artists from the margins with post-Civil Rights Black radical thought. Mr. SOUL! delves into this critical moment in television history, as well as the man who guided it, highlighting a turning point in representation whose impact continues to resonate to this day.

American Experience | Going Back to T-Town
Goin' Back to T-Town tells the story of Greenwood, an extraordinary Black community in Tulsa, Oklahoma, that prospered during the 1920s and 30s despite rampant and hostile segregation. Torn apart in 1921 by one of the worst racially-motivated massacres in the nation's history, the neighborhood rose from the ashes, and by 1936 boasted the largest concentration of Black-owned businesses in the U.S.
---
History

Vintage Tucson 2021, Hour 2
Blazing hot Tucson treasures include a Mexican charro saddle, Gaston Chaissac artwork, and a 1956 Olympics USA Basketball memorabilia. But has the marketplace cooled down since they were appraised in 2006? Not for one $65,000-$110,000 find!

Antiques Roadshow | Vintage Orlando, Hour 1
See if Sunshine State appraisals still sparkle in the marketplace14 years after Roadshow's visit, including James McNeill Whistler artwork, Presidents Kennedy and Johnson-signed photos, and a Jonas Weber painted box. One is now $165,000-$250,000!

Antiques Roadshow | Vintage Orlando, Hour 2
Learn how outstanding Orlando items have held up in the market since 2007, such as a Fern Isabel Coppedge oil, a Tiffany Studios mosaic glass inkwell, and an 1844 Presidential election political banner. Which has a current value of $120,000-$180,000?
Antiques Roadshow | Vintage Spokane 2021 | Hour 1
Discover what Spokane finds from Season 12 are worth now like a 1905 Spokane bird's-eye view lithograph, Abraham Lincoln letters and signed carte-de-visite, and a yellow diamond and platinum ring. One has an updated appraisal of $80,000-$120,000!

Finding Your Roots | No Irish Need Apply
Henry Louis Gates, Jr. explores the roots of actor Jane Lynch and comedian Jim Gaffigan, revealing the Irish American experience through their families.
Finding Your Roots | The Shirts on their Backs
Henry Louis Gates, Jr. reveals the immigrant roots of actors Tony Shalhoub and Christopher Meloni, introducing ancestors who came to America to build a better life.

Finding Your Roots | Write My Name in the Book of Life
Henry Louis Gates, Jr. helps musician Pharrell Williams and filmmaker Kasi Lemmons uncover extraordinary rare first-person accounts of their enslaved.
Finding Your Roots | Country Roots
Henry Louis Gates Jr. uncovers the remarkably diverse backgrounds of country music icons Clint Black and Rosanne Cash.

8 Days to the Moon and Back
Join Apollo 11 on its historic journey. The film seamlessly blends mission audio featuring conversations among Neil Armstrong, Buzz Aldrin and Michael Collins with new footage, NASA archive and stunning CGI to recreate the first moon landing.
---
Science & Nature

Nature | Pumas: Legends of the Ice Mountains
Travel to the ice mountains of Chile to discover the secrets of the puma, the area's biggest and most elusive predator. Discover how this mountain lion survives and follow the dramatic fate of a puma mother and her cubs. Narrated by Uma Thurman.

Europe's New Wild: The Missing Lynx
Across Iberia, food chains and ecosystems are being restored allowing endangered animals, including the rarest cat in the world, to flourish.

Nature | Big Bend: The Wild Frontier of Texas
Roam the Wild West frontier land of the Rio Grande's Big Bend alongside its iconic animals, including black bears, rattlesnakes and scorpions.
Europe's New Wild: Return of the Titans
In Europe's Carpathian mountains, the introduction of Bison is helping numerous other species to thrive, while just beyond this mountainous region, Gray Wolves are staging an astonishing return.

Europe's New Wild | Europe's Amazon
The Danube is the largest preserved wetland on the continent, a sanctuary for thousands of species -many are the last of their kind. Conservationists are working to preserve and restore these precious habitats before it's too late.
10 Modern Marvels that Changed America
A whirlwind tour of 10 engineering feats that made our civilization possible: from the Erie Canal and Eads Bridge, to the Holland Tunnel and Hoover Dam. Find out which 10 modern marvels made the list.

Nature | The Whale Detective
A filmmaker investigates his traumatic encounter with a 30-ton humpback whale that breached and just missed landing on him while he was kayaking. What he discovers raises far bigger questions about humans' relationship with whales and their future.
---
EXPIRING SOON:
GI Jews: Jewish Americans in WWII
GI Jews: Jewish Americans in World War II tells the story of the 550,000 Jewish American men and women who fought in World War II. In their own words, veterans both famous (director Mel Brooks, former Secretary of State Henry Kissinger) and unknown share their war experiences: how they fought for their nation and people, struggled with anti-Semitism within their ranks, and emerged transformed.
Removed from TPT Passport April 11
Great Performances: will.i.am and Friends Featuring the Black Eyed Peas
International superstar will.i.am performs from London's historic Royal Albert Hall in a one-night-only concert event. The Grammy-, Emmy- and Latin Grammy-winning artist, writer and producer reunites with members of the Black Eyed Peas on stage for the first time in over six years, plus special guests Pia Mia, Eva Simons and Lydia Lucy (The Voice UK).
Removed from TPT Passport April 12
Poetry in America: Harlem by Langston Hughes
What happens to a dream deferred? Langston Hughes's question calls President Bill Clinton, pianist and composer Herbie Hancock, poet Sonia Sanchez, and students from the Harlem Children's Zone to interpret Hughes's most iconic poem, Harlem. Together with host Elisa New, the President and other guests, explore the poem's rhythms and rhymes, and discuss its enduring call for justice.
Removed from TPT Passport April 13
Austin City Limits: Stevie Ray Vaughan on Austin City Limits: 30 Years On
Thrill to an hour of classic Austin City Limits performances from lateTexas blues rocker Stevie Ray Vaughan and his band Double Trouble. Songs include Pride and Joy, Crossfire, and Texas Flood.
Removed from TPT Passport April 14
American Experience: The Island Murder
Discover the truth behind the scandalous 1930s rape and murder case, involving a Navy wife, her society mother, Clarence Darrow and five nonwhite Hawaiians, that shook the island paradise and exposed the racial tensions roiling beneath the surface.
Removed from TPT Passport April 16
OVCES: Children of Giant
In the summer of 1955, Hollywood descended on the dusty West Texas town of Marfa as production began on the highly anticipated movie Giant. Based on Edna Ferber's controversial novel, the film was a different kind of western and one of the first to explore the racial divide between Anglos and Mexican Americans in the Southwest.
Removed from TPT Passport April 16
Nature: Hotel Armadillo
Go behind the scenes with armadillo biologist Arnaud Desbiez and the filmmakers who captured the stunning imagery featured in NATURE's Hotel Armadillo.
Removed from TPT Passport April 18
Poetry in America: Shirt by Robert Pinsky
At New York Fashion Week, host Elisa New catches up with fashion designer Johnson Hartig, Bergdorf Goodman's Betty Halbreich, shoe designer Stuart Weitzman, and design and poetry students from the New School to discuss Robert Pinsky's Shirt. Back in Boston, poet Robert Pinsky helps trace the intricate history of the garment and the poem.
Removed from TPT Passport April 19
Austin City Limits: Rufus Wainwright
Enjoy an intimate hour with renowned singer/songwriter Rufus Wainwright. The American/Canadian performer and composer sings songs from his latest album Unfollow the Rules.
Removed from TPT Passport April 19
Poetry in America: The Grey Heron by Galway Kinnell
How is the poet's eye like–or unlike–that of the scientist, the photographer, or of the small child first rambling around the natural world? In this episode, Elisa New is joined by evolutionary biologist E.O Wilson, poet Robert Hass, environmental photographer Laura McPhee, naturalist Joel Wagner, and kids at a Mass Audubon Society summer camp in a wide ranging discussion of Galway Kinnell's poem.
Removed from TPT Passport April 26
Nature: The Tropics
The spy creatures investigate the wildlife that thrives in the tropics. They infiltrate a hippo pod, a nursery of red flying foxes, a gorilla sanctuary and the secret world of pygmy forest elephants.
Removed from TPT Passport April 28
Austin City Limits: The Best of John Prine
Savor an hour of stirring performances from the late singer/songwriter John Prine's episodes of Austin City Limits. Songs include Paradise, Sam Stone and Angel From Montgomery, with special guest Bonnie Raitt.
Removed from TPT Passport April 30
The Tunnel, Season 1
A British/French crime drama, adapted from the Danish/Swedish crime series The Bridge. The series stars Stephen Dillane and Clémence Poésy as British and French police detectives Karl Roebuck and Elise Wasserman. The two detectives work together to find a serial killer who left the upper-half body of a French politician and the lower-half of a British prostitute in the Channel Tunnel, at the midpoint between France and the UK.
Removed from TPT Passport April 30
The Jazz Ambassadors
The Cold War and civil rights collide in this remarkable story of music, diplomacy and race. Beginning in 1955, when America asked its greatest jazz artists to travel the world as cultural ambassadors, Louis Armstrong, Dizzy Gillespie, Duke Ellington and their racially diverse band members faced a painful dilemma: How could they represent a country that still practiced Jim Crow segregation?
Removed from TPT Passport May 2
Secrets of the Dead: The Lost Gardens of Babylon
Uncover new archaeological evidence rewriting our understanding of the Dark Ages in 5th– and 6th-century Britain that might also explain the legend of King Arthur.
Removed from TPT Passport May 5
Nature: Spy in the Wild 2 The North
Travel to the Northern Hemisphere, where the spy creatures learn how animals move, feed and fight. A spy hummingbird films millions of butterflies, and a spy squirrel winds up in a battle. A spy beaver observes other beavers building dams.
Removed from TPT Passport May 6
Austin City Limits: John Legend & The Roots: Wake up!
Savor a special encore of protest soul classics from John Legend & the Roots' Grammy-winning LP Wake Up! Originally broadcast in 2011, the hour-long episode features Wake Up Everybody, Compared to What and Ordinary People.
Removed from TPT Passport May 6
Nature: Spy in the Wild 2: The Islands
Explore the islands of the South Pacific with creatures like the spy koala, who captures breeding behavior in Australia, or the spy crab, who joins an army of red crabs on their march to the sea to deposit their eggs.
Removed from TPT Passport May 13
© Twin Cities Public Television - 2021. All rights reserved.
Read Next