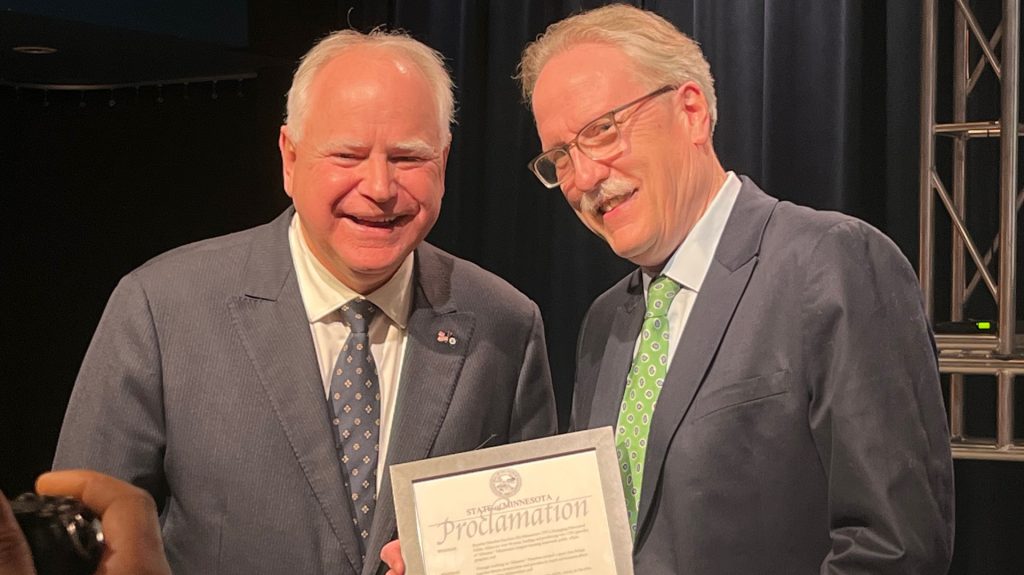 April 28, 2023 (St. Paul, MN) — Brendan Henehan, co-creator and long-time producer of Almanac at Twin Cities PBS (TPT), was honored with statewide recognition on April 27. At a station event in honor of Henehan's retirement, Gov. Tim Walz and Lt. Gov. Peggy Flanagan presented Henehan with a Governor's Proclamation naming May 12, 2023, Brendan Henehan Day. Henehan was also presented with Resolutions from the Minnesota House and Senate.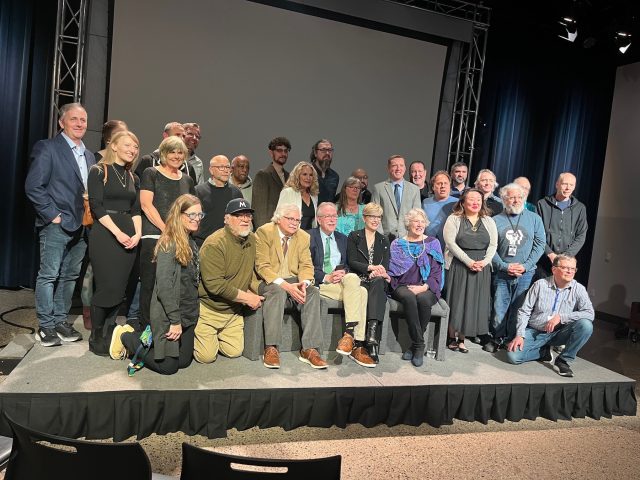 Proclamations from the Governor recognize extraordinary state or local activities that impact a broad group of Minnesotans. "For my in-laws out in Ivanhoe, Minnesota, nothing else matters except my appearance on Almanac," Walz joked while presenting the proclamation. "[Almanac] is a testament to…the belief that there is a place for civil discourse, there is a place for discussions of important issues, and there is a place where we can celebrate who we are and where we are at."  
Flanagan shared memories of weekly Almanac debriefs with her mother, who passed away in November of 2022. Flanagan praised Almanac for making politics accessible and concluded, "It is truly the best of Minnesota." 
Like the Proclamation from the Governor, the Minnesota House and Senate Resolutions recognize Henehan for his work on Almanac, citing his role as Almanac co-creator and producer of more statewide political debates than any other Minnesotan and over 1765 Almanac episodes.  
These bipartisan recognitions illustrate the important impact Henehan and Almanac have had on democracy in Minnesota. TPT is thrilled to celebrate Henehan and Almanac's service to the state with all of Minnesota on May 12.  
If you value Almanac, donate to TPT in Brendan's honor! Your gift will help TPT continue to provide trusted public affairs programming that keeps citizens informed and safeguards democracy by providing space for conversations about issues that impact us all.
© Twin Cities Public Television - 2023. All rights reserved.
Read Next