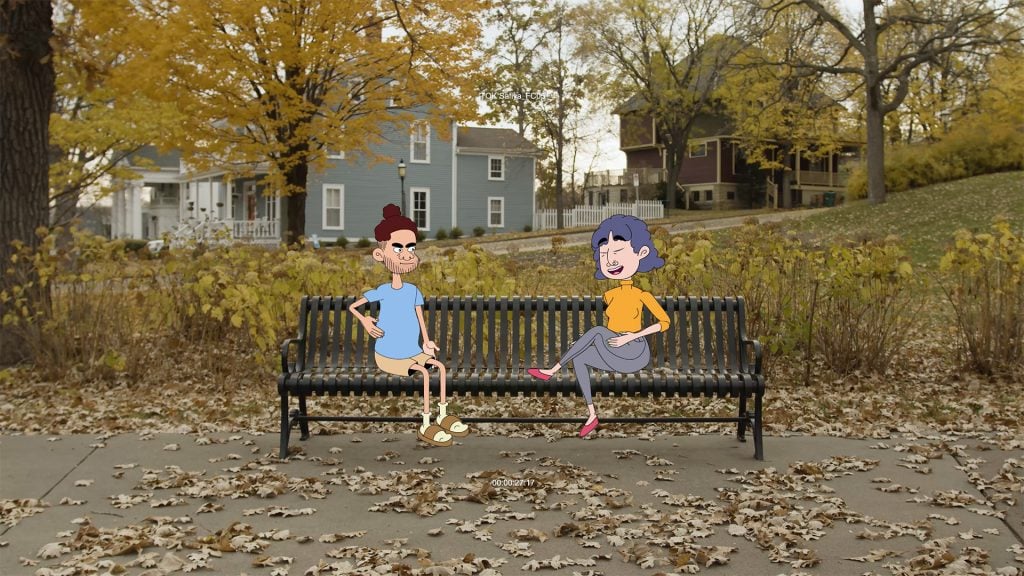 "I worry all the time during my interviews if I'm being racist by asking certain questions to individuals," filmmaker Sergio Mata'u Rapu said of his interview process for That Got Weird, a new animated digital series from Twin Cities PBS. "This is a good and really big learning voyage for me, making this series."
That Got Weird premieres in January 2022 as part of the Racism Unveiled digital storytelling project. The online series of short videos pairs audio interviews of Minnesota's Black, Indigenous and communities of color (BIPOC) with animated characters to depict their experiences with tokenism, microaggressions and racism in general.
Since the project launched in July 2020, Racism Unveiled has focused on the roots of racial injustice in Minnesota using video interviews, data journalism, articles, listening sessions and events. An animated series might not seem a natural extension of this work — especially one hoping to reach an adult BIPOC audience — but after an extensive period of research and development, Rapu and the Racism Unveiled team settled on the visual style for the anonymity it allows.
"We wanted to hide the identity of the individuals that were sharing with us so that they felt open to share their true experiences without fear of backlash or embarrassment, or of others involved — or any of those things that comes with talking about the truth," he said.
Animation also introduces the opportunity for levity, which the team hopes will help make the subject matter more accessible.
"The goal behind it is for BIPOC individuals or people who have experienced racism in the past to connect with the series," Rapu said, "but also to allow those who haven't to empathize with those who have."
Telling Stories That Matter
Rapu came to TPT last year to work with TPT producer Leya Hale on Bring Her Home, a feature-length project that revolves around three women who have been fighting for healing and resolution amidst the epidemic of missing and murdered Indigenous women.
His work was previously seen on PBS in 2020 when Eating Up Easter, the film he created with his wife, Elena Rapu, premiered as part of Independent Lens. The film balances the history and culture of Rapa Nui, otherwise known as Easter Island, against the complications of a booming tourism industry – an intensely personal story to Rapu, who hails from Rapa Nui. But storytelling through emotion, he believes, is essential to break down barriers economically, socially and racially. By using film to highlight the diversity of life, he hopes to inspire resolutions.
"Whenever I see a film of a Pacific Islander, I feel more grounded in my experience and my existence on this planet. Whenever we're able to center BIPOC voices and stories, I think ultimately even though those stories may be hurtful in themselves and telling things that are difficult, in the end it helps to support the fact that it's not just you. It's not just you and your experience. It's not just you, that you felt weird during that conference call. This is bigger, right? This is an issue in the way life is built and structured."
Drawing It Together
As production for That Got Weird wraps up, Rapu is working to film his final few interviews and edit the often-hour-long conversations down into five-minute impactful exchanges, which will then be animated. He has partnered with illustrator Mychal Batson, known artistically as Myc Dazzle, to design the characters that will populate That Got Weird. Batson currently resides in Texas, but grew up in the Rondo neighborhood of St. Paul.
"Myc is really creative and he jumped on board wanting to explore something that he's never done before and I've never done before and just kind of take a chance creatively," Rapu said.
"His characters look fun and exciting, which is not necessarily something that you would picture when you think about a series on racism. I think that juxtaposition is what he brings to all of this, and I know he's super aware that these conversations may get into not-so-happy stuff and that's important. I think he's open to the full range of what this can be."
Designing the characters is a multi-step process, with the interview subjects first identifying a few key characteristics they want to see in their illustrated anonymous figures, including gender identity, skin tone, and hair style or head covering. Then those details, along with an audio-only version of their interview, are shared with Batson, to avoid any potential for bias. Batson then creates the illustration, along with specific anchor points and triggers that Rapu can animate.
The final elements include a title design by TPT designer Ben Malley, some sound effects by audio engineer Terry Gray and a few surprises still under wraps. That Got Weird will spring to life in January on RacismUnveiled.org, confronting the uncomfortable in hopes of bridging the divides.
"I hope audiences that watch this feel empowered to just share their story," Rapu said. "And even if they don't want to, to know that racism impacts everyone and it's not okay that that happens. But the more of us that see that, maybe the more we feel like a bigger part of a group instead of just individuals."
Stay tuned to RacismUnveiled.org to watch.
---
This article is part of the Racism Unveiled storytelling project with generous funding from the Otto Bremer Trust and additional support from HealthPartners, the Saint Paul & Minnesota Foundations, and US Bank.
Racism Unveiled is a multi-year, multi-platform, community-engaged and impact-driven initiative diving into the complex systems of inequality that directly affect the daily lives of Black, Indigenous and communities of color in Minnesota.
© Twin Cities Public Television - 2021. All rights reserved.
Read Next