TPT is proud to announce a new film entitled Bring Her Home. In 2019, Vision Maker Media awarded TPT with funding to create a project surrounding the Missing and Murdered Indigenous Women movement in Minnesota.
Production began last year and the film is set to premiere nationally and on TPT2 on March 21, 2022. The film is already creating buzz and has been named to receive an Impact Kickstart from Working Films.
From acclaimed director Leya Hale, read the summary of this upcoming documentary below:
---
About Bring Her Home: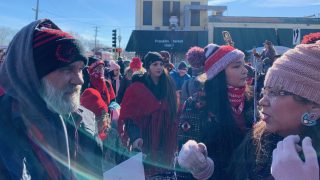 Bring Her Home follows three Indigenous women – an artist, an activist, and a politician – as they fight to vindicate and honor their missing and murdered relatives who have fallen victims to a growing epidemic across Indian country. Despite the lasting effects from historical trauma, each woman must search for healing while navigating racist systems that brought about this very crisis.
---
Expect more information on Bring Her Home coming in 2022.
© Twin Cities Public Television - 2021. All rights reserved.
Read Next