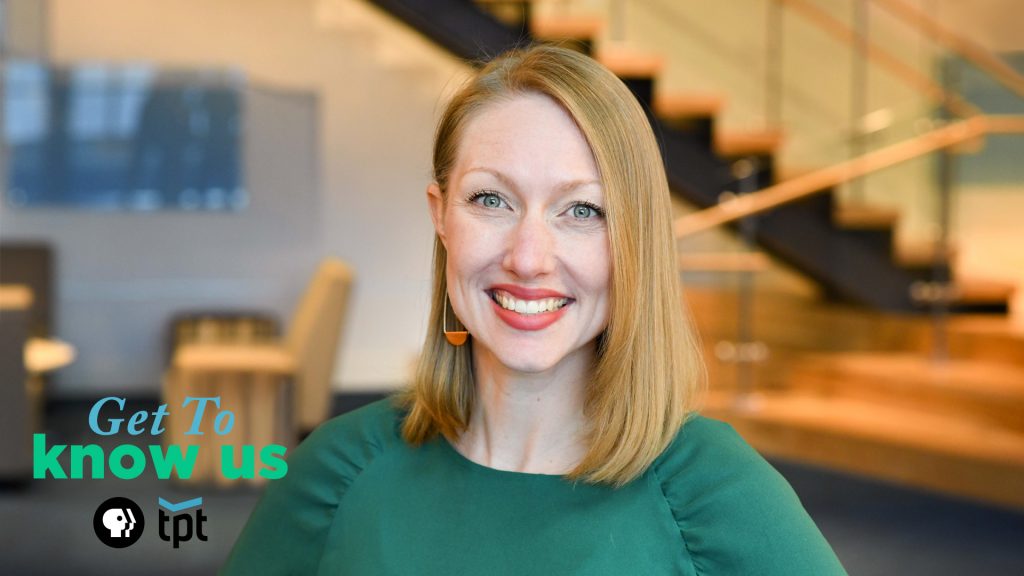 Here at TPT we are proud of all the content we create and curate for every Minnesotan. Educational television provides a resource for everyone to learn about different cultures and communities, dig into the nuance of science, and experience the arts all right through their television.
TPT started producing their own content in the 1980s and never looked back. We've made thousands of half hour programs, hour long documentaries and online shorts on every topic under the sun. As a result, we have a magnificent team of inventive and smart creators who work everyday to find something that will be appealing to our viewers. We wanted to take a closer look at who these folks are and what inspires them to create your favorite shows.
This month we spoke with Brittany Shrimpton, a producer at TPT. She is a fantastic filmmaker, who is especially keen on projects surrounding the arts. Brittany says:
---
My name is Brittany Shrimpton and I've worked at TPT for more than 11 years. What drew me into producing was my love of hearing peoples' stories and transforming them into video.
One thing I've especially loved is how making television brings together people from all different industries. I've had the pleasure of working with the Center for the Art of Medicine at the University of Minnesota Medical School on a mini-series examining healthcare topics through an artistic lens called Art + Medicine. To date, we have completed two shows (Reflections on the Pandemic and Speaking of Race) and are in production on a third, Healthy Aging, so keep your eyes peeled fall of 2022 for that film!
While cross-sector collaboration can be more difficult, simply because you have to coordinate multiple organizational systems to work together, the benefits can be enormous. In the wake of our last film, Speaking of Race, Dr. Jon Hallberg, the Creative Director for the Center for the Art of Medicine, invited co-host, Dr. Tseganesh Selameab, and me to join him to speak about just that at the Minnesota Young American Leaders Program (MYALP.) MYALP is a program at the University of Minnesota's Center for Integrative Leadership that aims to connect rising leaders to change our cities, institutions and possibilities for the better, hopefully through collaboration. I left feeling energized from all the discussion with the MYALP participants and hopeful for more powerful collaborations since I believe storytelling is a great connector.
This is just one example of projects I've enjoyed working on at TPT, but it's certainly not the only one. See below a list of some of my favorite projects.
---
Art + Medicine, as referenced above, is a mini-series co-produced with the Center for the Art of Medicine at the University of Minnesota Medical School.
Each episode in the series examines a different healthcare topic through an artistic lens. In Speaking of Race, TPT worked with a talented curatorial team of physicians from the University of Minnesota to create a show that featured BIPOC physicians sharing personal stories about race, racism and antiracist efforts within the medical community. I am incredibly grateful for all those who shared their stories in this film.
---
I love learning about cultures and through the web series Relish, co-created with producer Amy Melin and hosted by local chef Yia Vang, I get to do just that by delving into the culture and history behind Twin Cities chefs' favorite dishes.
When baker Altreisha Foster wanted to make Jamaican fruitcake on Relish, I went into a deep rabbit hole researching this controversial holiday sweet and learned all sorts of fun facts.
Some of those fun facts had to hit the cutting room floor, like this gem: Manitou Springs, Colorado holds an annual fruitcake toss every January.
---
With a background in dance and two parents who are artists, the arts have been a part of my life since I was born. I was overjoyed to get an internship on MN Original in its second season and thrilled to join the team for the subsequent eight seasons it aired.
A perk of the show was getting to meet members of the Twin Cities amazing arts communities, like actor Sally Wingert and the folks at the record label Secret Stash Records.
---
Listen/ Stories of Cancer and Resilience was a very special project. With Gilda's Club Twin Cities, we followed the development, rehearsal process, and performance of LISTEN/, an evening-length live theater and dance work, created and performed by members of Gilda's Club alongside company members and Artistic Co-Director Suzanne Costello from Stuart Pimsler Dance & Theater.
Along this journey we met several of the Gilda's Club members who vulnerably shared their connections to cancer, whether they were living with it, in remission or were a loved one of someone with a diagnosis.
Once again, we saw how an artistic process like LISTEN/ can bring people together and create meaningful and healing experiences that build resilience for some of life's tough journeys.
---
Follow along for more Get to Know Us posts as we profile different staff members across the organization.
© Twin Cities Public Television - 2022. All rights reserved.
Read Next