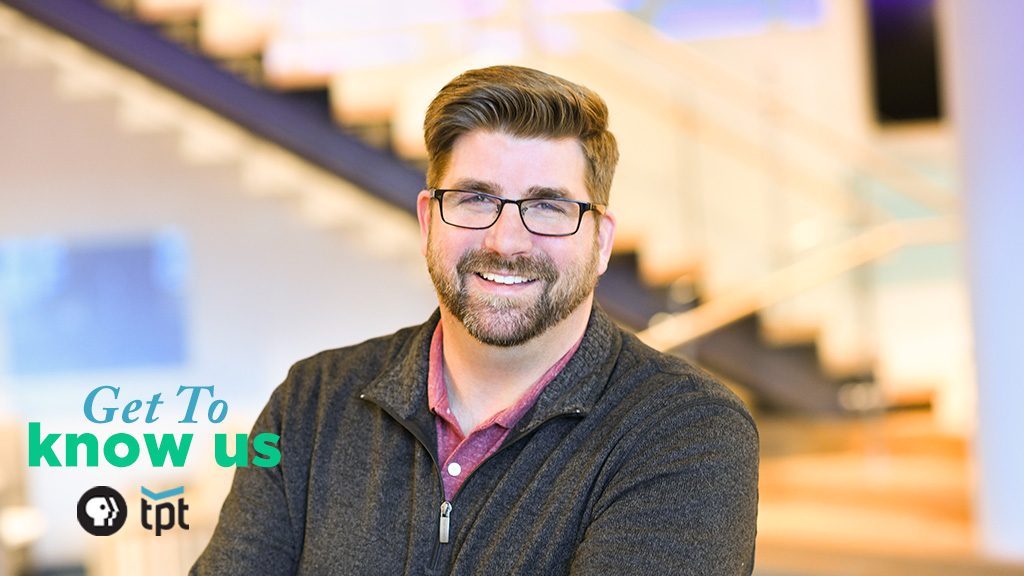 Here at TPT we are proud of all the content we create and curate for every Minnesotan. Educational television provides a resource for everyone to learn about different cultures and communities, dig into the nuance of science, and experience the arts all right through their television.
TPT started producing their own content in the 1980s and never looked back. We've made thousands of half hour programs, hour long documentaries and online shorts on every topic under the sun. As a result, we have a magnificent team of inventive and smart creators who work everyday to find something that will be appealing to our viewers. We wanted to take a closer look at who these folks are and what inspires them to create your favorite shows.
We talked to Kevin Dragseth, a producer at TPT for the last seven years. He has worked on countless projects in a plethora of different genres. Kevin says:
"The work we do at TPT has tremendous impact in our community, and that's a huge part of why I love working here. Just the projects that I've worked on could help save lives, inform public policy, create empathy, elicit wonder, educate curious minds, and entertain people. The public's trust for what we do must be earned. And when we hear from viewers that the stories we tell are not only trustworthy but also impactful, that really makes our day."
---
Here are five notable pieces Kevin has worked on and his thoughts, in his own words, behind each of them:
---
Twin Cities PBS partnered with CentraCare to create five films on childhood trauma, also known as adverse childhood experiences (or ACEs). A key thesis is that ACEs not only harm children in that moment, but they continue to harm them for their entire lives, often leading to adult health problems and early death. These wounds are a burden on the person, but also on their loved ones, their families, as well as our healthcare and criminal justice systems.
It was an emotionally challenging project, as all of us involved struggled to find accessible ways into such a complex and painful topic. We were blessed to have trauma therapist Resmaa Menakem involved as an invaluable advisor, guide, sounding board, on-camera expert, and friend.
Over the five films, we explored ACEs through multiple lenses: personal experiences of trauma, racialized and historical trauma, shared community trauma through poverty and racism, efforts by members of a local criminal justice system to interrupt the repetitive cycle of trauma, opportunities for families to heal and prevent ACEs, and the experiences of refugees fleeing violence and searching for safety.
---


I was not really aware of the crisis in affordable housing when I was tasked with capturing footage at a massive apartment complex in Richfield. My crew and I found ourselves in the midst of a chaotic and painful day for dozens of residents being forced out of their homes by a change in ownership of the complex. Stories of loss, fear, anger, sadness, confusion, many told across a language gap from their native Spanish, these families struggled to make sense of their sudden change of fortune.
Together, they'd woven a complex social web that accommodated childcare, transportation, schools, jobs, friendships, even faith life. And it all hung on where they lived and the affordable cost of that housing. When that went away, their whole web was torn apart: setting them back financially, causing adverse childhood experiences for their children, forcing them to compromise in other areas of life like healthcare or nutrition.
Armed with the human drama of their real-life experiences, my job was to uncover the complex economic and political forces at work that led to this catastrophe—and countless others like it across the region—and what could be done to prevent it. It was a journey for me as a storyteller, to balance the humanity of their stories with the heady policy stuff that viewers need to truly understand the issue, and to deliver fully on both. The crisis of affordable housing has only intensified since the film came out, and Sold Out remains in wide use among community groups, lawmakers, policy advocates, churches, libraries and other places to this day.
---
I've always enjoyed science and technology, though I'm a lot better practitioner with the latter than the former. So when Twin Cities PBS formed a partnership with Charles Babbage Institute at the University of Minnesota and the Dakota County Historical Society tell the story of Minnesota's once-dominant computer engineering industry, I was thrilled to be involved.
The first goal was to capture the stories of dozens of high-tech pioneers: engineers who worked on top-secret codebreaking machines, nuclear missile guidance systems, supercomputers, you name it. The stories were incredible, and the people (several in their nineties!) were delightful.
The next goal was creating a documentary telling the industry story: the strange origins, Minnesota's total dominance in the industry, the evolution of technology, the personal stories of innovation, belonging, and loss. Several of the people interviewed passed away before it came out or shortly thereafter, making Solid State a meaningful tribute to their remarkable lives and careers.
The film is a love letter to Minnesota, and a large in-person screening with interviewees and other industry pioneers was a celebration of our accomplishments and unique culture. As a filmmaker, I felt very much appreciated by those in attendance who praised my efforts and felt honored by my work. They in turn honored me with a vintage lapel pin from ERA, Minnesota's first computing R&D shop. I'll treasure it forever, as I will treasure the experience of creating that documentary.
---
Above clip from Sacred Minnesota
One area of storytelling that I've been deeply honored to participate in is sharing stories from Minnesota's Indigenous communities. I am not myself Native American, and I recognize that entrusting someone who looks like me to help share important cultural stories is inherently challenging, and that trust is earned. I hope I am earning it, through careful listening and stewardship, through understanding nuances, by exploring deep history and contemporary Native experiences here and now.
Some stories, like Cloudman's Village and Dakota burial practices in Remembering Place, and Bdote as a sacred Dakota landscape from Sacred Minnesota, have been generous gifts from members of our Native communities that I've been entrusted to help tell. The impossibly-deep, incredibly-strange rabbit hole of Minnesota's own grand racist opera required great effort to research and produce.
Others—like the story of Mia the Land O'Lakes maiden or Alexander Ramsey's heinous crime against Ojibwe people—came together with almost magical ease, and with astonishing results: the former is the all-time most-viewed content on TPTOriginals.org, and the latter was recently published in a textbook as an example of good writing with a focus on equity. With each important story sharing Native experiences, I grow as a storyteller and as a human being.
Read 'Discover the Origins of Minnesota's Own Grand Racist Opera'
---
Perhaps the single most important aspect of storytelling for me is racism and racial equity. I have managed to find a way to work racial issues into almost everything I've created at Twin Cities PBS. Undoubtedly, the murder of George Floyd thrust Minnesota's legacy of racism into a very bright spotlight, Twin Cities PBS led the way, leveraging its Racism Unveiled and public affairs platforms to find unique stories and angles on the work of anti-racism.
I was attached to a loosely-conceived weekly series initially focused on coverage and analysis of the trial of Derek Chauvin. When those of us on the small team decided that we should not just do what every other media outlet would be doing, we bravely turned our backs on the trial as the focus, and used the rhythms of the trial to explore racially-charged issues in and around the justice system.
Moreover, we decided that our audience was not our typical one: Trial & Tribulation would directly address African Americans and people of color as the primary audience, and in so doing, it would center and validate their perspectives, experiences, and realities. The result was a scrappy little series built entirely on webcam interviews with community members that took on crucial issues like racism in law schools, how the jury system works or doesn't work for people of color, racialized trauma and the impact of the murder and trial on African Americans and their children, and the role of the media in creating racist narratives.
A post-verdict episode asked the galvanizing question, "Where do we go from here?" and explored a range of compelling answers. A final episode (for now) set aside the pain to focus on Black joy and healing through community gatherings, cookouts, and festivals. It was a powerful bookend to a unique and forward-thinking series, and an honor to work with an incredible team so tightly focused on this most important issue for me.
---
Keep your eyes peeled for more on the people behind your favorite shows.
© Twin Cities Public Television - 2022. All rights reserved.
Read Next