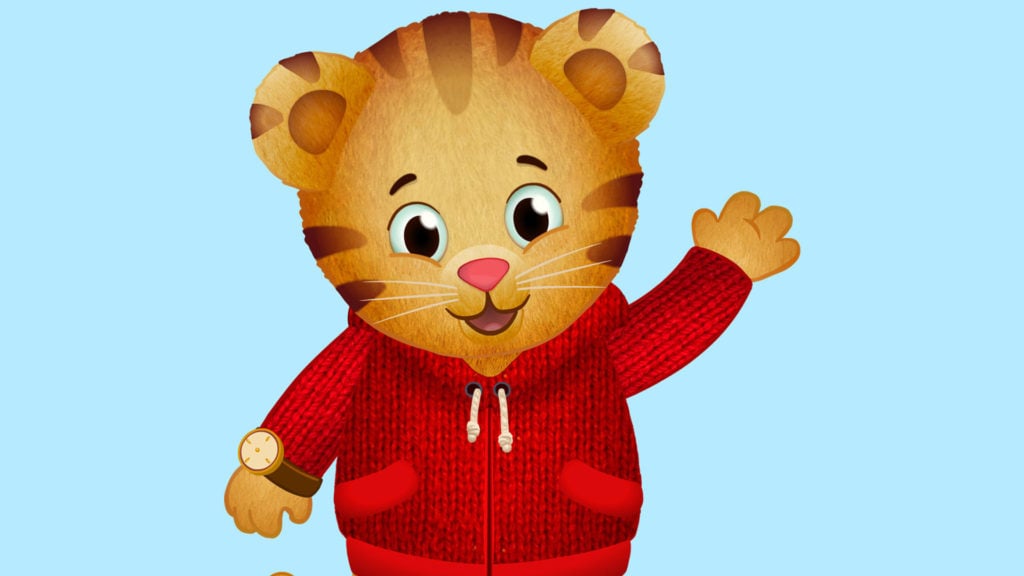 By Christine Jackson | Rewire
Since 1968, Mister Rogers' soft voice and friendly lessons have taught children how to be kind and good as they grow and learn. After hundreds of episodes aired thousands of times around the country, in 2012 a new neighbor opened his door and welcomed us in.
Sporting Mister Rogers' signature zip-up sweater and sneakers, Daniel Tiger connects the Neighborhood of Make-Believe parents grew up with to today's preschool audience. Daniel is the 4-year-old son of Daniel Striped Tiger, the beloved tiger puppet from "Mister Rogers' Neighborhood."
The character's animated spin-off, "Daniel Tiger's Neighborhood," incorporates elements from the original show and presents them to today's children. Christopher Loggins, producer and production manager of Daniel Tiger, has been with the show since before it first aired in September 2012. He's also the producer and production manager of "Odd Squad" and "Peg + Cat."
When it comes to connecting with today's children, Loggins points to both the old and new elements of the show as draws for their young viewers.
"I think Daniel talking to the children watching is a big thing," he says "That's something that Fred Rogers pioneered. But I also think it's the incredible music that's in the show, the engaging and entertaining stories, and I think it's fair to say that there's a pacing that's a little bit different than other shows.
"Times have changed since 'Mister Rogers' Neighborhood.' Nothing anymore is as slow paced as 'Mister Rogers' Neighborhood' was for children that I can think of. But I think compared to other children's television shows, Daniel sort of takes its time. It doesn't try to pack every second with stimulation, which I think may actually appeal to some of these younger viewers."
Putting it together
Loggins and his team work together with experts to plan the lessons and strategies kids will glean from Daniel Tiger and his friends. Planning each episode requires a combination of the approach to social and emotional learning developed by Fred Rogers and consultation with experts in child development.
"At the outset of a season we try to think about the issues that are important in the lives of children and families, and we really try to focus squarely on a clear 2-5 age range and cover topics that really speak to children in that stage of development," Loggins says.
The result of their hard work is a series of episodes that teach children and their parents how to talk about, address and control situations relevant to toddler- to pre-K-aged kids.
"[The show] gives parents and children healthy ways to talk about and manage their feelings," Loggins says. "To paraphrase a Fred Rogers quote, he often said, 'what's mentionable is manageable.' I think what we do with the show is help all people, regardless of age, know that all feelings are mentionable and all feelings are manageable. Everyone has all of those feelings, and it's okay to talk about them and express them and manage them in healthy ways."
Take a deep breath and count to four
One way the writers teach those lessons in "Daniel Tiger's Neighborhood" is through what they call the "Strategy Songs" in each episode. Each one applies to a specific emotion or life situation. Child development experts work with the team of writers to come up with "catchy, singable strategies to manage that feeling or situation." Loggins gave the example of a song used to calm children down when they are upset.
"If you think of mad feelings," Loggins said, "the strategy song is, 'If you feel so mad that you want to roar, take a deep a breath and count to four. 1-2-3-4.' And it's just a way to take a step back from that mad feeling and try to calm down a little bit."
These strategy songs apply to all sorts of situations: anger, jealousy, sharing, helping, cleaning up, and so many others. Parents can see the effects of Daniel Tiger's lessons play out in their own homes. Loggins says his team often hears from parents through social media and personal experience that, without any prompt, kids will start singing the sharing song to solve their problems about who can play with what.
"They're amazed, as are we, when they see children using those strategies on their own," he said. "I'd say the most rewarding thing for me is to see that the work that everybody is putting into the show is having a positive impact on the lives of children and families."
Helpful strategies for parents too
Parents can take cues from their children's favorite cartoon tiger as well. Getting frustrated at work? Maybe step back and count to four yourself. Taking a few seconds to calm down and consider your words may keep you from saying something you'll regret to a coworker.
Trying to pick out a new couch, car or even just a new workout class? Daniel Tiger and his friends can help you out there, too. Don't stress, and don't jump in too fast. Just "Stop, Think, and Choose" your way to the smartest option for you.
Daniel even pulls from Mister Rogers' classics to teach his lessons. As the holidays approach, one good lesson Daniel and Fred Rogers sang rings especially true: "There are many ways to say, 'I love you.'"
Gifts and words rule the season, but remember the little things that say it all year round. Making and sharing a meal, cleaning up a room, playing a favorite song and just being present are all Fred Rogers—and Daniel Tiger—approved ways to show people you care.
---

     This article originally appeared on Rewire. Sign up for Rewire here.
© Twin Cities Public Television - 2017. All rights reserved.
Read Next