By Kelsey Derby
It's Thanksgiving day and you've reached the evening. You've consumed the turkey and stuffing and talked your way through all the necessary topics. You're tired of eating, tired of talking and it's time to settle down for some nice television. Luckily you're a TPT Member and you have access to TPT Passport. "What should we watch?" you ask.
See below for a guide of what to watch on Thanksgiving with your family, your friends, or even just yourself.
---
Stream Your Favorite Shows Now
Don't know what TPT Passport is? It's our online member benefit that allows access to thousands of TPT shows right at your fingertips. All it requires is a $5+ monthly donation and a computer, a smart TV, a tablet, or whichever device you use to watch your favorite shows! Download the
PBS app
for easy viewing.
---
For the music lovers
Historical Pick: Ken Burn's Country Music
This series by the iconic Ken Burns covers Country Music from its essential roots all the way to modern times. It's a great way to learn together as a group and is a crowd-pleaser for everyone from your 14-year-old cousin who is just discovering "old" music can be "cool" to your Grandma with an everlasting love for Loretta Lynn. Watch now.
Modern fun-for-the-whole-family: Austin City Limits
Austin City Limits captures live performances of musicians from all types of genres – Billie Eillish, John Prine, The Roots, Mitski, Steve Earle & the Dukes, and Mac DeMarco to name a few. The one thing they have in common is that the performances are always high quality, family-friendly and fun to watch. Discover something new or hang with an old favorite – this is sure to be a crowd-pleaser. Browse episodes.
Jazz hands pick: Great Performances
Great Performances gives the viewer an up close and personal view of some of the greatest shows of all time. For the theater-loving group, this show is a can't-miss. Find something everyone is happy to watch – from The Sound of Music to a wonderful play about Gloria Steinem, Kinky Boots or the LA Philharmonic, there are many options to please. See Great Performances.
For those who love history
Quirky, fun pick: Lucy Worsley
If you haven't gotten the chance to learn about history with Lucy Worsley, you're missing out. Her shows cover a variety of different topics from holiday highlights like the 12 Days of Tudor Christmas and Christmas Carols, to the British-crown specific Royal Myths and Secrets and taking a look at Victorian-era love in A Very British Romance. Her charming personality and very British accent make even the driest bits of history fun to learn about.
Easy-to-watch pick: Finding your Roots
Join Harvard scholar Henry Louis Gates, Jr. to uncover the surprising ancestral stories of cultural trailblazers with fascinating histories. Discover the histories of fan-favorite celebrities in themed episodes. Most recently added includes Fashion's Roots featuring Diane Von Furstenberg, Narciso Rodriguez, and RuPaul Charles and War Stories featuring Julianne Moore, Bill Hader, and Kehinde Wiley. Watch Now.
Native Traditions Pick: Twin Cities PBS Honors Native Cultures
Twin Cities PBS Honors Native Cultures is an initiative showcasing vital shows and events that recognize and celebrate Native communities. This collection of shows gives everyone the opportunity to learn more about themselves, their neighbors, and their world. See the list of shows.
For those who are in search of drama:
British romance pick: Jane Austen trio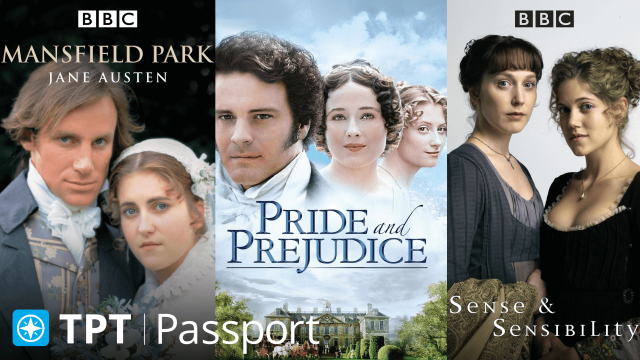 In case you missed it, three new BBC Jane Austen mini-series were recently added to TPT Passport. Sense & Sensibility, Pride & Prejudice and Mansfield Park. What could be better than diving in to an evening of British gossip, love, betrayal and period costumes? Not to mention some very notable leading men (cough, Colin Firth and Dan Stevens from Downton Abbey, cough), many episodes to binge, and some unforgettable twists and turns. BONUS: You can also stream Sanditon and Northanger Abbey.
Become a member now and watch all five.
Action-packed drama pick: Line of Separation
After the fall of the Third Reich, the small town of Tannbach is cruelly divided between East and West regimes and the town's inhabitants suffer the consequences. An historical drama exploring the devastating effects decades of conflict had on communities from the end of World War II to the fall of the Berlin Wall. This show is perfect for a group that wants to be taken for a ride. Watch now.
Fun, funny, mystery-drama pick: The Trouble with Maggie Cole
You may have been following along with the TPT Staffers who are watching the Trouble with Maggie Cole on the TPTea. If not, catch up now. This show is a silly, easy-to-watch British comedy starring Dawn French. Watch as Maggie's life unravels after sharing some serious local gossip to a radio reporter in a small British town. Watch now.
For those who love cooking:
Fun, calming, aesthetically pleasing for all: Great British Baking Show
One of TPT's most popular shows and absolutely for a reason. If you haven't seen it, this series does an exceptional job of pulling in all viewers. From the light competition to the hilariously British baked goods they're asked to make, GBBO is always a hit. For bonus points, dive into the Master Class episodes and let Paul Hollywood and Mary Berry teach you how to make these scrumptious eats. Binge seasons 1 – 5
Stop-thinking-about-turkey-and-stuffing pick: Somewhere South
Perhaps a lesser-known show on TPT Passport, Somewhere South follows Chef Vivian Howard as she digs deeper into the roots of Southern food, cooking and living, and strives to better understand her neighbors in the contemporary South, one dish at a time. Time to start planning the next feast! Watch season 1 now.
For those with small children:
Nostalgia for some millennials, fun for the kiddos, calm for the adults pick: An Arthur Thanksgiving

This brand-new special comes to us from PBS KIDS. The hour-long episode follows your favorite Arthur characters as they go around Elwood City in search of the perfect Thanksgiving. You can even play along online with the PBS KIDS game An Elwood City Thanksgiving. Check this show out on the PBS KIDS Video app.
For those who have already embraced the Holiday spirit:
A lovely, warm, local pick: A St.Thomas Christmas, Comfort & Joy
Shot locally in 2019 at St. Paul's St. Thomas, TPT proudly presents the fifth national broadcast of its annual Christmas concert. The festive holiday performance A St. Thomas Christmas: Comfort & Joy showcases the university's world-class vocal and instrumental ensembles in concert. Watch concert.
A pick for those who love beautiful costuming and babies: Call the Midwife Holiday Specials 2018, 2019
Even if you're not a regular watcher of Call the Midwife, the holiday specials are still fun to watch. This moving, intimate, funny and true-to-life series, based on the best-selling memoirs of the late Jennifer Worth, tells colorful stories of midwifery and families in London's East End in the 1950s. Top off your turkey day with a little dip into the December holidays. Watch the 2018 and 2019 holiday specials now and tune in on Friday, December 25 for an all new Holiday special.  Watch Holiday specials now.
No matter what you pick, we hope you find fun and joy with TPT as you give thanks. We're certainly thankful for you and will continue to provide, whatever the season, entertainment through television.  Thank you for your support.
© Twin Cities Public Television - 2020. All rights reserved.
Read Next