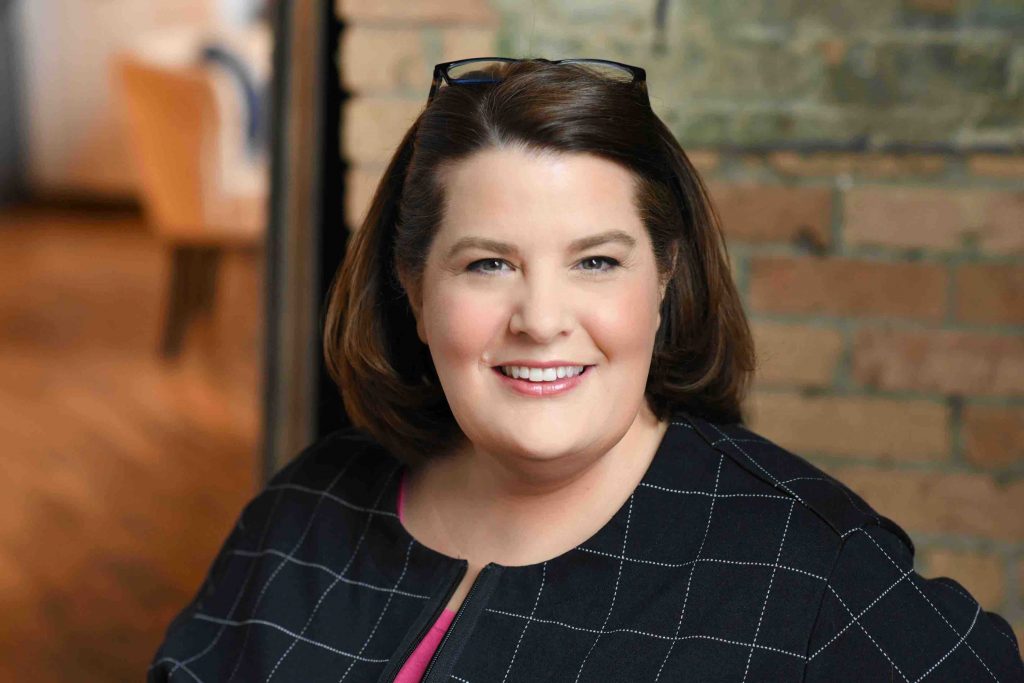 Maureen McGinn was promoted to Vice President of Major Gifts and Planned Giving at Twin Cities PBS (TPT) in January 2023. She joined TPT as the Development Department's managing director in 2020. Her 20-year career in nonprofit development and marketing includes leading the advancement services team at Mitchell Hamline School of Law, serving as Director of Marketing and Communication at the Saint Paul Jewish Community Center, and working as Membership and Marketing Manager at the local historical society. In each of these roles, she has supported nonprofits by communicating about the resources organizations need to grow and serve the community.  
We sat down with Maureen to learn more about her background and her thoughts on what is to come for TPT. 
What led you to work at TPT? 
When I was young, I made a list of the top ten places where I wanted to work when I grew up. As you can imagine, it was all the places that a kid would enjoy, Como Zoo, the Historical Society, the Science Museum, Channel 2, and the local Art museums. I am proud to say that I've served many of those organizations. When I joined TPT, I was excited to support the important work and immense reach of public media.  
What sets TPT apart from other places you have worked? 
I have served organizations covering history, art, education, and community service. I had never served an organization that does all these things. TPT does. 
History programs – like Minnesota Experience – tell the story of how we got to now. Performing arts programs, such as Stage and This is Minnesota Orchestra, showcase Minnesota's unique art communities. Our science and environmental content, including America Outdoors with Baratunde Thurston (which was just renewed for a second season), encourages people to see the world in new ways. We provide educational resources for caregivers and teachers to support children's education locally and nationally. TPT also produces Almanac, broadcasting unbiased public affairs coverage at a time when trusted sources are essential to informing citizens.  
What is the impact of donors on TPT? 
The phrase "members like you" is more accurate than most people realize. 82% of TPT's budget comes from members and major gift donors. These gifts allow us to continue broadcasting PBS favorites, such as Masterpiece, All Creatures Great and Small, Daniel Tiger's Neighborhood, and Antique Roadshow. Most importantly our members and donors make TPT accessible for all. TPT is a local, independent, and trusted source of programming created for and with the community. Our donors ensure that our broadcasts, digital series, outreach, and educational resources are offered free of charge.   
What do you love best about interacting with donors? 
I love having conversations with donors to learn about their passions and what inspires them to give. Then, we can help align their giving with a project or program with those passions. We have donors who love that they can dance with their spouse during The Lawrence Welk Show every Saturday, learn how to cook or fix their house, travel the world, attend a great concert, or hear unbiased news coverage. What connects all our donors is that they want to give the gift of TPT to help build a stronger community through public media. They know we provide stellar educational programs, explore stories in depth, and share voices of those who are not often heard.  
What do you want people to know about TPT? 
The one thing I was surprised about when I arrived at TPT was how much of the work lives beyond the screen. We do significant educational outreach, providing teacher training and workshops, programs for after-school groups, and standards-based curriculum that incorporates TPT and PBS programs. We provide an important public health and safety resource with TPT NOW, going well beyond weather information. TPT NOW also provides vital emergency preparedness information to communities where English is not their first language.   
TPT is a media organization, but it is much more. It serves the community. Using media as a point of entry, TPT creates programming and other resources with and for the community we serves. 
Where do you see TPT heading in the next 5 to 10 years? What support is needed to get us there? 
We are particularly focused on providing more History, Arts, Culture, Science, Education, and Public Affairs content that is entertaining, educational, and empowering. We are also committed to strengthening our endowment to ensure that our programming and resources are available for future generations.  
TPT has an amazing legacy on which to build. We are well-positioned to grow and increase our community impact. We will continue to respond to and reflect our community – through powerful storytelling that represents the amazing and diverse community of which we are a part, robust educational resources for educators and caregivers, highlighting Minnesota's stories for a national audience, and growing our audience by providing more digital content available to viewers anytime, anywhere on a variety of non-broadcast and streaming platforms, like YouTube.  
What would you say to those interested in supporting TPT? 
Please reach out to us. There are many ways you can support TPT's work and legacy from one-time donations to a specific project or program, to annual membership gifts to planned giving. In whatever way you can give, your gift will have an impact. If you have a specific area you would like to support, questions about different giving opportunities, or a story to share about why you are so passionate about TPT, please reach out. We are grateful for every single member and donor who sees the value in TPT's mission and contributes to making TPT true public television. Your support allows us to make our content accessible to every community member. 
---
The Development Team
Linda Hummel, Donor Relations Officer
Sarah Kuenzler, Donor Relations and Engagement Specialist
John Kupris, Major and Planned Gift Officer
Maureen McGinn, Vice President of Major and Planned Giving
Phone: 651.229.1410
Email: [email protected]
© Twin Cities Public Television - 2023. All rights reserved.
Read Next