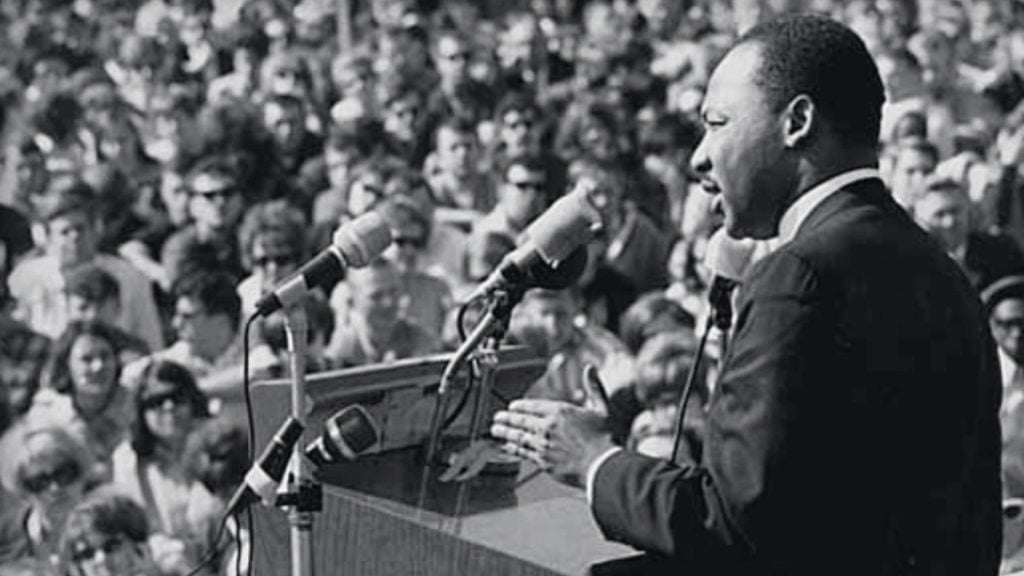 Every third Monday in January, we honor Dr. King's legacy by reflecting on his civil rights and racial justice advocacy and observing a day of service focused on advancing equity in our communities.
Watch a discovered tape of a speech given by Rev. Martin Luther King, Jr., at the University of Minnesota in 1967; enjoy past speakers from the annual MLK Day Breakfasts hosted by the United Negro College Fund (UNCF) and General Mills; and dive into the landmark PBS series, Eyes on the Prize, a definitive history of the civil rights era. Read on for our picks.
---
Check out our picks below and watch online, or by using the PBS Video App on your SmartTV.
For extended access to shows using TPT Passport, become a member today. Learn more about streaming with TPT here.
---
In 1967,  Martin Luther King, Jr., gave a speech at the University of Minnesota in 1967 and participated in an interview with Judge L. Howard Bennett. Both his speech and the subsequent conversation tap into ideas, methods and words of wisdom on how to achieve the goal of a free society for all. Fifty-five years later, Dr. King's words maintain their original power and relevance.
---
This breakfast event celebrates Dr. King's legacy of service, and inspires others to pick up his mantle and carry out his dreams in their own lives and communities. For the 2019 breakfast, you'll get to listen to keynote speaker Don Lemon, an award-winning news anchor for CNN based in New York City, and host of CNN Tonight. Past speakers include Donna Brazile, David Oyelowo and Myrlie Evers-Williams.
---

Revisit this landmark series,  which revolves around the definitive story of the civil rights era from the point of view of the ordinary men and women whose extraordinary actions launched a movement that changed the fabric of American life.
Watch by logging into your TPT Passport account.
---
Racism Unveiled is a multi-year, multi-platform, community-engaged and impact-driven initiative diving into the complex systems of inequality that directly affect the daily lives of Black, Indigenous and communities of color in Minnesota.
---
Feature: Mary Church Terrell

Mary Church Terrell (1863-1954) became a national leader as founder of the National Association of Colored Women, coining its motto "Lifting As We Climb," while also serving as a founding member of the National Association for the Advancement of Colored People. Throughout her life, she also actively wrote and spoke out about the lasting traumas of lynching and segregation.
---

Henry Louis Gates, Jr. examines how journalists Gretchen Carlson and Don Lemon were able to overcome biases in their careers, drawing parallels to relatives who met profound challenges of their own. The episode also delves into the role that Don's father played in the Civil Rights movement.
---

Explore the life of Vernon Jordan, one of the most influential African-American thought leaders. The film traces Jordan's rise from modest origins to national renown as a distinguished, pioneering attorney, businessman and civil rights leader; and as an influential powerbroker and counselor to American presidents spanning the era from LBJ to Barack Obama.
Watch by logging into your TPT Passport account.
---
The United States bid a final farewell to John Lewis in Atlanta in July 2020, after more than a week of observations in his honor. A congressman and lifelong activist, Lewis endured threats, repeated imprisonment and physical violence to fight for civil rights. He was instrumental in the passage of the Voting Rights Act of 1965. Judy Woodruff remembers the American icon who championed "good trouble."
Watch More Episodes of PBS NewsHour
---
This series provides in-depth coverage of the top religion and ethics stories of the week as well as religious and ethical perspectives on domestic and foreign events and the arts. Hosted by veteran journalist Bob Abernethy, the series brings viewers breaking news through live and taped reports filed by a team of correspondents in the field and interviews with prominent newsmakers.
---
Retrace the 400-year-old-story of the Black church in America with Henry Louis Gates, Jr., exploring its role as the site of African-American organizing, resilience, autonomy, freedom and solidarity.
---
© Twin Cities Public Television - 2022. All rights reserved.
Read Next