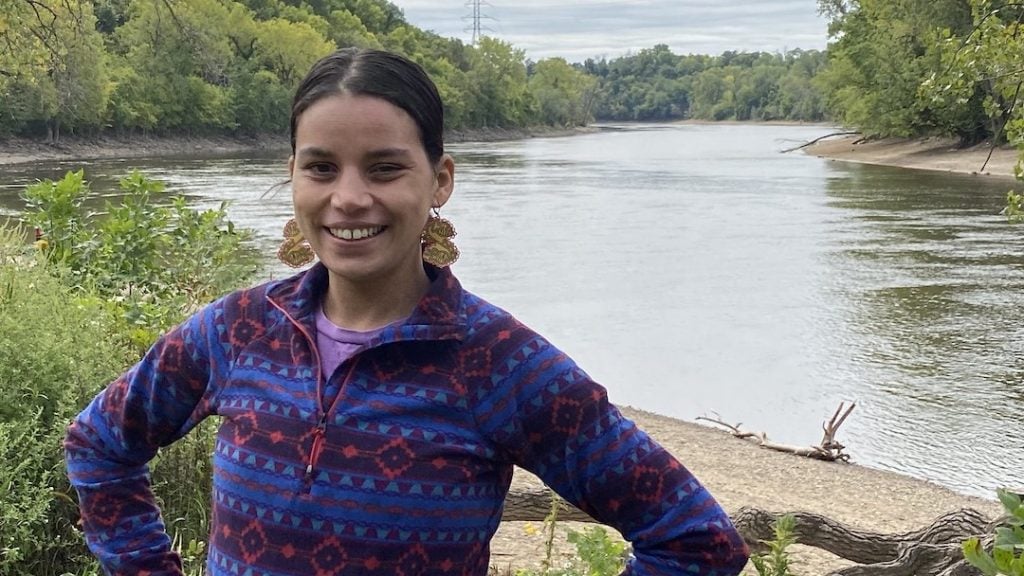 The Emmy Award-winning PBS KIDS series SciGirls inspires children and families to engage in science, technology, engineering, and math (STEM) and explore STEM career paths. The seventh and final season, SciGirls in the Parks, continues this tradition by sharing the stories of real girls—not actors—as they team up with adult STEM role models to learn about citizen science. Citizen science initiatives held in parks nationwide help researchers collect data on animal and plant species, water quality, and other environmental phenomena.
Produced by Twin Cities PBS (TPT) for PBS KIDS, the new season premiered on May 26 on TPT 2 and is streaming free on PBS KIDS and TPT.org/SciGirls. Games, episodes, and additional content can be found on pbskids.org/scigirls.
We had the chance to sit down with one of our season seven role models, Laura Mann Hill, Stewardship and Education Program Director at Friends of the Mississippi River. Laura grew up in Minneapolis and praises her time learning outside at Dowling Community School for instilling environmental education into her DNA. Laura shared what inspired her career, her experiences working with the SciGirls team, and the importance of bridging STEM, arts, and culture.
What inspired your career in environmental education?
I went to Hamline University and studied Education, English, and Theater. After graduating, I moved to New York City for 10 years and got to know a different ecosystem. I became more aware of the lack of green space, especially because I had a child who really liked to be barefoot.
I was teaching at the time, and a lot of my students were dealing with the impacts of various pollutants, both inside and outside of the school. I got involved with some community organizing for the environment, working with community and learning from community. When I moved back to the Twin Cities in 2015, I got more involved in the nonprofit space, community engagement, and education. I developed some curriculum around water and place. That helped me learn more about the truth of the present and past history of the land where I was born and share space with many other plants, animals, and people. All this brought me to where I am today. I am a writer, a theater artist, storyteller, and environmental educator.
What made you want to be involved with SciGirls as a role model?
I have a daughter who is interested in STEM, and she thought that it would be really cool… or maybe really embarrassing.
I've appreciated SciGirls for finding and lifting up more voices of BIPOC communities. BIPOC women are underrepresented in the environmental field. Even though historically we have been part of STEM and science communities, we've been intentionally excluded from the narrative. SciGirls is a great opportunity to connect with young people and a great chance to be part of the STEM story.
How did your work with FMR connect with the work you did with SciGirls?
Our work is to engage people, to protect and restore the river and its watershed, and we know that our river and our community is really facing lots of challenges, from habitat loss to water pollution to development pressure. Sometimes people can feel like individual actions don't matter, but we really believe that all of us working together can make a difference and an impact on the river.
We have many different educational programs. The SciGirls got an opportunity to learn a little bit more about how watersheds work, what tools we can use, and different ways that we can individually and collectively make a difference to protect the river and its watershed.
What was it like to work with the SciGirls?
Jenny, Dani, Amelia, and Hope were so fun to work with. I was inspired by their ideas and what they were interested in working on and all of their creative solutions to various environmental challenges that we're facing. I loved how they integrated science and art and education together in their project. It was not just a Community Action project. They were thinking about data. They wanted to talk about cultural connections and make sure that we also were learning more about Indigenous stewardship, the impacts of colonization, valuing Traditional Ecological Knowledge, and acknowledging we are on Dakota land. And they wanted to engage other people in the work and make the work more accessible so that anyone can do these activities. They wanted people to feel excited and empowered to make changes. I really enjoyed working with them and then seeing their excitement and their leadership skills grow.
Were there any stories from your time filming the episode?
I think one of my favorite days was when we were down by the river. Someone had left a cup, and we were picking up the trash, and a name was printed on the cup. They started making fun of this person. I can't remember the exact name, but the girls were like, "Alright Tom. How come you didn't pick up your trash, Tom? You had time to get yourself 3 shots of espresso, but you didn't have time to pick up your cup?" We had made up this whole narrative about the fact that "Tom" had left a lot of trash on the ground, and this was a very complicated drink order, but he didn't have time to pick up his cup and put it in a trash can.
Another story is from when we were on the boat ride. We saw an eagle. We had a special tool that amplified sound so we could hear the eagle, too. It was very beautiful and exciting.
Now I'm remembering funny stories. One day, I brought a model of a watershed so they could feel and experience how watersheds work and how the pollution moves around the watershed. I brought these jars of the top eight pollutants in the Twin Cities metro so they could experience them with multiple senses. We unscrewed the lids. Their reaction to smelling the different types of pollutants was priceless, especially the leaves that were decomposing.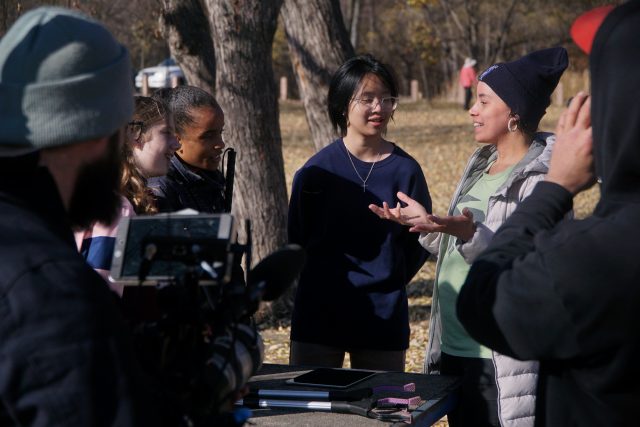 What impressed you the most about the SciGirls?
They know how to think way outside the box. I think many of us have been so desensitized, and it can be very overwhelming when you think about all the problems we face. The SciGirls are optimistic and creative. They have endless ideas and possibilities. We need to be using our imaginations to imagine our way out of a lot of the challenges that we are facing, and they are doing that.
What do you want people to know about STEM fields?
It's important to think about the many entry points to STEM. I think we often forget about art and culture, but they are all connected. Scientists need artists and storytellers to communicate their messages. You can see that in the projects that the girls did. There are different ways to share information and to engage people.
Why impact can programs like SciGirls have?
It's centering the ideas of the girls, and it's doing it at an age when it can be easy to feel like you're not part of the conversation or you don't have the expertise. I think SciGirls opens up the idea that everyone, especially young girls, can be scientists. It shows that "scientist" is such a bigger definition than someone in a lab coat. We all can be scientists.
Are you interested in supporting TPT's Education initiatives? Reach out to the Gifts Team at 651.229.1410 or [email protected].
© Twin Cities Public Television - 2023. All rights reserved.
Read Next