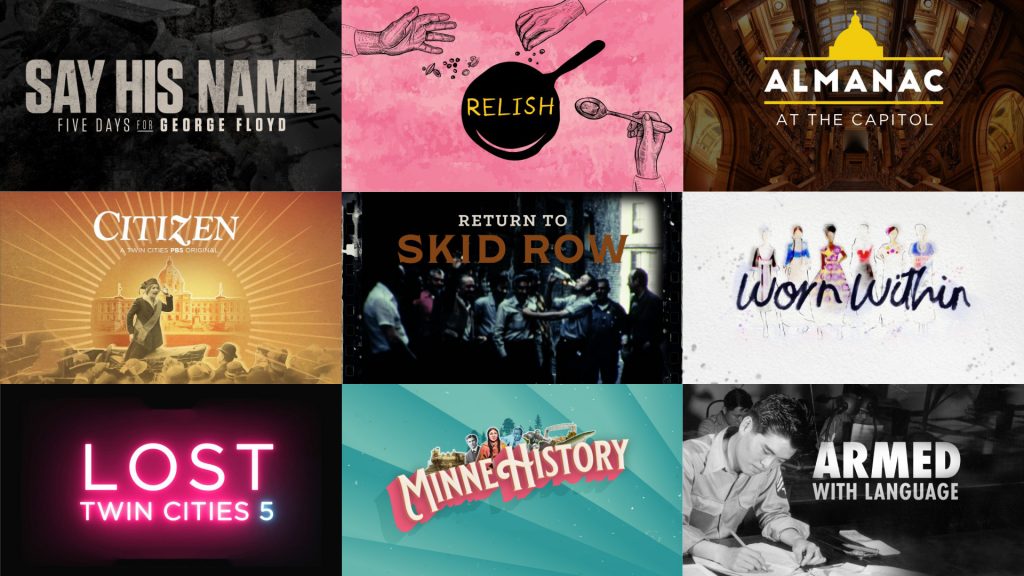 Twin Cities PBS was recently honored with 20 Midwest Emmy nominations. This is all made possible thanks to the support of our members and viewers.
Take a look at the list of nominations and check back in October for the winners.
TPT's 2021 Emmy nominations include:
A series of short-form spots on Minnesota History produced for kids, bringing together children's and educational programming with local history in bite-sized history broadcasts.
---
Hear artists' reflections on the pandemic, hosted by Dr. Jon Hallberg and Dr. Renée Crichlow. Partnership with the University of Minnesota Medical School.
---


---
How was Hmong Paj Ntaub impacted by the Vietnam War? Watch this episode of Worn Within.
---
Revisit places of the past that no longer exist in Minneapolis and St. Paul.
---
Walk along the pavement of bygone downtown Minneapolis, preserved in rare footage, memory and 21st Century reflection.
---
Comfort food recipes from around the world like Indian street food batata kachori, Puerto Rican fricasse de pollo, Yucatecan poc chuc and Midwestern pot roast show you new ways to spice up your cooking and may even spark culinary memories of your own.
---
Minnesota was home to a little-known military intelligence school during WWII that trained Japanese Americans be to translators.
---
Exploring conflicts, contradictions and solidarity among the millions who have moved through, and to, Minnesota.
---
From pioneering activists like Sarah Burger Stearns to Progressive Era leaders like Nellie Griswold Francis, the vote was seen as a mark of fuller citizenship and tool of change for concerns like healthcare, children, and women's rights.
---
Exploring the barriers LGBTQ+ women navigate across health care systems, and how the never-ending hunt for affirming care affects their lives.
---
Scenes of pain, anger, and hope after George Floyd is murdered by police in Minneapolis.
---
The Facing Race Awards honor community members who challenge racism and push for justice and equity.
---
Hosted by Sarah Hicks, Minnesota Orchestra broadcasts and livestreams in 2020 and 2021 afforded wide and easy access for audiences across the state and beyond to experience a Minnesota Orchestra performance.
WATCH CONCERTS WITH TPT PASSPORT
---
VocalEssence — the choral powerhouse — sings the holiday spirit with a new Welcome Christmas concert for our COVID-19 times.
---
Are farmers paid fairly? Does race play a role in food insecurity? Is our food system broken?
---
More Emmy Nominations
Politics/Government – Long Form Content
Almanac at the Capitol — Broadcasting live during the legislative session as bills are passed and deals are made. All the most important lawmakers and decision makers from every corner of the state make regular appearances in live debates, committee highlights and floor action.
Politics/Government – Short Form Content
Mary Lahammer
Talent – Program Host/Moderator
Mary Lahammer
Writer – Content (Non-News)
Daniel Bergin
© Twin Cities Public Television - 2020. All rights reserved.
Read Next