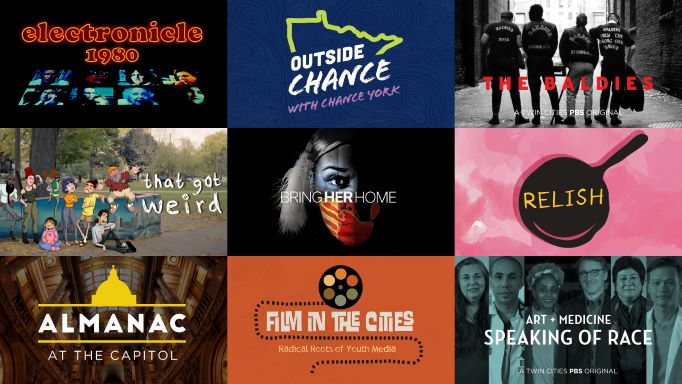 FOR IMMEDIATE RELEASE 
SAINT PAUL, MN (September 7, 2022)–Twin Cities PBS (TPT) has received 14 2022 Upper Midwest Emmy Nominations. The nominations included TPT's history, arts, public affairs, culture, and documentary work, highlighting the many ways in which TPT's programming is entertaining, educating, and impacting Minnesotans' lives.  
"What is most notable," explains Lesley Goldman, TPT's Chief Content Officer, "is that we are not only still being recognized for our long form, broadcast public affairs and documentary work, but we are now also very prominently nominated in the short form 'digital' categories."  
Watch the nominees before the winners are announced at the 23rd Annual Upper Midwest Regional Emmy Awards on Sunday, October 15. 
TPT's 2022 nominees include: 
(Documentary—Cultural)
The Baldies were a Minneapolis skinhead crew that fought racists in the 1980s and beyond.
---
(Documentary—Historical)
Cemeteries are hallowed places right in our midst. But they also reflect the community, and have evolved dramatically over time, constantly adapting to meet our ever-changing views and values. A cemetery is a mirror of the city: its remarkable origins, its rich history, its complex people, and its unwritten future. A TPT co-production with Lakewood Cemetery.
---
(Documentary—Topical)
Bring Her Home follows three Indigenous women – an artist, an activist, and a politician – as they fight to vindicate and honor their missing and murdered relatives who have fallen victims to a growing epidemic across Indian country. Despite the lasting effects from historical trauma, each woman must search for healing while navigating racist systems that brought about this very crisis.
---
Relish shares stories and recipes of cultural heritage in Twin Cities communities through the universal language of food. In each episode, host Yia Vang of Union Hmong Kitchen takes viewers in kitchens with local chefs as they serve up an ingredient or dish that has personal and cultural meaning to them.
Relish is made possible by the Arts and Cultural Heritage Fund and the citizens of Minnesota.
Making Chinese Dumplings 
(Informational/Instructional) 
Jamaican Fruitcake and Sorrel Wine
(Lifestyle—Long Form Content) 
---
Almanac: Historic ALS Research Bill Signed Into Law
(Public Affairs Program) 
Mary Lahammer reports on an emotional moment at the state capitol this week.
---
(Education/Schools–Short of Long Form Content) 
Educators in Minnesota and across the Midwest are interested in practices that can address equity gaps and create positive learning environments for students. Implementing culturally responsive practices – practices that incorporate students' backgrounds and cultural references – is one research-based strategy that can be used in schools to strengthen supports for students of color.
---
(Health/Medical-Short or Long Form Content)
Connecting the arts and healthcare, physicians share stories about race, racism and antiracist efforts in the medical community. Hosted by Drs. Jon Hallberg and Tseganesh Selameab. This is a co-production of TPT-Twin Cities PBS and the Center for the Art of Medicine at the University of Minnesota Medical School.
---
(Historical/Cultural/Nostalgia–Long Form Content)
News and culture features from an old Twin Cities PBS current affairs program offer a unique flashback to Minnesota at the dawn of the 80s. Electric-Chronicle or Electronicle creatively and critically probed the politics, people, and soul of the state. Writer Steve Marsh provides a contemporary twist on then and now.
EXPLORE MORE MINNESOTA EXPERIENCE
---
(Historical/Cultural/Nostalgia–Long Form Content)
In the early 1970s, a group of young artists started a film program for teens in the Twin Cities. Film in the Cities would go on to become a groundbreaking media arts and education organization. This retrospective is told through reflections from founders and former students and features rare and revealing super 8 student films from a half century ago.
---
(Lifestyle—Long Form Content) 
Whether participating or spectating, Minnesota is an endless playground for outdoor activities and traditions. Introducing Outside Chance — a web series featuring new and traditional outdoor activities highlighting Minnesota's outdoor culture. Hosted by yogi, emcee, rapper, and outdoor enthusiast Chance York.
---
(Diversity/Equity/Inclusion—Short Form Content) 
That Got Weird confronts the uncomfortable with the ambition of bridging a divide of understanding about what it's truly like to be BIPOC in Minnesota. As part of the digital storytelling project Racism Unveiled, the series reveals true stories of racism experienced by Indigenous, Black, Asian and other people of color who call this state home. Along with a promise of anonymity, each subject interviewed has a hand in designing their own character and giving it a pseudonym. No roosters were harmed in the making of this series. Funding for That Got Weird is provided by US Bank, the Otto Bremer Trust, HealthPartners and the Saint Paul & Minnesota Foundation.
---
More Emmy Nominations:
Politics/Government – Long Form Content
Broadcasting live during the legislative session as bills are passed and deals are made. All the most important lawmakers and decision makers from every corner of the state make regular appearances in live debates, committee highlights and floor action.
Interactive Video—Micro/Short Form Content
© Twin Cities Public Television - 2022. All rights reserved.
Read Next