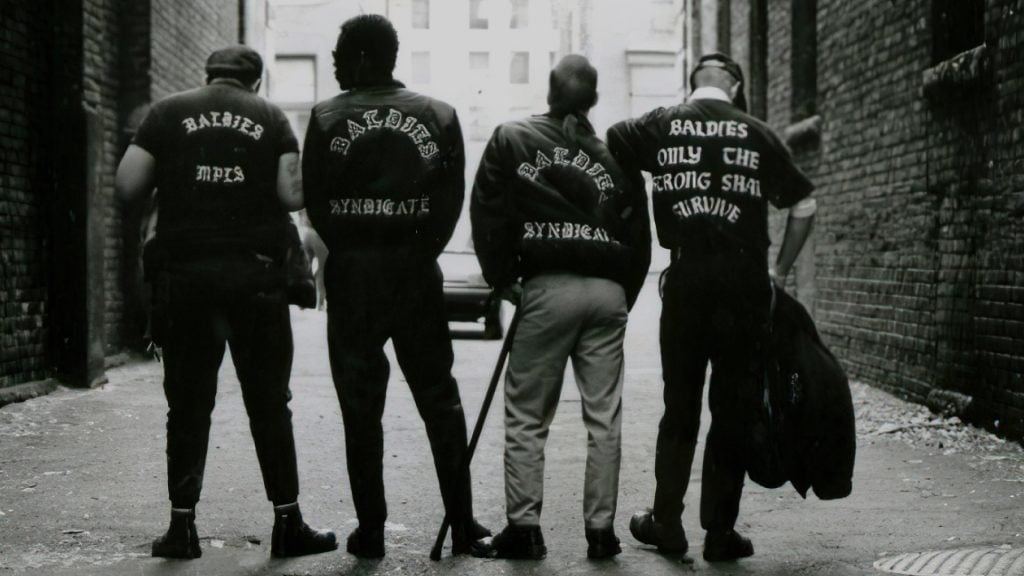 ST. PAUL, MN (Oct. 15, 2021) – Twin Cities PBS (TPT) announces the release of its newest documentary as a part of the Minnesota Experience series. The Baldies highlights a Minneapolis-based and skinhead-inspired gang of organized activists fighting neo-Nazis during the 1980s. The Baldies premiere will be broadcasted locally on TPT and available for streaming on tpt.org starting Oct. 18, 2021.
The Baldies shares the story of a mid-1980s group which formed based on the fashion of British skinhead culture. Inspired by historical street gangs including the Fordham Baldies and the Wanderers, the gang discovered a mutual distaste for and fought against Nazi-skinheads active in the Uptown neighborhood of Minneapolis. Notably, they fought against the White Knights, a Nazi-skinhead gang, as well as St. Paul-based Bound for Glory, one of the largest white power bands in the world. Eventually the Baldies created a more inclusive group, the Anti-Racist Action (ARA). Members included skinheads and others who protested Nazis as well as other societal reformation topics including police brutality, foreign wars, the housing shortage and income inequality.
"The gang's studies of British skinhead subculture directly relates to immigrants from the West Indies, as those people brought their music and culture to Great Britain when they came," said David Roth, TPT Producer of The Baldies and the recently completed Minnesota Hardcore among other productions. "Essentially, the Baldies gang was formed at the intersection of cultures and active in speaking out about anti-racism and police brutality. The conversation this documentary encourages is so necessary and relevant, especially in Minneapolis, especially today."
A press kit including photos and the trailer for the documentary can be found here.
To learn more about TPT's upcoming documentary, visit the show page. 
---
About Twin Cities PBS
Twin Cities PBS (TPT)'s mission is to enrich lives and strengthen our community through the power of media. Established 64 years ago, TPT now operates as a public service media organization that harnesses a range of media tools to serve citizens in new ways — with multiple broadcast channels, online teaching resources, educational outreach and community engagement activities reaching more than 2 million people each month. Over its history, TPT has been recognized for its innovation and creativity with numerous awards, including Peabody awards and national and regional Emmy® Awards.
© Twin Cities Public Television - 2021. All rights reserved.
Read Next