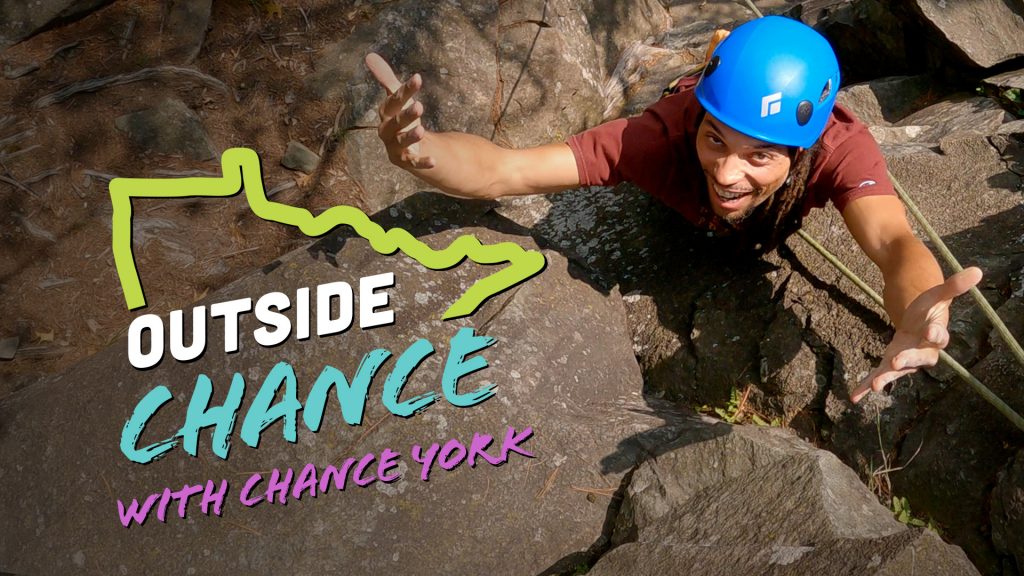 St. Paul, MN – Twin Cities PBS (TPT) announced "Outside Chance," a web series exploring Minnesota's traditional outdoor activities. The series is hosted by yogi, emcee, rapper and outdoor enthusiast Chance York. Each week, Chance joins an expert to learn about Minnesota's outdoor spaces, cultures and traditions. Part of a larger TPT Minnesota Outdoors initiative, the series premiers February 17, 2022 on TPToriginals.org and YouTube.
With guidance by local experts, the biweekly series of eight episodes highlights geocaching, urban farming, log rolling, rock climbing, shore fishing, mountain biking, snowkiting and North Shore photography. Featured experts include Latinx rock climber Janel Rieger; Marcus Kar of Youth Farm in North Minneapolis; seven-time log rolling world champion Abby Delaney; President of Minnesota Off-Road Cycling Gunner Carlson; and Faculty Advisor to the award-winning bass fishing team at Hmong College Prep Academy, Xao Xiong.
TPT Producers Luke Heikkila and Ryan Klabunde hope the series will encourage all Minnesotans to get outside and experience a new activity or outdoor space.
The series is part of TPT's Minnesota Outdoors initiative to encourage Minnesotans of all backgrounds to explore outdoor activities and destinations. Along with educational components, TPT is producing that PBS national documentary "America Outdoors with Baratunde Thurston," premiering July 5, 2022 and a digital companion series from PBS Publishing. TPT is also partnering with Melanin in Motion and the Loppet Foundation to present "Winter Warm Up," an event of free outdoor fun at Theodore Wirth Park on Feb. 26, 2022 from 10 a.m. to 2 p.m.
###
 ABOUT TWIN CITIES PBS (TPT)
Twin Cities PBS (TPT)'s mission is to enrich lives and strengthen our community through the power of media. Established 64 years ago, TPT now operates as a public service media organization that harnesses a range of media tools to serve citizens in new ways — with multiple broadcast channels, online teaching resources, educational outreach and community engagement activities reaching more than two million people each month. Over its history, TPT has been recognized for its innovation and creativity with numerous awards, including Peabody awards and national and regional Emmy® Awards. For more information, visit TPT online, follow TPT on Facebook and Twitter.
© Twin Cities Public Television - 2022. All rights reserved.
Read Next