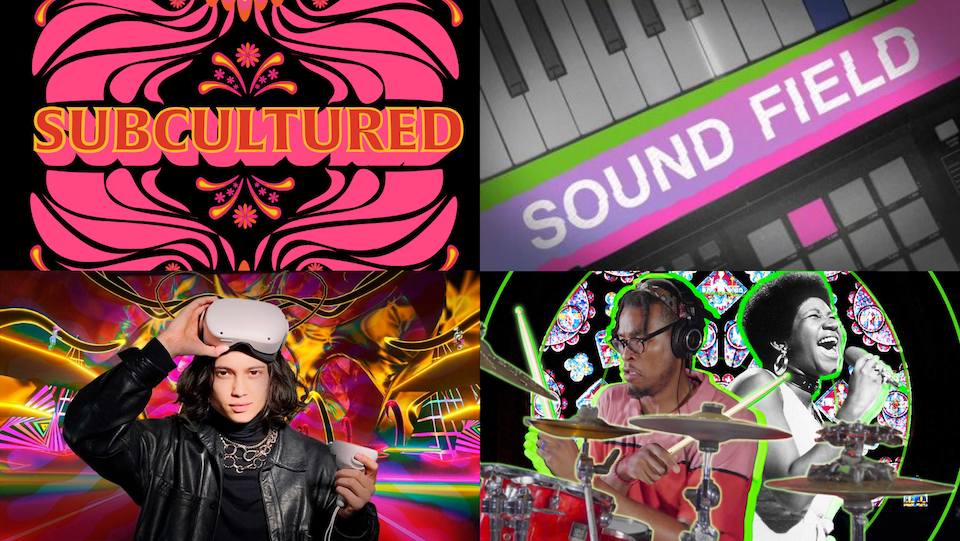 May 24, 2023 (St. Paul, MN) – Twin Cities PBS (TPT) is thrilled to announce that two groundbreaking PBS Digital Studios series produced by TPT — Subcultured and Sound Field — have been honored with prestigious Silver Telly Awards. Both series were honored in the Online: General-Cultural & Lifestyle category. These accolades recognize the exceptional quality and innovation exhibited by both productions, highlighting TPT's commitment to deliver captivating content to audiences worldwide.  
Subcultured is an original documentary series in which filmmaker Josef Lorenzo explores the origins of different subcultures and what makes those communities unique and important spaces. The series earned the Silver Telly Award for its episode "I Went Clubbing in Virtual Reality." In the episode, Lorenzo meets the creatives that invented an underground dance scene in the metaverse.  
Sound Field, the popular music education series, has garnered a dedicated following for its unique approach to exploring the world of music. Sound Field earned the Silver Telly Award for the episode "The Story Behind the Music of Drumline," produced by Lorezno and DeNae Nichole and hosted by Arthur "LA" Buckner. In this episode, Buckner talks to Grammy Award Winning Percussionist, Dasmyn Grigsby, about the evolution of HBCU marching bands and how they continue to influence pop culture today. 
The Telly Awards, founded in 1979, honor excellence in video and television across various categories. It is a highly esteemed accolade, with entries spanning across industries and countries. Winning a Silver Telly Award is a testament to the exceptional storytelling, creativity, and production quality demonstrated by Subcultured and Sound Field. 
As TPT celebrates these Silver Telly Awards, we are inspired to continue our mission of delivering engaging and enlightening content to audiences everywhere. We remain committed to producing top-quality programming that sparks curiosity and fosters a lifelong love of learning.  
###   
About Twin Cities PBS    
Twin Cities PBS (TPT)'s mission is to enrich lives and strengthen our community through the power of media. Established 64 years ago, TPT now operates as a public service media organization that harnesses a range of media tools to serve citizens in new ways — with multiple broadcast channels, online teaching resources, educational outreach and community engagement activities reaching more than 2 million people each month. Over its history, TPT has been recognized for its innovation and creativity with numerous awards, including Peabody awards and national and regional Emmy® Awards. Find more information at tpt.org.   
About PBS
PBS, with more than 330 member stations, offers all Americans the opportunity to explore new ideas and new worlds through television and digital content. Each month, PBS reaches over 120 million people through television and 26 million people online, inviting them to experience the worlds of science, history, nature and public affairs; to hear diverse viewpoints; and to take front row seats to world-class drama and performances. PBS's broad array of programs has been consistently honored by the industry's most coveted award competitions. Teachers of children from pre-K through 12th grade turn to PBS for digital content and services that help bring classroom lessons to life. Decades of research confirms that PBS's premier children's media service, PBS KIDS, helps children build critical literacy, math and social-emotional skills, enabling them to find success in school and life. Delivered through member stations, PBS KIDS offers high-quality educational content on TV — including a 24/7 channel — online at pbskids.org, via an array of mobile apps and in communities across America. More information about PBS is available at pbs.org, one of the leading dot-org websites on the internet, or by following PBS on Twitter, Facebook or through our apps for mobile and connected devices. Specific program information and updates for press are available at pbs.org/pressroom or by following PBS Communications on Twitter.  
© Twin Cities Public Television - 2023. All rights reserved.
Read Next