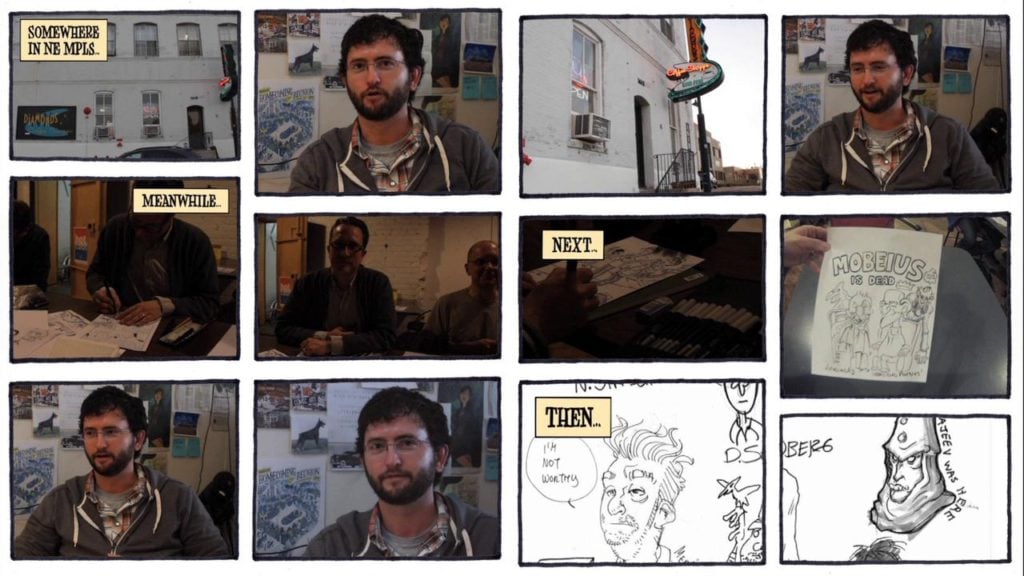 The Twin Cities are home to a large and active cartoonist scene, with professional and amateur cartoonists contributing to a humongous output of creativity and comics. Leading the charge for the Twin Cities comics scene is  The International Cartoonist Conspiracy: a gathering of cartoonists who meet up monthly at Diamonds Coffee Shoppe in Northeast Minneapolis to exchange ideas, tips, and tricks about cartooning, and collaborate to create "jam comics." Watch this MNO On The Go video about The International Cartoonist Conspiracy to learn more about this group of supreme creatives, and watch a comic jam happen in action.
This video was filmed during the April meetup of the Cartoonist Conspiracy. Mobeius Is Dead, the sixteen-page jam comic that was produced in a four-hour span during the meetup can be found on the Conspiracy's website at the following link: http://www.cartoonistconspiracy.com/conspire/?p=4143
Titles By Kevin Cannon
Special Thanks: Kevin Cannon, Steven Stwalley, Daniel Olson, Diamonds Coffee Shoppe.
MORE INFO:
International Comics Conspiracy
Nordeast Comics Summit
Big Time Attic
Steven Stwalley
Soapy The Chicken
Daniel Olson
Diamonds Coffee Shoppe
Read Next