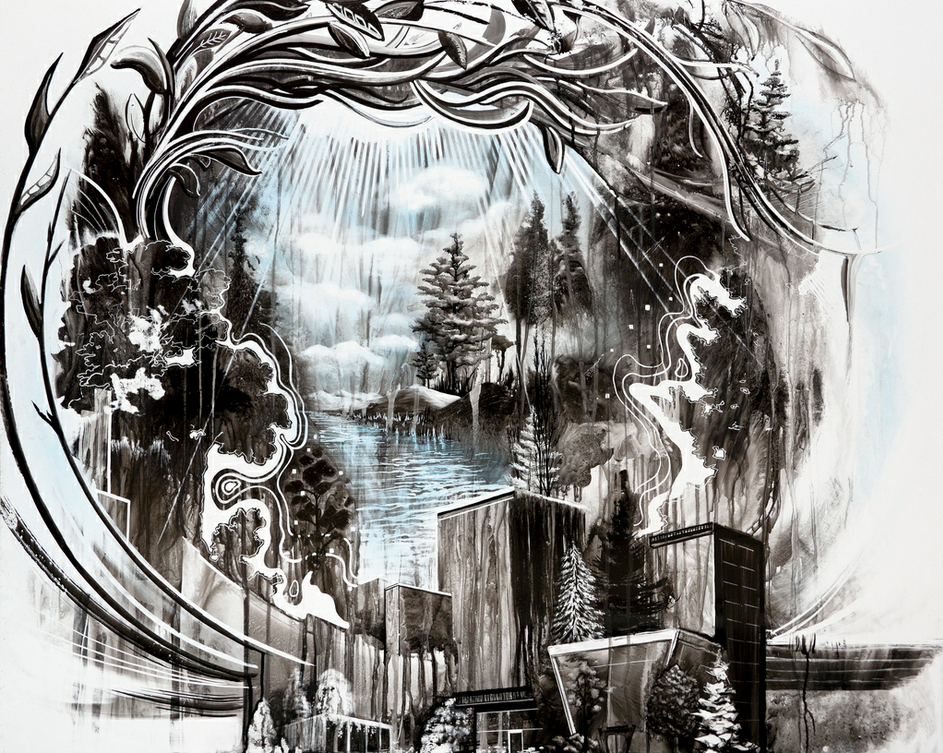 On a beautiful June day in 2011, MNO filmed Visual Artist Gregory Euclide swinging from a vine, collecting garbage in the woods and creating one of his evocative paintings in the blink of an eye. Euclide's MNO profile premiered in November 2011 and he's been busily creating new work since then in preparation for a multitude of events this summer including: a Rural Art show at MCAD, a Jerome Foundation Fellowship show at MCAD, a solo show at David B. Smith Gallery, a group show at Artisphere in Virginia and PULSE Art Fair in Miami.
In the midst of that he's just completed another school year as an art instructor at Prior Lake High School where he spent the last few months creating – and erasing – lunchtime masterpieces on his white board. We reached out to Euclide to find out more about this impermanent body of work.
MNO: Please tell me about the white board series – how did that begin?
GE: After teaching 38 students an hour, five hours a day, for 8 months… I started to get a little restless. So, during my lunch break I would start these drawings on the white board. It was a kind of stress release. I would give myself 25 minutes to finish something. They were just sketches that I enjoyed doing.
MNO: What tools did you use?
GE: I was using sumi ink, brushes, spray bottles, erasers, paper towels… anything I could find around my desk.
MNO: These projects were presumably all washed away – what appealed to you about creating a completely impermanent work?
GE: I could make them in 25 minutes, so they were not too incredibly precious to me. Yes, they were all washed away. I was kind of showing students what could be done with 25 minutes of time. They would come in from the previous day and be like… "what happened to that drawing that was up there yesterday?" I would explain that I washed it off and they would just be floored that someone would make something and then destroy it. Part of the exercise was to create something… to stay active while I was at school. Part of it was also to demonstrate something to my students…I was trying to convey something about value, something about impermanence and maybe something about using time to better oneself…to possibly interest them. Many of them were interested in the process.
MNO: Now that the school year is over, I see (via Facebook) that you're working on similar pieces on porcelain-coated steel and that they're being framed. Can you discuss this progression?
GE: From the beginning I have always done what feels interesting to me- what's fun and sometimes that play becomes something else or takes on a new meaning once I understand why it was fun. Sumi is a great material to work with. It's an organic material being made from the roots of pine trees I believe. The way it moves on the dry erase board was very interesting to me. Equally interesting was the fact that they would be washed away… or in the case of the new works NOT washed away. I have always been interested in subtleties of meaning and the origins of materials and in this case there was something there that just kept me coming back to it. So, I didn't fight it. I just trusted that there was some reason why I was interested in it.
MNO: Do you have any upcoming exhibitions or events that you're excited about?
GE: We have been working on the release of a new series of prints called Laid Down & Wiped Away, from these white board sketches. They turned out wonderfully. I wanted to somehow document the Sumi drawings and make them available to people who wanted them. There was such a big response to these works that it seemed like something I would be okay with doing, since they were flat to start with and there was no longer an original. They will be available through my website www.gregoryeuclideprints.com and the David B. Smith Gallery as of July 10, 2012.
I'm also happy to say that we have raised over $13,000.00 for charity through the sale of the Bon Iver Prints. David B. Smith Gallery and I have been very pleased with the results of this project.
MNO: Bon Iver recently released the single Towers featuring album art that you created. How was the collaboration process different this time?
GE: When I made the works for the Bon Iver, Bon Iver album I had not known that they were going to use crops of the works for the singles. There have been three singles and each of them contains a portion of the main album as the cover. Calgary, Holocene and Towers are all from the first batch of paintings I did for them. So the collaboration process was quite non-existent. I would find out about it from Pitchfork or Stereogum and be like "Cool, they used the art again."
MNO: And now for something different – skill you wish you had?
GE: I wish I could sew. I have always admired people who can make their own clothes.
MNO: Childhood ambition?
GE: I found a sheet of paper from second grade that said that I would like to be a fire fighter. But I really wanted to be a soccer player… neither of those panned out for me.
MNO: What do you do when nobody's watching?
GE: Take two or three extra deviled eggs….
MNO: Personal motto?
GE: Work hard Play hard
MNO: Finish this sentence: "What if we…."
GE: Could end domestic abuse, child abuse, sex trafficking ………..
Read Next