We chatted with David Gillette, a reporter, producer and illustrator at Twin Cities PBS, who let us in on what sparks his creativity, and why drawing is good for minds of all ages.
How can art help you see the world in new ways?
Art is a language, just as music and poetry and mathematics are all languages. The more languages we speak, the more stories the world can tell us.
What advice do you have for young artists who are just discovering their creativity?

Follow your excitement. Draw whatever interests you. And if a teacher or parent or friend tells you doodling isn't a good way to spend your time, kindly remind them that drawing has been proven, again and again, to be very good for minds of all ages. We should be doing more of it, not less. Then go doodle!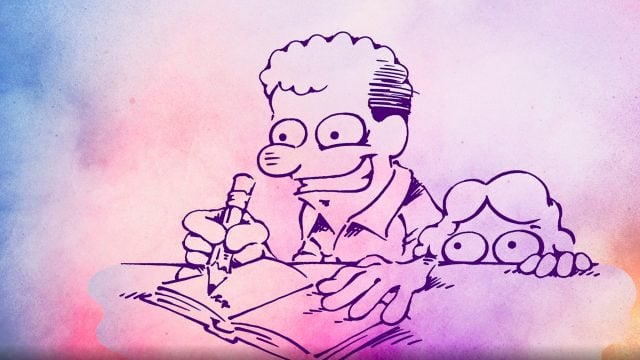 What is rewarding about making art?
Making art is rewarding. In my experience, the creative journeys we create in our imagination can be just as real as the ones we take in real life. To this day, I remember the strange planet I explored in fourth grade while drawing a comic about two alien astronauts. Those memories are just as real to me as my memories of summer trips to Zion. If you let art become part of your life, it really is a ticket to an infinite universe.
If you let art become part of your life, it really is a ticket to an infinite universe.
Is there anything surprising that you have learned though making art or during the creative process?
The actual creation of art is just a series of tricks. Once you learn enough lines, curves and shapes, you can combine them to create anything, just like you can combine individual notes on a piano to make any song. That's why it's important to try new shapes and styles – you're learning new notes!
Do you have a favorite inspiring quote about creativity that keeps you motivated?
It's not a quote, it's more just a 'truth.' Art tends to outlive every other human pursuit. It's our spark and our soul and our most enduring gift to all other humans… I put art on a VERY high pedestal.
Any words of hope to those who are at home during this time?
Don't expect things to be perfect. These are difficult times, and at least for me, telling myself tomorrow won't be perfect makes it far more enjoyable when it actually arrives.
---
DRAW A CARTOON OF YOURSELF WITH DAVID!

Grab a sheet of paper, a pen or pencil, and if you have one, a Sharpie pen. Join David by watching his how-to video below:
---
SHOW & TELL:
We'd love to see your cartoons! Please share via email or in a comment below. We may feature your cartoon on this site or on social media!
Send an email to [email protected]
Here's a drawing from TPT colleague, Michael!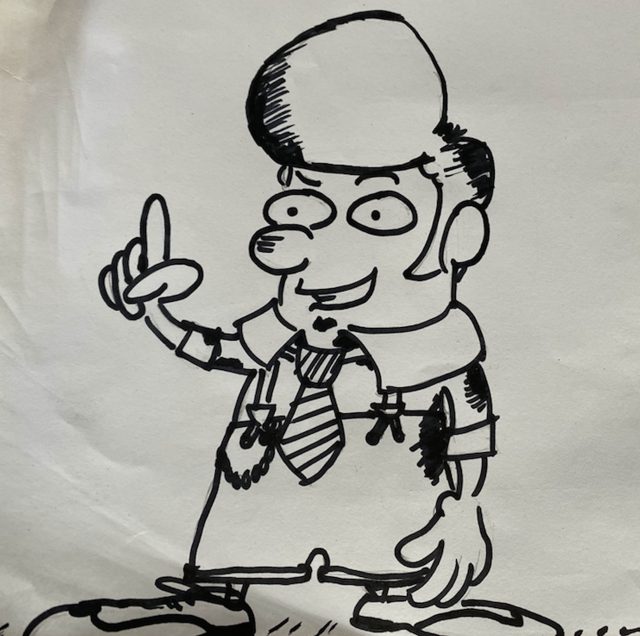 Here's a drawing from TPT colleague, Katie!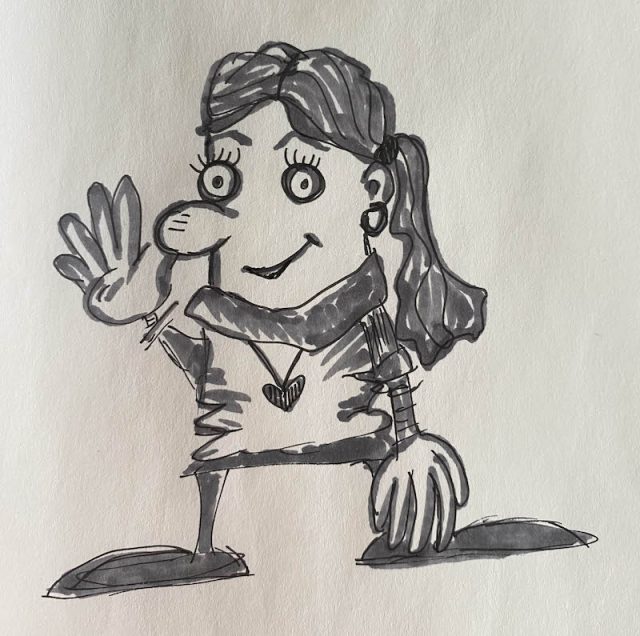 ---
MORE DRAWING RESOURCES:
Wondering how to cope with COVID-19? Try coloring. | Video
With her Quarantine Coloring Sheets, Tia Keobounpheng Keobounpheng aims to not only provide relief to herself, but to others as well. She posts each daily drawing on her website, where anyone can download a coloring sheet.
Draw Doodles with Mo Willems | Videos
Mo Willems invites YOU into his studio every day for his LUNCH DOODLE. Learners worldwide can draw, doodle and explore new ways of writing by visiting Mo's studio virtually. Grab some paper and pencils, pens, or crayons and join Mo to explore ways of writing and making together. If you post your art, hashtag it with #MoLunchDoodles!
Sesame Street Art Maker | Interactive coloring tools
Printables:
PBS Kids Printables Collection | Wide range of coloring sheets and printables from beloved PBS shows like Daniel Tiger, Arthur and Curious George
Sesame Street | Coloring sheets and printables
"What to Do in a Pandemic… Our Cousins Know" | Coloring Sheets
Original illustrations by Ricardo Levins Morales – with messages for the difficult times of COVID-19. Adapted for coloring pages by Cory Teshera-Levye.
Artsy Instagrammers to follow and draw with:
@wendymac | Instagram drawing activities #drawtogether
@Nancycarlsonstudios | Art classes with MN author and illustrator, Nancy Carlson
@carsonellis | IG drawing club featuring thoughtful prompts
© Twin Cities Public Television - 2020. All rights reserved.
Read Next