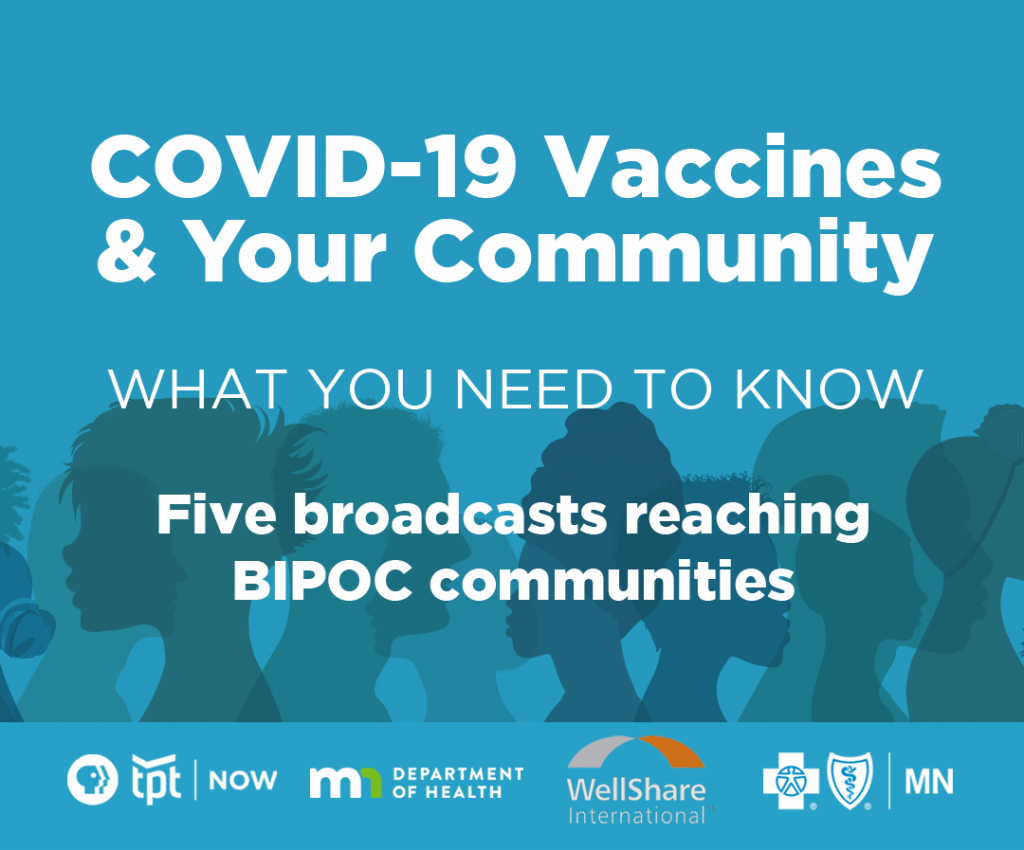 TPT | NOW will post all broadcast programs, video shorts and COVID-19 vaccine resources to:
Watch video shorts on channel 2.5 TPT | NOW
---
WHAT: TPT | NOW and five cultural media partners, the MN Department of Health and Wellshare International are producing five culturally specific "top questions/answers" and 30-minute broadcast programs:
COVID-19 Vaccines and Your Community: What You Need to Know.  
Funded by Blue Cross Blue Shield of Minnesota, each broadcast features cultural media broadcasters interviewing medical and community leaders discussing the COVID-19 vaccine efforts and resources addressing specific needs of African American, Hmong, Indigenous, Latinx and Somali residents in Minnesota. Programs are produced in native languages as applicable and will broadcast on radio, television, web and social media sites.
MEDIA OPPORTUNITIES: Due to our commitment to creating a COVID-safe environment, guests are only available virtually for media interviews. If you'd like to interview guest(s), please contact us to facilitate.
WHO:
TPT NOW and Ampers (Indigenous Community):

Antony Stately (Ojibwe and Oneida) has a Ph.D. in Clinical Psychology and is the CEO of NACC, the Native American Community Clinic in South Minneapolis.
Mary Owen, MD (Tlingit) is the President of the Association of American Indian Physicians, and she's also the Director of the Center of American Indian and Minority Health at the University of Minnesota Medical School, on the Duluth campus.
Briana Michels (Mille Lacs Band of Ojibwe) is part of the American Indian Resource and Resiliency team at the University of Minnesota Extension, which holds workshops on trauma and healing.  Briana Michels works on the Remembering Resilience podcast which explores Native American resilience through and beyond trauma.
Kelly Miller (Mille Lacs Band of Ojibwe) is Director of the Department of Indian Work at Interfaith Action of Greater Saint Paul and one of the Minnesota Department of Health's COVID-19 Community Coordinators.
TPT NOW and KMOJ (African American Community):

Nathan Chomilo: Medicaid Medical Director at the MN Dept of Human Services and practicing physician with interests in health and racial equity, health care access policy, and racial identity formation.
Marcus Owens: Executive Director, African American Leadership Forum (co-hosting with Phyllis Wheatley Center to provide a hotline for specific African American COVID questions/concerns.)
TPT NOW and Hmong TV (Hmong Community):

Charles Vang: family medicine physician with Allina Health who advises the Hmong 18 Clan of MN on COVID-19 and other health-related topics.
Mao Thao: Hmong Health Coordinator for Minnesota's Ramsey County Public Health Department.
Maikou Vu: ICU Nurse, University of Minnesota Medical Center
TPT NOW and Somali TV (Somali Community):

Hoda Hassan: resident physician with Hennepin Healthcare with a background in psychiatry.
Imam Abdirizak Farah: Imam at Masjid Rawdah Religious Community Center and Somali Cultural Center
Deqa Adan: Program Coordinator & Community Health Worker at Wellshare International.

TPT NOW and Univision MN (Latinx Community):

Maria Veronica Svetaz: Physician, Hennepin Healthcare
Jesús Purisaca Ruiz: Pastor, Iglesia Piedra Viva
Edwin Goss: Walther Goss Law, Minneapolis

Blue Cross and Blue Shield of Minnesota

Mark Steffen: Chief Medical Officer, whose work includes overseeing Blue Cross' community health and health equity work, population health initiatives, and the Blue Cross Foundation
BROADCAST DATES:
Ampers radio: Four stations broadcasting "A Special Report from MN Native News: Decision-Making and the COVID-19 Vaccine" for greater reach

LISTEN:

KKWE-FM (White Earth/Callaway) January 28 (morning TBD) and January 29 (afternoon TBD)
KBFT-FM (Bois Forte/Nett Lake) January 28 at 11:30 AM
WGZS-FM (Fond du Lac/Cloquet) January 28 at 4:30 PM and rebroadcast January 30 7:00 PM
KOJB-FM (Leech Lake/Cass Lake) January 28 at 11:00 AM and rebroadcast January 31 at 6:00 PM
Hmong TV – Begins streaming on January 28 (streaming on site)
KMOJ radio – Premiere January 25 at 6:00 PM and Rebroadcast January 30th 7:30 AM
Somali TV – Begins streaming on January 27 (streaming on site)
TPT | NOW will post all broadcast programs, video shorts and COVID-19 vaccine resources to:

Watch video shorts on channel 2.5 TPT | NOW
Univision MN – January 30 and February 6 both at 10:30 AM as part of Café Libre
About TPT | NOW: 
To reach diverse communities with health and safety information, TPT | NOW, is the nation's first 24/7 TV channel broadcast with real-time, emergency alerts in English, Spanish, Hmong and Somali. The "Be Healthy. Be Safe. Be Ready" broadcasts deliver "grab and go" information for diverse audiences including weather updates, international news, health, safety and preparedness tips and more. TPT | NOW reaches more than one million households in the Twin Cities region. Viewers can watch Channel 2.5 Over-The-Air or cable TV. Programming is provided by public, non-profit and philanthropic partners. Learn more here.
© Twin Cities Public Television - 2021. All rights reserved.
Read Next