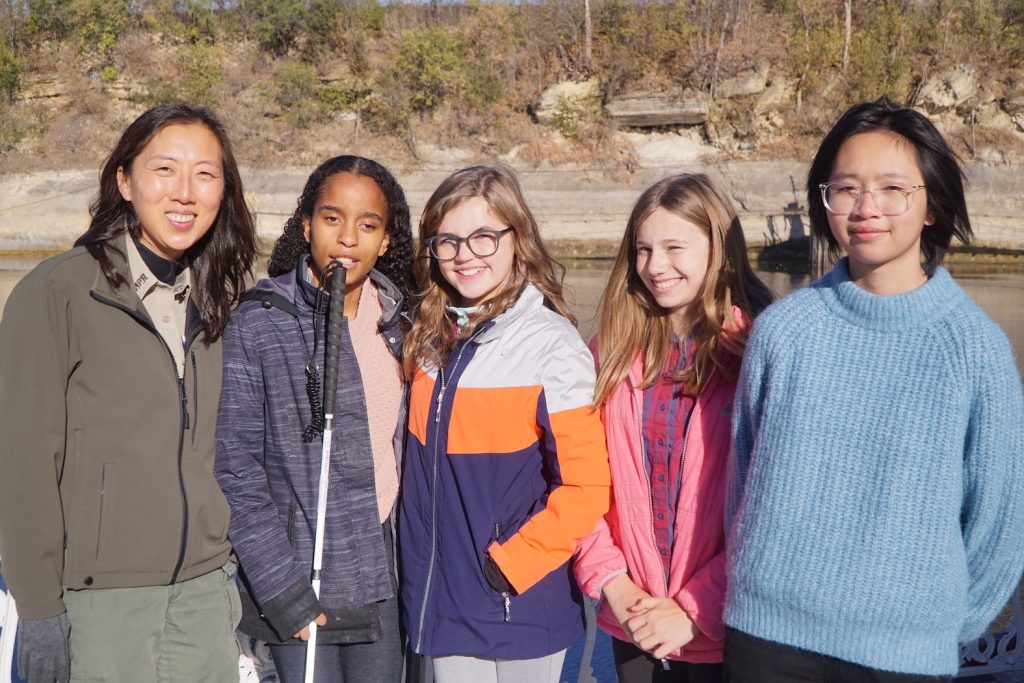 The Emmy Award-winning PBS KIDS series SciGirls inspires children and families to engage in science, technology, engineering, and math (STEM) and explore STEM career paths. The seventh and final season, SciGirls in the Parks, continues this tradition by sharing the stories of real girls—not actors—as they team up with adult STEM role models to learn about citizen science. Citizen science initiatives held in parks nationwide help researchers collect data on animal and plant species, water quality, and other environmental phenomena.
Produced by Twin Cities PBS (TPT) for PBS KIDS, the new season premiered on May 26 on TPT 2 and is streaming free on PBS KIDS and TPT.org/SciGirls. Games, episodes, and additional content can be found on pbskids.org/scigirls.
We had the chance to sit down with one of our season seven STEM role models, Krista Jensen, Assistant Park Supervisor at Fort Snelling State Park. Krista grew up in the Twin Cities Metro area and credits her outdoorsy childhood and falling in love with gray wolves in 4th grade as her STEM inspirations. Krista shared how she came to her STEM career, her experiences working with the SciGirls team, and why she thinks inclusive STEM programming matters.
What led you to work for the Department of Natural Resources (DNR)?
Growing up, I had some great science mentors who encouraged me to dive into science and not be afraid of it. Then, I chose a college [Northland College] that could expose me to wolf biology and a group of friends who loved camping and hiking. I had good support to try all these activities that I really didn't do as a kid growing up, and I built a network that guided me to one thing, which led to another, and that led to another and so on. I didn't end up being a wolf biologist like I thought I was going to be. But on my journey, I met people that said, "Hey, you're really good with kids. You could make being a naturalist and an environmental educator a career." And I did, I was a naturalist and environmental educator at many places and ended up at the DNR as a naturalist. From there I worked my way into a supervisor role.
Why did you agree to be a SciGirls role model?
I know growing up there weren't very many people that looked like me in STEM. There weren't very many females either. It was pretty rare to have a female biology teacher, chemistry teacher, physics teacher – much less a professor. The one that I did have in high school, I glommed on to, and she was super supportive of me. So, I'm aware of my role as a person of color and as a female in this field, wearing this uniform. I feel an obligation to put myself out there so other kids, girls, boys, whoever sees me says, "Oh, I can do that. I could be like her."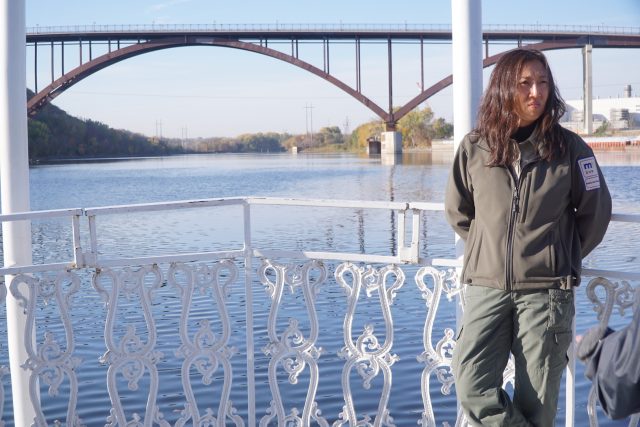 How did your work with the DNR connect with the work you did with the SciGirls?
As the Assistant Manager at a State Park, I supervise the daily operations and a team of staff that are out in the field maintaining trails, facilities, and buildings. I also have a role with enforcement, which I interpret as helping people understand what the park rules are. And those two things go hand in hand, because when the park is clean, picked up and safe, people will want to keep it clean, safe, and will report things that seem out of the ordinary. This all merged with what the SciGirls were doing while they were here. They organized a trash cleanup, and we worked along the Minnesota River. We analyzed the garbage they found here in the park. They came up with some ideas on how to prevent it – just like we do every day on the job. We think about that all the time, the signage, messaging. Who sees it? How does it need to be communicated? Where does it need to go? Having that fresh perspective from the SciGirls and their friends and family was refreshing.
What was it like to work with the SciGirls?
I loved it. It was so fun. Sometimes when kids are transitioning from elementary school to junior high, they can become a little too cool for school. So, it was awesome to have this group of girls, who were already friends, be really authentic and really open about what they were seeing with each other and work on their communication skills amongst themselves and with the adults. They were great about advocating what they needed and what they saw. I loved sharing the park with them, the rivers with them, and seeing them so engaged and interested in everything. They were here in the moment; they were present.
Do you have any stories from your time working with the girls?
It's kind of sad, but it has a happy ending. On the day they were filming in the park, and we were getting ready to do a trash cleanup. My coworker said, "Stay away from the boat launch. We have loose bunnies." And I was like, "Loose bunnies?" This happens quite a bit. People will bring their animals to an open space and be like, "Alright, I can't take care of you anymore. Be free. I'm returning you to the wild." But domesticated animals don't know how to be wild. Our staff played Bunny Roundup for two or three hours and rounded up 5 or 6 domesticated rabbits. One of the girls, Hope, convinced her parents that they should adopt two of these bunnies. They named them River and Snelling. The rest of the rabbits went to a rabbit rescue.
It was fun to see the communication play out between Hope and her parents. My son, a third grader, just did a persuasive writing assignment in class, and he wrote about why we should get another cat. After I read it, I told him, "I love you, but this is not persuasive. You need to meet my friend Hope. She knows how to be persuasive."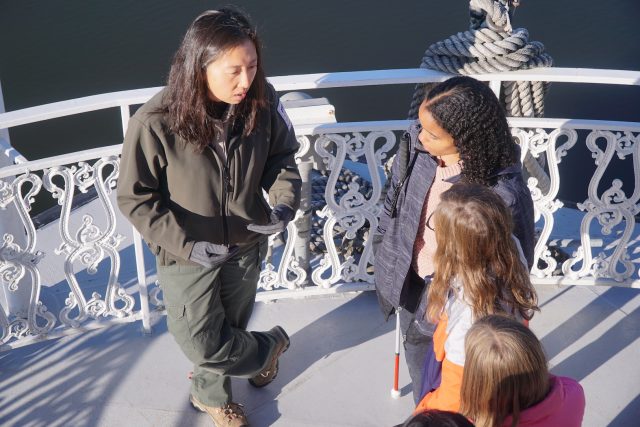 Why is programming like SciGirls important?
As a naturalist you develop super fun nature activities, and we always sneak in a stewardship message. A program about conserving natural resource isn't very… snappy. But, if you develop a program about bumblebees you can learn about insects and flowers AND talk about taking care of the environment to protect these cute little bees. I see programs like SciGirls and other PBS programs doing something similar. Literacy, STEM skills in fun and engaging programs that also highlight diversity and equity in our communities. Even if it's not the obvious message, it's in there, and kids are seeing all these different people of all shapes and sizes and colors and there's always someone, or something, for them to relate to.
What impact can programming like SciGirls have?
Last year, my coworkers down at Whitewater State Park did a program with women in natural resources careers, and they're going to do it again this year! They brought together about 50 women in all sorts of natural resources careers – U.S. Fish and Wildlife, National Park Service conservation officers, scientists, hydrologists. We stood in a circle at the beginning, and collectively we all felt goosebumps.
The range included people just starting their career to people that were about to retire. One woman spoke up and said, "You know, ten years ago, 15 years ago, at the beginning of my career, I never would have seen so many females in a circle holding these positions." It felt powerful to be a part of that circle and to know that all of these programs and teams that our communities, and our networks, and our organizations are building are working: that circle was diverse, not just in that we were all women, but in the backgrounds and the experiences that we've had and the ways we got to our careers. Programs like SciGirls are a piece of the puzzle and they work.
Are you interested in supporting TPT's Education initiatives? Reach out to the Gifts Team at 651.229.1410 or [email protected].
© Twin Cities Public Television - 2023. All rights reserved.
Read Next