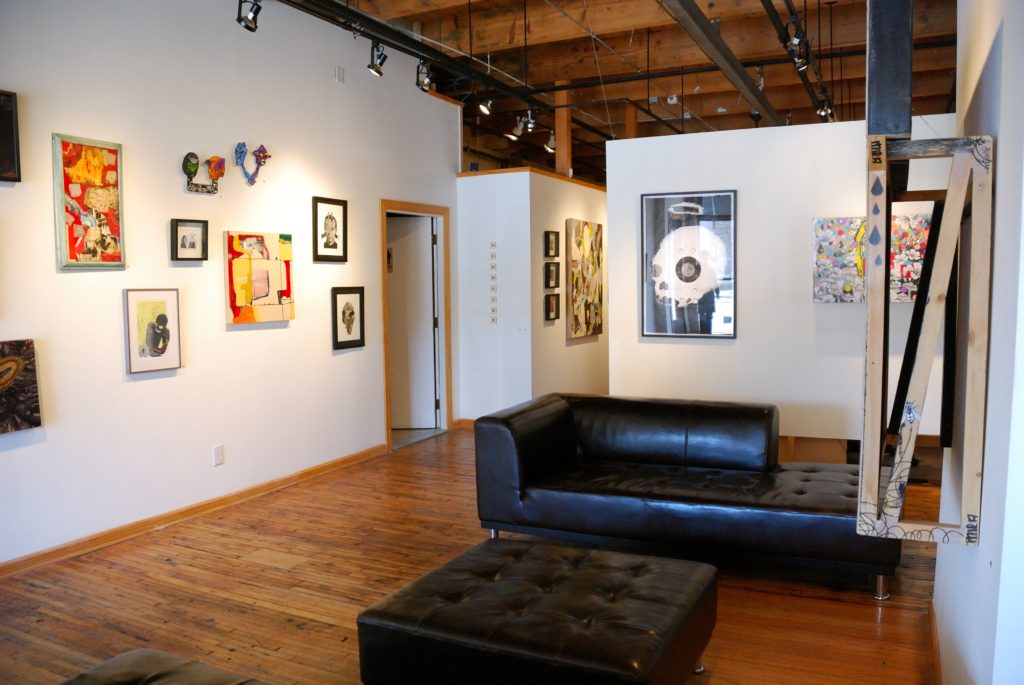 In the inaugural post of our new blog series, Art In Unexpected Places, we profile Fox Tax and their Gallery at Fox Tax. The Gallery at Fox Tax's current exhibit, Entanglement, features the art of Beth Bowman, Allen Brewer, Zach Collins, Jonas Criscoe, John Diebel, Jesse Draxler, Hannah Frick, Josie Lewis, Rob McBroom, Ken Palko, Jessica Slagle, Ian Sorlie, Guy Wagner, Vanesa Windschitl, and Gary Wolfe. Entanglement closes, appropriately enough, on April 17th, the day after Tax Day. So make it down to the gallery while you still can, and read on for interviews with Fox Tax owner, Mark Fox, and the curator of Entanglement, Hannah Frick.
Where did the idea for an art gallery in a tax office first come from?
Mark Fox: We started Fox Tax in my house working with artists and musicians that we knew and my house slowly filled up with the art of my clients, so when we found the space in Northeast, it just made sense to promote the artists that were already promoting us.
What kinds of reactions did you receive when first proposing an art gallery space in your offices?
MF: It still prompts confused looks when we describe it, but at least it always leads to more conversation than "oh, you're an accountant…"
What was your favorite art project in elementary school?
MF: Wow….no idea, but I did enjoy making paper chains out of construction paper to count down to Christmas. We still make them now to count down to April 15th. Everyone in the office writes something that they are looking forward to after the deadline and we tear one off each day of April.
Who are some of your favorite local artists?
MF: I'm a fan of Gregory Euclide, Broken Crow, Jen Davis, Amy Rice, Dan Buettner, Robert Lesch, Josie Lewis, Nick Harper.
What kind of art do you look for to fill The Gallery at Fox Tax?
MF: We simply try and show things that we enjoy and think others should see. Our taste tends to land somewhere between pop and surrealism. I'd rather look at unique than pretty, and making a statement through humor or irony trumps technique in my book any day.
In what ways has The Gallery at Fox Tax contributed to the local art scene?
MF: I hope that we've been able to expose artist's to an audience they wouldn't otherwise get. We also really enjoy crossing the invisible lines between the oddly tight knit and closed circles of different creative groups in this town. Our clientele ranges across all the creative fields from actors, musicians, writers, artists, and designers and strangely, they don't mix all that often. Our events tend to be a cross section of all of those interesting groups of people, which is fun to sit back and watch. We also enjoy doing shows where we instigate collaboration between artists, such as our "Re-arted" show where we paired different artists that we thought could mix well and challenged them to re-art each others work.
As a lifelong fan & patron of the arts, at what point did you realize that your career wasn't going to be in the arts?
MF: Let's just say that when the kids in the neighborhood decided to put on a play, I had the self appointed role of running the concession stand and getting the audience to buy my candy. I've always been the organizer rather than the creative.
What's the first thing you do when tax season is over?
MF: We start every Accountant's New Year by taking the entire staff to get massages and day long mimosa brunch at a sidewalk cafe (hopefully in the sun) and end a week of said brunches with an Accountant's New Year Gallery party where friends from across the country fly in to see their friends that have been MIA since January. This year's party will be on Saturday the 21st at the Gallery at Fox Tax and will be the closing night party for the current group show of collage artists curated by Hannah Frick.
Hannah Frick is a visual artist who was born, raised, and currently resides in the St. Paul area. Hannah curated and contributed her own art to Entanglement, the current exhibition at The Gallery at Fox Tax.
Why art in a tax specialist's office?
Hannah Frick: Why not? It has never seemed strange to me that Fox Tax has a gallery in the front of their office space. Mark and Alyssa both have a love for the arts. I think for a tax office, it really adds a unique touch. When I think of taxes, I usually think of paperwork and numbers and headaches (sorry, accountants!). Fox Tax is an approachable environment full of beautiful artwork, which can help ease the pain or stress of tax filing (for clients and staff alike, I assume). The location in NE Minneapolis makes an art gallery fitting. I'm sure that some people know the place firstly as a gallery, which is a great way to attract new clientele.
Tell us about Entanglement, and whose art is on display at The Gallery at Fox Tax.
HF: Entanglement is a group exhibition that showcases various approaches to the technique of collage. There are 15 artists represented in Entanglement. The artists have a variety of experience under their belts, and some have shown at Fox Tax Gallery in the past. I think of the exhibition as a "collage" of collage artists, all coming together to create a cohesive whole. I like collage because it is very approachable, both to artists and to viewers. I say approachable because it seems that everyone has cut and pasted and arranged papers at some point (even if it was back when they were 5). I enjoy the play that goes into creating a collage, as well the dissection of a finished piece as a viewer.
Aside from Fox Tax, in what other unexpected place might your artwork be found?
HF: As an emerging artist, it is easier for me to show my artwork in "unexpected" places than in established art galleries, and I love the variety! In the next few months, I will be showing work at a community Earth Day event at Anderson Funeral Home, at Turbo Tim's Anything Automotive for Art-A-Whirl, and at Barfly for <insert>GALLERY's first phantom gallery opening.
Read Next