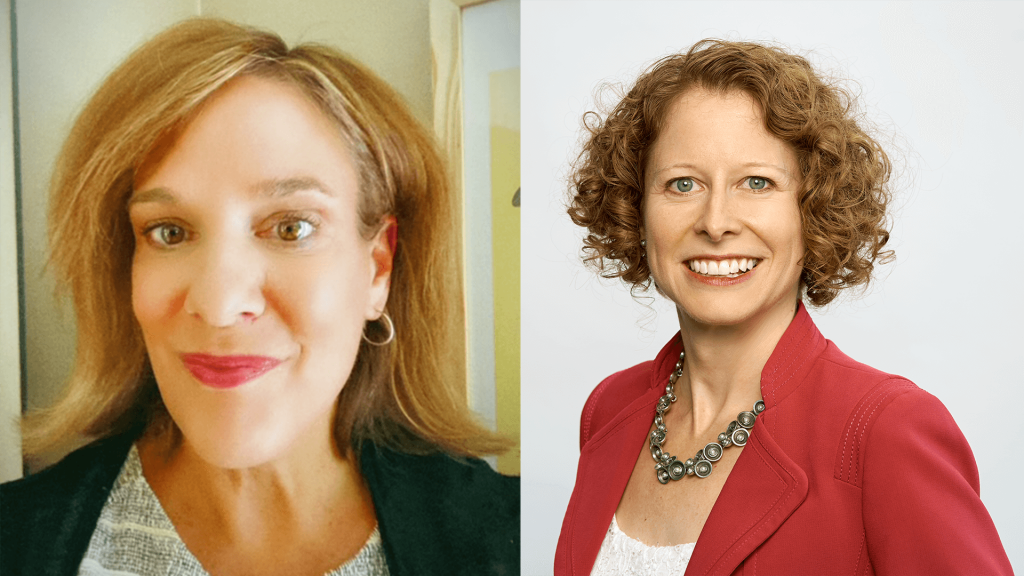 SAINT PAUL, MN (June 11, 2021) – Kristin Pederson has been named Vice President of Education, a newly created position at Twin Cities PBS (TPT), and Deb Ekeren has been named TPT's new Vice President of Human Resources. Pederson will be coming from her current position as TPT's Director of STEM Project Development and Communication where she led the station's pilot education initiative. Ekeren is coming from her current role as Director of Human Resources for The Center for Victims of Torture, where she has worked since 2003. Pederson began her new position May 23, 2021, and Ekeren will begin hers July 6, 2021.
As VP of Education, Pederson will drive strategy and oversee TPT's three educational projects: Mashopolis (Ready to Learn), STEM and TPT Learn. Pederson will also oversee TPT's latest broadcast-based education projects as VP of Education, which include Let's Learn, airing weekdays on TPT 2 at 11 a.m., and Camp TV, airing during the same time slot. Working with an advisory of educators, parents, and community members, Pederson will be leading the professional development opportunities for local educators, in both formal and informal spaces, on leveraging PBS Learning Media which contains thousands of PBS media and educational guides available free to educators.
In her role as VP of Human Resources, Ekeren will assist in furthering the support and implementation of TPT's strategic plan through enhancement of TPT's ability to attract, retain, reward, and develop diverse talent in alignment with TPT's goals. Ekeren will also work to uphold TPT's world-class environment by creating an engaging and values-based culture among staff and clients.
"The experience and expertise both Kristin and Deb bring to TPT will not only further our mission but also increase our impact as we continue to be a national leader among PBS stations," said President and CEO of TPT, Sylvia Strobel. "I am excited to continue working with Kristin and for Deb to join our team. They bring with them the talent we need to advance our strategic plan and our public service mission across all of TPT and its audiences."
Joining TPT in 2001, Pederson served as Manager of Communications, Outreach and Web for DragonflyTV, which later turned into the much larger STEM Department still in place at TPT. She has been a leading fundraiser for the department, including raising $20M from the National Science Foundation since 2015, and most recently, spearheading TPT's effort to earn its second national Department of Education-funded Ready to Learn grant, which will support the Mashopolis project.
"I am honored to be named Twin Cities PBS' new VP of Education. Our dedication to educating the youth in our communities as well as providing resources for our educators at TPT is immeasurable and I can't wait to continue that mission through our numerous education projects, both current and upcoming," said Kristin Pederson. "I look forward to continue working with our education teams in a more connected way as TPT continues to be an innovative leader within public media."
Pederson received her B.A. from St. Olaf College and her M.A. from Colorado State University. Her prior experience includes working as the Communications and Community Manager for the Minnesota Department of Health.
Before working at the Center for Victims of Torture, Ekeren served in human resources roles at the Council on Crime and Justice and Chrysalis – A Center for Women. She also spent seven years as a human resources consultant to various nonprofit organizations.
Deb Ekeren said, "I am excited and honored to be joining TPT as its new Vice President of Human Resources. TPT is a leader within our Minnesota community, and I can't wait to be a part of an organization dedicated to serving through public media."
Ereken received her B.A. in Sociology from Hamline University and a M.A. in Human Resources Management from St. Mary's University.
# # #
About Twin Cities PBS
Twin Cities PBS (TPT)'s mission is to enrich lives and strengthen our community through the power of media. Established 64 years ago, TPT now operates as a public service media organization that harnesses a range of media tools to serve citizens in new ways — with multiple broadcast channels, online teaching resources, educational outreach and community engagement activities reaching more than 2 million people each month. Over its history, TPT has been recognized for its innovation and creativity with numerous awards, including Peabody awards and national and regional Emmy® Awards.
© Twin Cities Public Television - 2021. All rights reserved.
Read Next