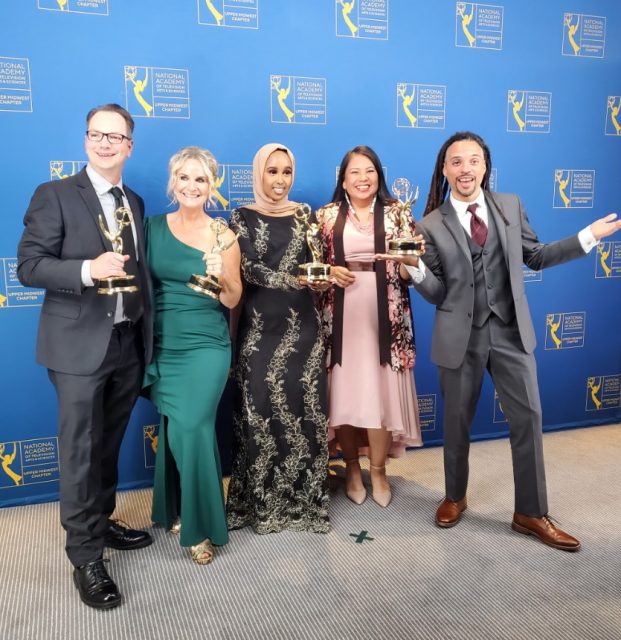 Saint Paul, MN (October 17, 2022)—Twin Cities PBS (TPT) is celebrating 6 Upper Midwest Emmy wins and 14 nominations this year. The work recognized by the Emmy's showcases TPT's depth and innovation. The awards were given for documentaries, a YouTube series, and public affairs programming, highlighting TPT's continued commitment to educate, inspire, and entertain even as we strive to bring our stories to more platforms. We could not do this work without the support of our members and donors. Thank you for supporting our work and helping us to make an impact. 
Learn more about the 2022 Winners Below:  
TPT's 2022 nominees include: 
(Documentary—Cultural)
The Baldies were a Minneapolis skinhead crew that fought racists in the 1980s and beyond.
---
(Documentary—Historical)
Cemeteries are hallowed places right in our midst. But they also reflect the community, and have evolved dramatically over time, constantly adapting to meet our ever-changing views and values. A cemetery is a mirror of the city: its remarkable origins, its rich history, its complex people, and its unwritten future. A TPT co-production with Lakewood Cemetery.
---
(Documentary—Topical)
Bring Her Home follows three Indigenous women – an artist, an activist, and a politician – as they fight to vindicate and honor their missing and murdered relatives who have fallen victims to a growing epidemic across Indian country. Despite the lasting effects from historical trauma, each woman must search for healing while navigating racist systems that brought about this very crisis.
---
(Health/Medical-Short or Long Form Content)
Connecting the arts and healthcare, physicians share stories about race, racism and antiracist efforts in the medical community. Hosted by Drs. Jon Hallberg and Tseganesh Selameab. This is a co-production of TPT-Twin Cities PBS and the Center for the Art of Medicine at the University of Minnesota Medical School.
---
(Lifestyle—Long Form Content) 
Whether participating or spectating, Minnesota is an endless playground for outdoor activities and traditions. Introducing Outside Chance — a web series featuring new and traditional outdoor activities highlighting Minnesota's outdoor culture. Hosted by yogi, emcee, rapper, and outdoor enthusiast Chance York.
---
Politics/Government – Long Form Content
Broadcasting live during the legislative session as bills are passed and deals are made. All the most important lawmakers and decision makers from every corner of the state make regular appearances in live debates, committee highlights and floor action.
© Twin Cities Public Television - 2022. All rights reserved.
Read Next